13+ Best Consulting WordPress Themes Of 2022
In this article, we are going to show you the Best consulting WordPress themes. So you can get your website ready without spending any money. The ideal topic should help your clients to find all the information they need and to be able to contact you easily.
The WordPress themes listed below have been specifically designed with consultants and business consultancies in mind. They will make a great first impression on your visitors and create a very positive brand image.
Best Consulting WordPress Themes
These are finally the 13 best WordPress themes for business consulting and do not miss the latest gem.
Consultio – Best consulting WordPress themes
Let's start with the Big One! Consultio is the best-selling premium theme in the world. Consultio is well known for Consulting Business, Finance and Cleaning Services WordPress Theme .Sure this doesn't necessarily make him the best, but it sure makes him very popular. For example, I am not a huge fan of this theme, but it cannot be excluded from a list of this type as it is so popular.
It is certainly a great theme, especially if you are a beginner. Because it provides a wide range of useful tools to create websites with great ease. This ease of design is guaranteed by Fusion Builder, the proprietary visual builder that forms the basis of all the work of creation.
It ensures full compatibility with any additional plugin (eg WooCommerce, Yoast SEO…) and integrates several proprietary plugins both to create sliders and to add visual elements (as well as premium plugins like Revolution Slider).
Obviously, it is a theme optimized for on-site SEO. And it also integrates some special features such as dynamic elements. There are 63 demos and 26+ header styles available for designing your website.
Prysm – Business consultant wordpress theme
Are you looking for the best consulting WordPress themes on a budget for your online business? Look no further because Prysm is here.
Prysm is a multi-purpose business-oriented theme that is suitable for any kind of online business, consulting included. Its professional and modern design allows the users to browse your site without losing speed. Prysm also comes with multiple demos which you can take reference from when building the real deal, saving you time.
It takes only one click to install the demo. You can modify and customize content easily with Elementor, a world-renowned drag and drop builder. Prysm has many other eye-catching features like WooCommerce ready, suitable for a child theme, unique header, and many more. Check out Prysm today.
Fastrans – WordPress consulting themes
Fastrans is a fully responsive consulting WordPress theme that has all the features you may want for your consulting site. If you are on a budget, Fastrans is the perfect theme that will make your day.
Fastrans is a theme that's been designed for speed. Viewers don't like when a website runs slowly and you will need no worry when it comes to the speed department with this theme. Fastrans comes with many other top-quality features like pre-built demos, one-click installation, Elementor page builder, fully responsive and user-friendly, and more.
That's why Fastrans is considered one of the best business WordPress themes for beginners. The fun fact is, it's totally affordable.
Consulting – Best business consulting WordPress themes
It is not easy to find another WordPress theme for business and financial consultants that beats Consulting.
Like most of the topics on this list, Consulting is specifically developed for professional consulting, with an intuitive design and layouts ranging from contact forms, calendars, events, and more. If you buy this, you got the Best consulting WordPress themes ever.
25 demos and numerous video tutorials show you what this theme can do. Customize the designs or choose from its predefined designs, either way, you will love the results.
Those looking to have a clean, minimalist, and professional-looking website don't have to look any further as Consulting will love it. Its intuitive design will allow your clients to find the information they are looking for in no time.
As with all the best WP themes, Consulting is 100% responsive and adapts to all types of screens. It is also SEO friendly so it will not be difficult for you to get more visitors to your website and convert them into customers.
One of its most interesting features is the real-time customizer.
You will see how all the changes you make affect the project instantly. You will be able to see the results of your actions without having to resort to a preview.
CanDo – Business Consulting WordPress Theme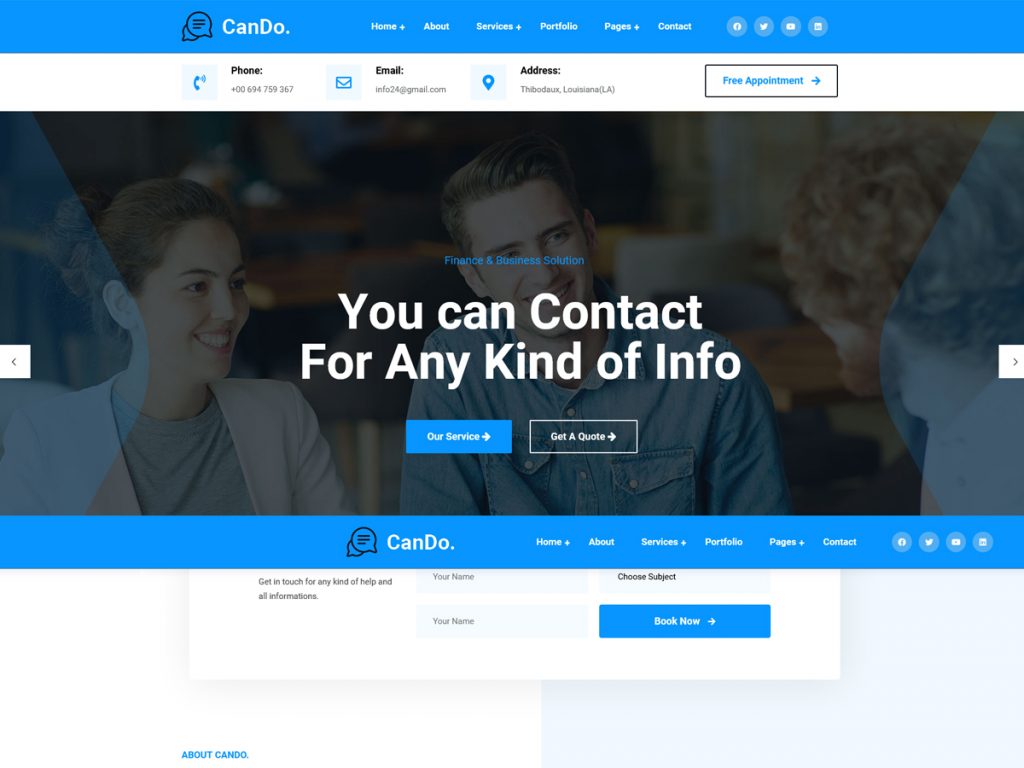 CanDo WordPress Theme is especially geared toward professional consultants. It places special emphasis on SEO and online marketing, especially Inbound Marketing, to help you launch your business with an elegant website.
Its excellent functionalities make it easy for visitors to navigate the web until they find what they are looking for. The theme makes creating, updating, and adding new content very easy.
Its fresh, modern, and professional design, together with the customization options and color schemes, has been tested with great success by a whole range of financial consultants, legal consultants, etc. Being in general a theme is also perfect for any other type of business you have.
Most of your visitors are surely active on social networks and that is why the Advice theme allows the easy integration of social networks on your website through the corresponding share buttons. In this way, your business can reach a larger audience.
Rich – Business Consulting WordPress Theme
Rich is a highly customizable theme specifically created for business-oriented websites.
It is a multipurpose template, with a modern and very organized design, which facilitates intuitive navigation for your consulting clients and for your visitors in general.
Thanks to its easy-to-use interface, you can adjust the theme to your needs. It has the Elementor drag and drops plugin, which will allow you to easily create menus and sliders, as well as add new content.
The Rich theme is fully responsive, so your website will be perfectly visible from any computer, laptop, or mobile device. All aspects of this theme have been created with SEO in mind, to attract more clients to your consulting business.
But what we like the most about this theme are all the features it has. In addition to a wide range of layouts and color schemes. You can choose from a number of social options and widgets, including contact forms, calendars, eCommerce plugins, and much more.
Consultix- Consulting WordPress Theme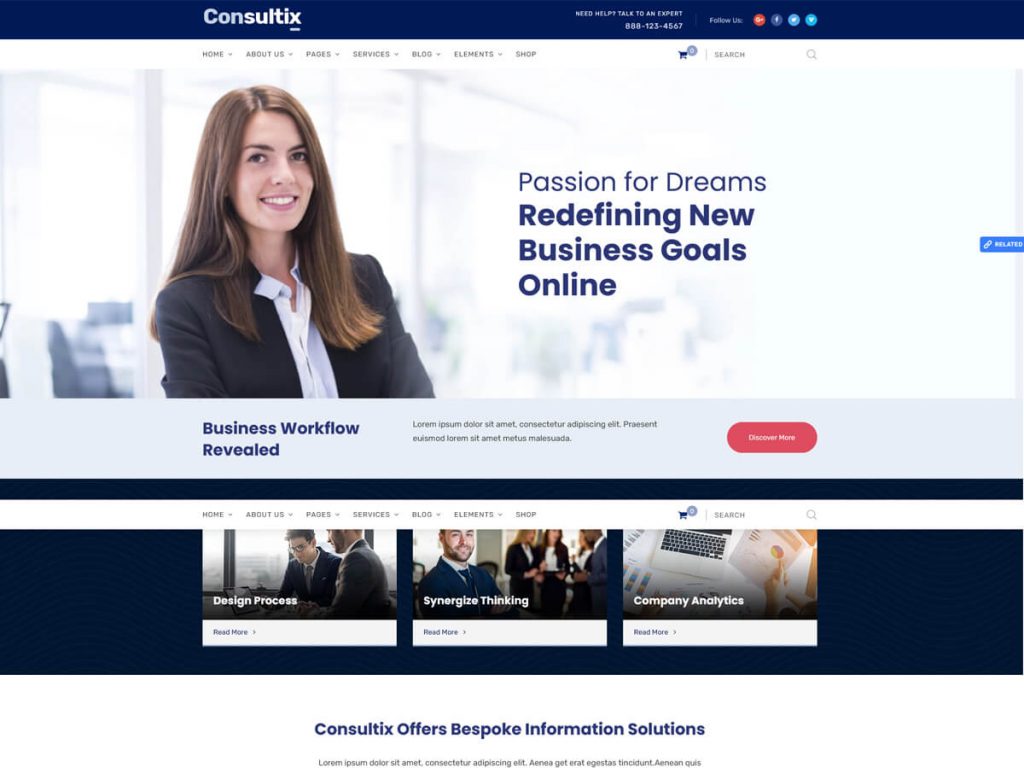 Without fear of being wrong, we can say that Consultix is clearly the best theme on the market and the most popular. This brings important advantages. Not only is it a very easy-to-use theme thanks to its famous Consultix Builder (drag and drop) constructor and its intuitive Visual Constructor (which operates from the same front-end of the web), but it is also a very lively template.
With Consultix you will not have any problem that the theme is out of date since being used by thousands of users. It receives constant updates to maintain security, correct possible errors, and implement improvements.
In addition, Consultix Themes has created hundreds of predefined designs organized in packs of various layouts ready to be downloaded with 1 click. They are professional designs and there are them for all kinds of market niches.
Best business WordPress themes
Visahub- Best business WordPress themes
Visahub is one of the best business WordPress themes. One of these layout packs is precisely dedicated to business consulting. The pack consists of 8 different pages including a page for services and another for case studies. The designs are also accompanied by beautiful images that you can use for your projects if you wish.
You can therefore have a professional website in a matter of minutes. You can also use all the images and illustrations that come in the pack since they are royalty-free.
Visahub layouts are easy to customize. And it is done in a very intuitive way using the Visahub Builder or the Visual Builder.
In addition, Techno and Innomerce are also the best business WordPress themes. You can use it very easily.
It all depends on what your specific needs are in terms of your activity as a consultant.
The choice of your WordPress theme (the design template) is one of the most important decisions you will make on your website. The readers and the success of your blog or website are going to play a large part in the design of your site.
Techno
But what is certain is that with Techno you can't go wrong. It is the leading theme in the market and that guarantees you a theme with continuous updates and improvements for many many years. And also with its fabulous pack of ready-made designs for business. You can make the website of your dreams very quickly and easily.
Another interesting option is the Innomerce theme. It is a multi-purpose template that allows you to easily customize it to suit your specific consulting business needs. Imperial comes equipped with all the functionalities that a website of these characteristics requires.
Intime – Best buisness wordpress themes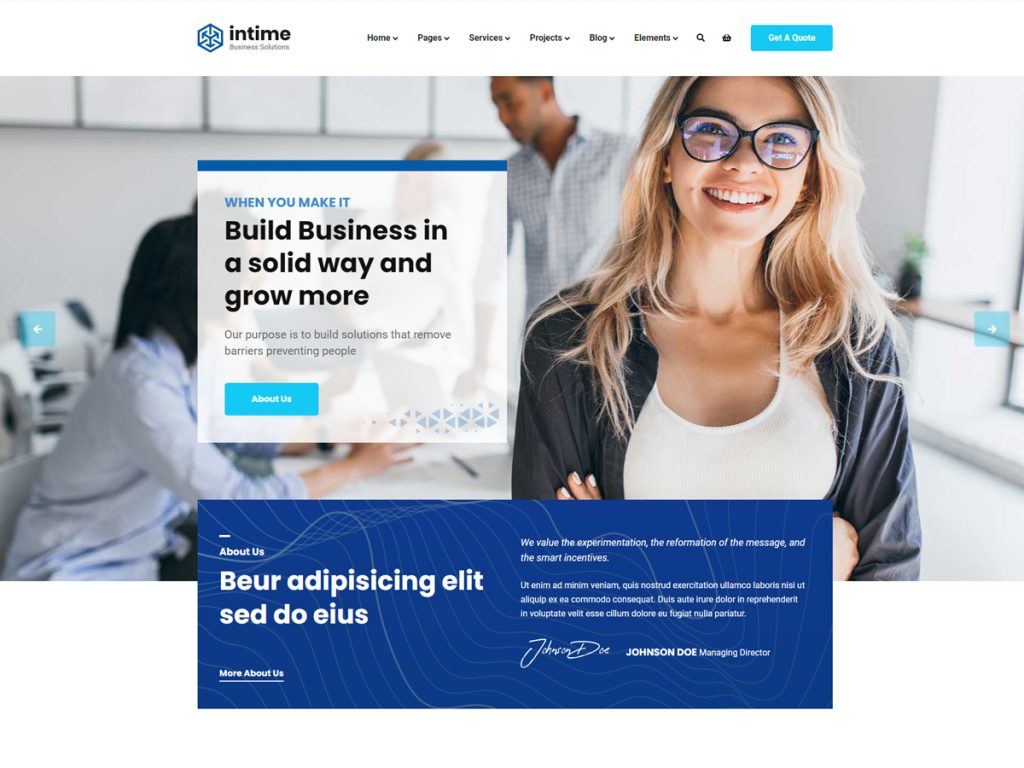 Intime is a complete theme full of interesting features. Thanks to the builder, the integrated visual builder, you have a range of possibilities suitable for any type of site.
Even the management of the "common parts" (such as the header and the footer) can be managed much better than other premium themes.
The theme also features the one-button demo functionality, i.e. the ability to load one of the many demos present simply by clicking on a button. The theme also guarantees full compatibility with WPML. The best premium plugin for creating a multilingual site with WordPress. And of course, it works great with "important plugins" such as WooCommerce, Rank Math, and many others.
Avantage – Business Consulting
Avantage's work to create the theme is truly remarkable because in this case. We are just leveling up compared to many competitors, both in terms of possibilities and in terms of difficulty. Avantage is a super theme, which takes advantage of the Cornerstone proprietary visual builder which turns out to be a really powerful design software. But certainly not intuitive to use as it happens for other products.
If you want to have a theme that can perform great on many different occasions (corporate sites, e-commerce, landing pages …). Avantage is definitely a solution to consider because it provides many elements ready to work without design problems plus. It also facilitates manual implementations through CSS / PHP code.
There is no lack of advanced features such as dynamic elements, additional premium plugins (eg the amazing Convert Plus) and a suggestive dark mode, or a high-contrast black work interface.
Consultancy – Best consulting WordPress themes
Certainly, among the innovative themes, Consultancy must also be included, also because, long before other software houses. It understood the importance of demos. To date, many demos are available that can be loaded with a simple click (including images) made with really beautiful and functional templates.
There is also the free version of Consultancy (probably the best free WordPress theme you can find). But it is obviously the Pro version that interests us. You can buy it either with an annual plan or with a lifetime membership.
Surely it's a powerful, feature-rich design-builder, but definitely not for everyone. In fact, some elements of the visual builder can only be integrated with a "manual intervention" (eg through HTML code) which makes it not exactly friendly.
The wealth of features, the power of the integrated visual builder, and the numerous integrated premium plugins (eg Slider Revolution, WP Bakery Page Builder…) make it a perfect theme for "almost" any Web design project.
Nifty – Best business WordPress themes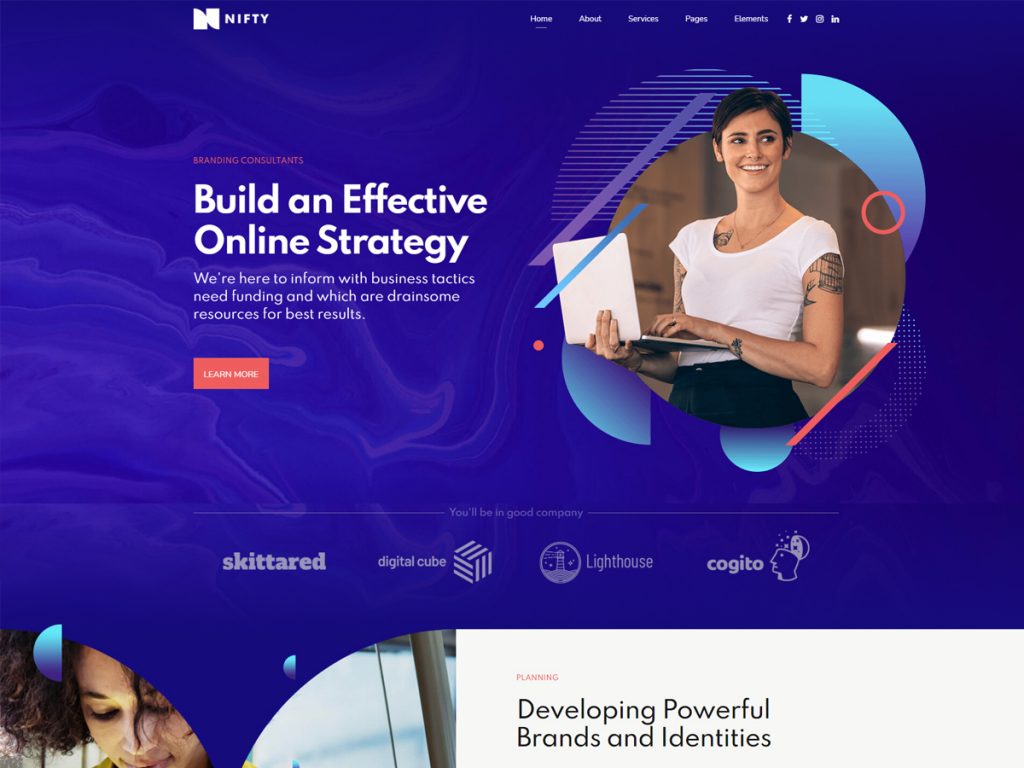 Finally… Nifty, one of my favorite themes. I think it is one of the best ever, with a development approach (with the proprietary visual builder) probably not friendly, but once digested, very powerful. Feature-rich, fast, and with a wide range of graphics. Nifty is perfect not just for WooCommerce, but for any (or nearly all) website.
I have created many sites with Nifty and therefore I know it quite well. And I can say with certainty that, beyond the slogans, the possibilities are really limitless.
The technical support is excellent, always helpful, and considerate. And even updates (for fixes and new features) are regular throughout the year. As mentioned a few lines above, with WooCommerce gives its best, but also incorporates sites it plays an important part.
As a visual builder, he is able to work without problems with Gutenberg, Beaver Builder, and Elementor. But it is above all with the latter that he gives his best thanks also to the numerous addons designed to add features dedicated to Elementor (free or pro).
Conclusion
I know you got the Best consulting WordPress themes now. If you want to know something more, tell us, please. Hope you enjoy this post. If you have any questions, don't be hesitate to just ask us by comment.