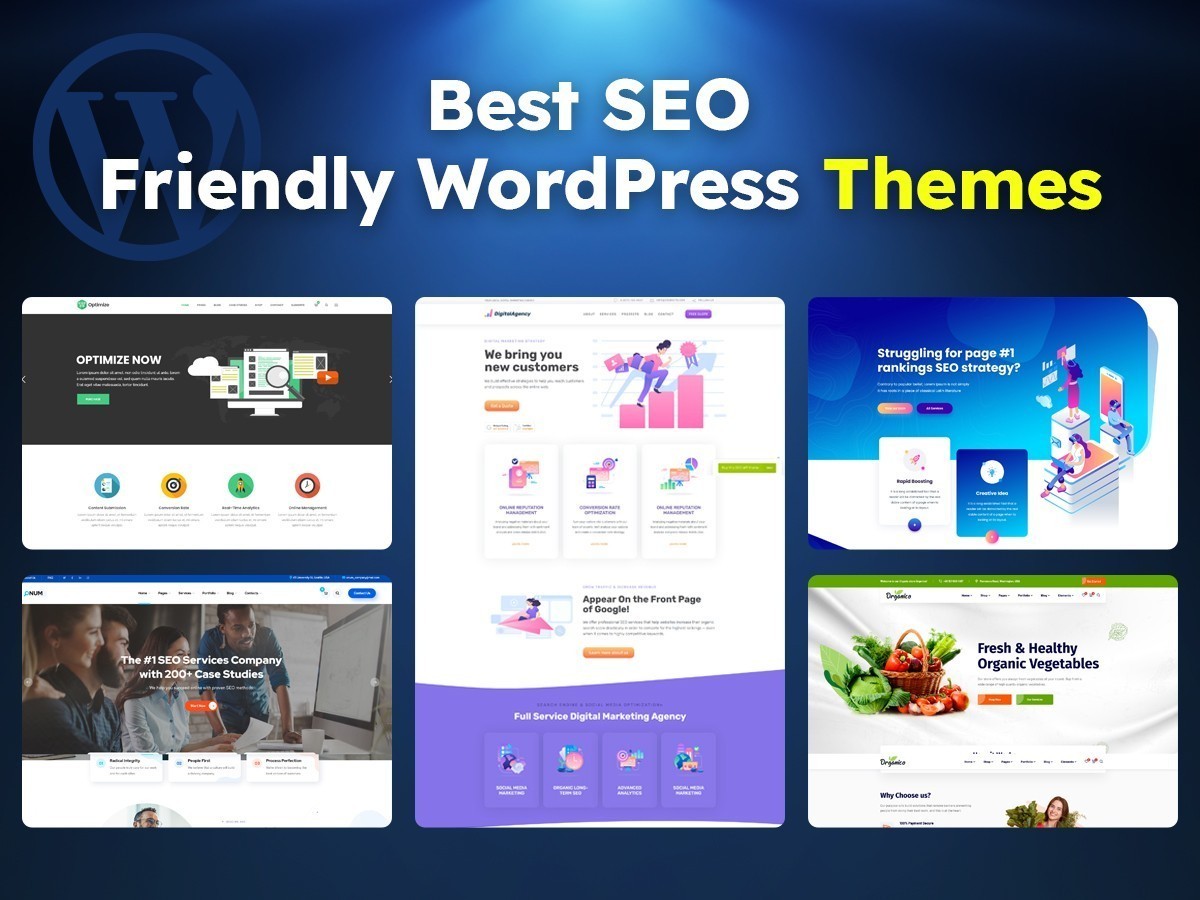 14+ Best SEO Friendly WordPress Themes 2022
Website optimization for search engines (SEO) is a very lucrative business for a good number of professionals and agencies around the world. If you are an expert on the subject and want to create a website to promote your services. You need to take a look at these incredible WordPress templates for SEO-friendly. Today, in this article, I tell you about the Best SEO Friendly WordPress Themes.
Thousands of new sites come to light every day, but only a few of them have taken good SEO and are easily found by Google and other search engines.
In fact, the number of SEO professionals is quite limited compared to all the websites that are created. Therefore, you have a good market where you can offer your services. And all you need is a quality site where you can make your worth and your work known.
Ximsa
Ximsa is a Startup Agency & SaaS WordPress Theme. It is a modern, beautiful, elegant Startup Agency with & SaaS Theme. This theme can be used for agencies, digital agencies, startup agencies, creative agencies, creative multipurpose, freelance, SaaS, Business, Consulting, App. It has a unique design with amazing features who want to build their website. It looks great on mobile devices and desktops. It is clean and simple.
It is a Seo Friendly, WooCommerce Ready, Retina Optimized, Built on Elementor Drag & Drop Page Builder
Organio
If you are looking for a theme with quality functionalities and a good appearance, Organio may be suitable for your needs. Organio is a theme that has a clean and modern design that looks captivating to the eyes while retaining a traditional image. Having an eye-catching appearance means visitors will like your site. Of course, if the functionality is bad, then it's no good. But Organio is not your average theme that has the looks but lacks features.
If you are a person who gives priority to both appearance features, you'll love Organio. The highlight of this theme lies in its simple design. However, it's also important to note that it's easy to customize with Organio. It's also compatible with Elementor and comes with many awesome features that any business person would love for their site.
Seclight
Every business owner wants the best SEO friendly WordPress themes for their business websites. It's because only when the site is optimized for SEO, it gets noticed by the visitors in the relevant niches on the web. Seclight is such a theme that will make your site building easy and smoother. It's a revolutionary theme that works as a multi-purpose theme while not losing to the specialized theme at a high-end price. So why choose Seclight? Read More about Multipurpose WordPress Themes.
Seclight is one of a kind theme that's been built with SEO in mind. However, Seclight is more than that. The features are designed so that your website is unique from other sites on the web. Seclight is fully responsive and retina-ready, making it one of the best WordPress themes for SEO. There are other exclusive features like the Redux framework, contact form 7, WPBakery page builder, and more.
Optimize
If you are looking for the best theme for a tech blog, then you will like Optimize. Just as the name implies, it's a theme that'll optimize your website to the utmost. Optimize brings top-quality features to the table. It's a multi-purpose theme, so you can use it for other kinds of business as well. Optimize is considered one of the best SEO friendly WordPress themes too.
The highlight of this theme lies in its lightning-fast page loading speed. It's known that web visitors tend to like a site that has a fast loading speed compared to a slow loading one. So the chance of visitors converting to potential customers increases. There are also other eye-catching features such as awesome SEO plugin compatibility, Yoast SEO plugin, fully responsive and retina ready, and more.
Finance
What a literal name for a theme. And Finance is truly the word that perfectly suits this theme the most. It's a theme that can be used for most niches in the Finance industry. While it's a relatively new theme that is unknown to most business owners. However, the people that have used Finance showered praises for the theme. There are good reasons behind the praises as well.
While Finance is a theme geared towards the finance niche. It's one of the best WordPress themes for tech blogs or websites too. It has all the features you may want for your business site. Finance is designed fully responsive and retina-ready so your visitors will likely stay on your site. It also has many other features that will suit your business needs.
Ewebot
It's only natural for a business owner to seek the best SEO friendly WordPress themes for their business when SEO is thriving. Yes, it's common knowledge that SEO is crucial for your business to succeed online. As such, it's essential to have a site that flexes naturally with SEO. Ewebot is such a theme that's been built so it's easier for you to make your site search engine friendly.
The focal point of Ewebot is its fast loading speed. Ewebot has been optimized and coded for fast loading speed. There's almost no lagging when browsing, gaining customer satisfaction. Ewebot is also considered a top-quality SEO agency WordPress theme. The stunning homepages along with other high-end functions make this an appealing theme to consider.
SEOWP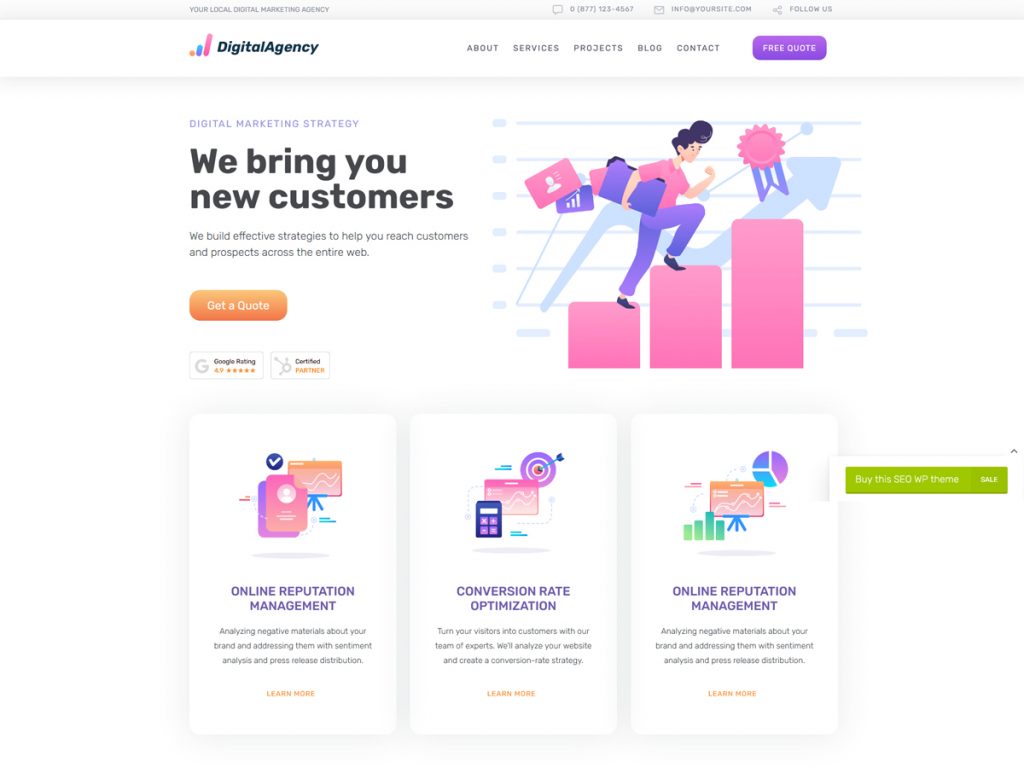 Yet, another high-end theme that's considered one of the best SEO friendly WordPress themes by many. It's a theme that's been used by business owners a lot in the past few years. Surprisingly or maybe unsurprising for some that it's still a popular theme loved by many business owners. A multi-purpose theme that is flexible yet has all the features of a specialized theme.
This flexible theme is perfect for you if you want a website for SEO or digital marketing. It's been built for digital marketing and SEO agencies who are looking to do business online. SEOWP has features like an automatic Google ranking tracker, extensive social sharing plugin, fresh design, and much more. The best part is that you can enjoy all these top-quality features at a reasonable price.
SEO Lounge
If you are looking for the best SEO friendly WordPress themes for your digital marketing agency online, then you can check out SEO Lounge. It's a top-quality theme that'll make sure your site is unique compared to other sites in your industry. But what makes the SEO Lounge different from other themes? Read on and you'll find out more.
The best part about SEO Lounge is that you'll not need to be a tech nerd to customize your site thanks to the easy-to-use dashboard. Yes, that's right. It's easy to build your dream website. That is not to say that SEO Lounge is only an easy to customizable theme. It also has features like WPBakery template block builder, unique demos, pre-built pages, premium plugins, and more.
Onum
It's difficult to find the perfect theme for your online business. Moreso, when there are so many options to consider like what kind of business you have or what kind of theme you require. However, there's one thing common regardless of business type or theme type. It's SEO. Regardless of what kind of business you have, your online site needs to be SEO-friendly. And Onum is a theme that can fulfill your needs when it comes to building a top-quality SEO-friendly website.
Onum is specialized in SEO and digital marketing. In other words, it's the best SEO agency WordPress theme you can ask for. It's only natural given the features of Onum. It's fully responsive and retina-ready so your website is always functional. Stunning homepages, pre-built layout, premium plugins are just a few popular features of Onum.
Osaas- SEO Friendly Themes
Osaas is one of the best SEO Friendly WordPress Themes I have ever seen. As its name suggests, it is a WP template designed specifically for SEO companies. This theme comes with an attractive and very professional design. It will take your business to the next level.
The template comes with several different home page designs. And is suitable for different types of websites such as SEO agencies, Social Media companies, etc.
All the sections of the theme are perfectly placed to ensure that the user finds everything they are looking for easily and quickly. Thanks to the "drag and drop" page builder that it integrates. You will be able to build your website without problems.
It goes without saying that the theme is fully responsive and retina-ready. To ensure that your website looks great on all kinds of modern devices.
Osaas also offers an amazing mega-menu option to make your navigation section look modern and user-friendly.
Massive Dynamic- SEO Friendly WordPress Themes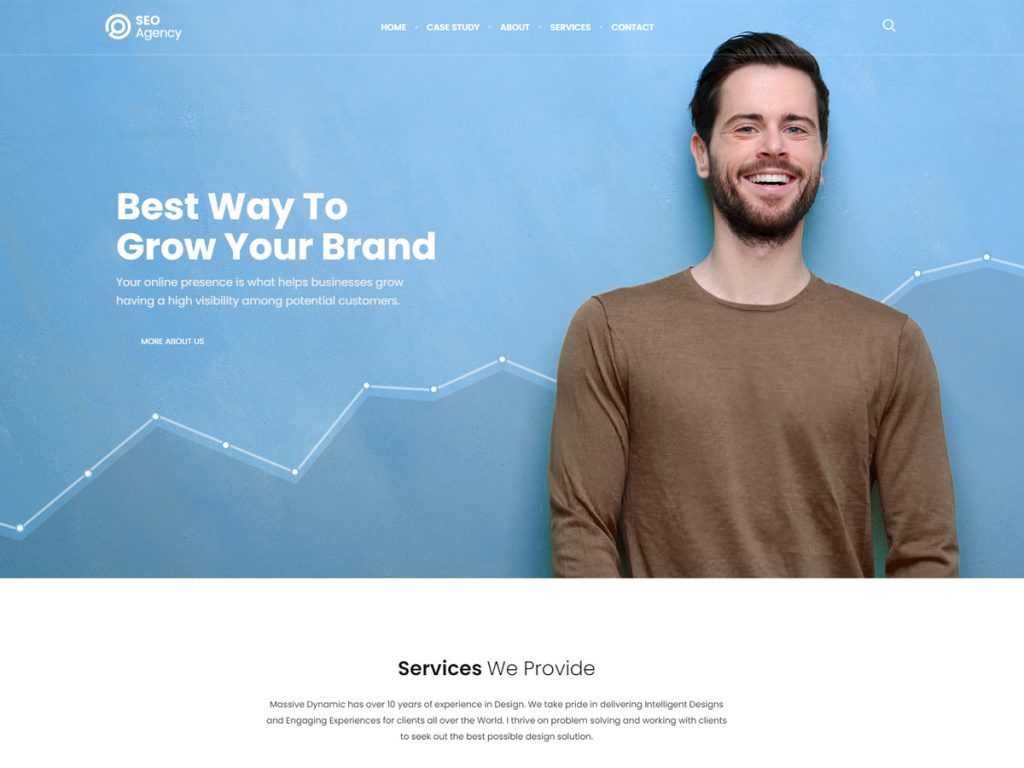 Massive Dynamic is a fully responsive multi-purpose SEO Friendly WordPress theme. You can be used it to create any type of website you want. It offers all the features and options to help you build a completely modern design for your site.
This theme has a powerful web builder and shortcode manager that will help you create a completely unique design without the need to do any kind of programming. It also comes with a powerful panel of theme options that will make it easy for you to create your site. You can update it whenever you want.
When it comes to design elements, you have a good number of ready-to-use layouts, amazing header designs, different design structures. And a page builder that will help you create custom elements for your site. It also comes with 18 different blog layouts and portfolio layouts that will allow you to get started quickly on your site.
Massive Dynamic is developed with HTML5 and CSS3 to ensure that your site is light, loads fast, and is optimized for SEO. Its 1-click installation feature will help you get started quickly. There you can import the demo to have an identical site instantly.
Ryse- SEO Friendly Themes
Ryse is also the best SEO Friendly WordPress Themes is great for SEO and digital agencies and offers all the modern premium features you need to create a site for your business. The theme offers you 20 demo versions that you can use for your website. It is flexible and customizable so that you can achieve the desired result.
Ryse has a demo installable in 1 click with which you can make your site instantly and then customize it to your liking with your own content.
It is 100% compatible with WooCommerce and you can offer your SEO services on your own website.
The theme includes free different premium plugins that will help you in the construction of your website.
Such as Visual Composer, a drag and drop builder with which by dragging the design elements you can create your site intuitively and without touching the code.
SEO Company WordPress Theme
WordPress has tons of themes for any type of market niche and of course also for SEO companies and professionals.
It does not matter if you run a small SEO company, are a freelancer, or run a large international company.
These WordPress themes will help you facilitate your services and make your website look very professional.
A good design and a pleasant user experience will definitely guide visitors to hire your services. In below 2 the best Seo company WordPress theme.
Seosight- Seo company WordPress theme
Seosight is a WordPress theme especially suitable for creating your own SEO agency. It is a fast theme, very sold and that will allow you to get a great website for your SEO business in a few minutes.
It puts at your disposal a whole range of premium plugins and bundles of images for free. Seosight has an attractive slider that will make your website stand out. As well as a mega-menu option that will give an elegant touch to your navigation section and will make your website very user-friendly.
This template has all the modern features to help you create an attractive and functional site.
Seo-run
Seo-Run has an elegant design geared towards SEO companies. It is a clean, modern, flexible, and easily customizable theme. It offers two different home pages and a demo installable in 1 click to get started with your website in minutes.
The theme is fully compatible with the WooCommerce online sales plugin. So you can create your own online store and offer your SEO agency services. It is very well developed, using modern HTML5 and CSS3 code. So it loads fast and is SEO-friendly. Seo-run also has the free Visual Composer plugin, so you can build your site easily and intuitively.
Conclusions
Hope you select the Best SEO Friendly WordPress Themes for your website. All these themes are especially suitable for creating an SEO agency website and have pre-defined designs that allow you to build your site in a short time. If you are not sure, I recommend you play it safe and become a member of Osaas Themes. You will have at your disposal 87 top-quality. WordPress templates (+ plugins) including the popular Massive Dynamic, a very lively template with constant improvements and updates.