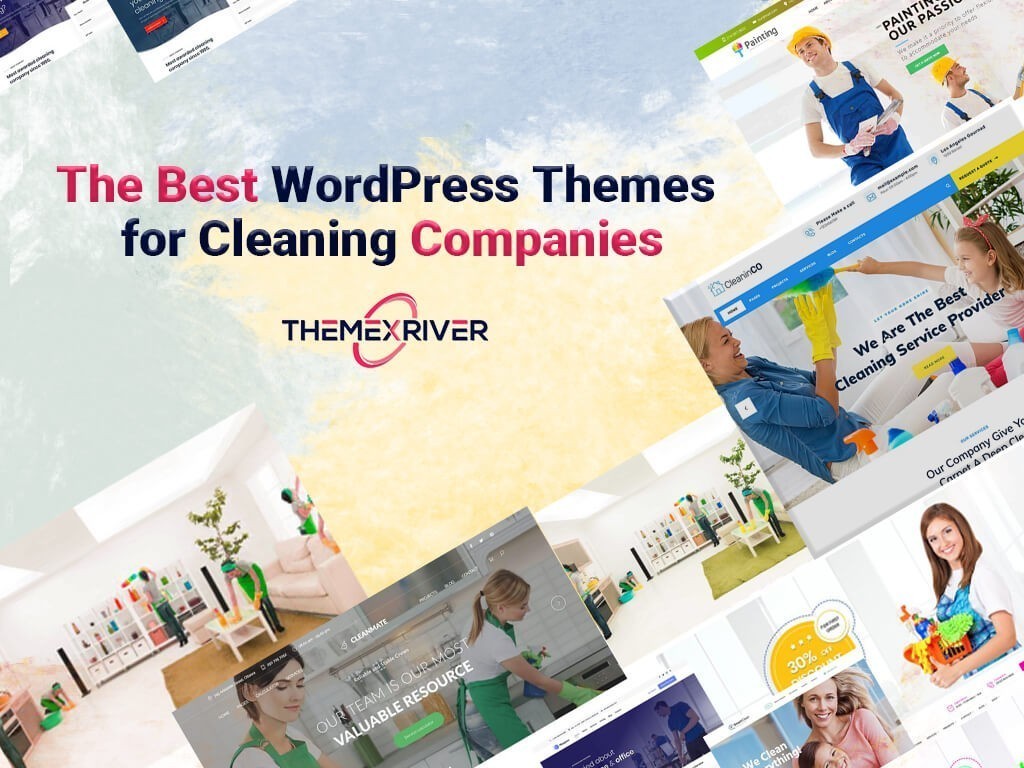 35+ Top Cleaning Services WordPress Theme 2021
This collection of the top cleaning services WordPress theme will help you to get started right away. If you need to develop a website to promote your cleaning business and its services.
These themes seek to take the worry out of building your own professional services website with one-click features that swiftly transfer pre-built cleaning company website template into your WordPress dashboard.
These themes not only make it simple. To get started but also include many customization choices and settings to ensure that your website looks the way you want it to. Some of the themes also come with drag-and-drop page builders. Giving you even more creative control over the look of your website. If you want to be able to accept bookings and sign up new clients from your website.For opt one of the themes in our collection that has that capability. This collection of professional WordPress cleaning service theme have an amazing number of designs. So you're sure to discover the right fit for your website.
Top 35 cleaning services wordpress theme
1. Bixol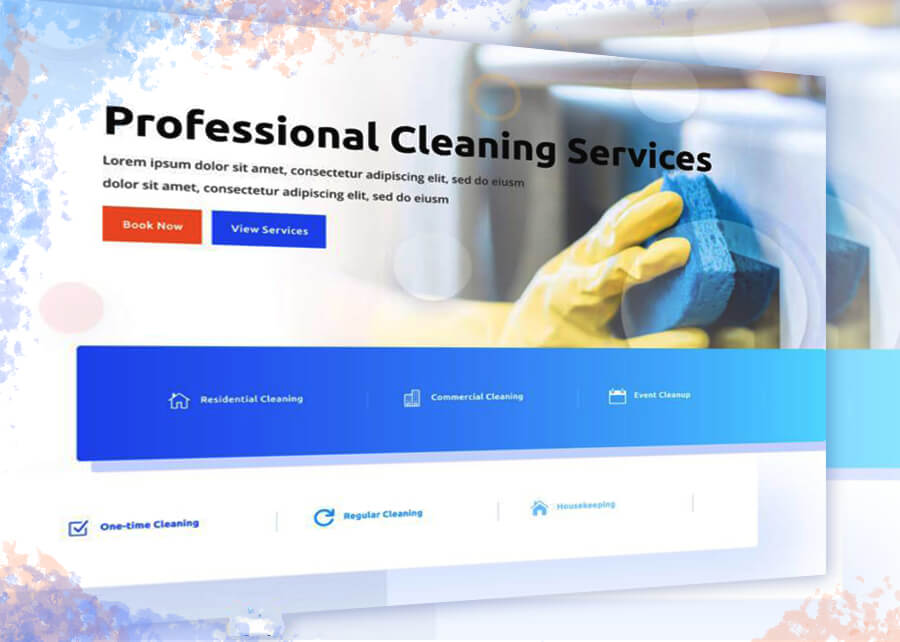 Bixol is a WordPress theme for professional cleaning services with over ten website demos. Their samples are available in both multi-page and one-page formats, making it simple to build a new website to promote your cleaning company.
All of the examples come with many ready-to-use templates. This makes sharing information about your firm, the services you offer, and how you've helped prior clients, among other things.
Bixol isn't just pretty to look at; it also has a number of essential features that will help you turn your website into a successful marketing tool. These sections allow you to quickly discuss how many projects you've completed, how long you've been in business and any other relevant information about your cleaning firm. Sections of the pages are also available for you to submit photographs, videos, and other content that can help you promote your services.
If you need to rearrange or change the looks of the pages, you can do it with the Elementor page builder plugin, which is supported.
Cleaning company owners will find Bixol to be a highly beneficial all-in-one theme package.
2. Divi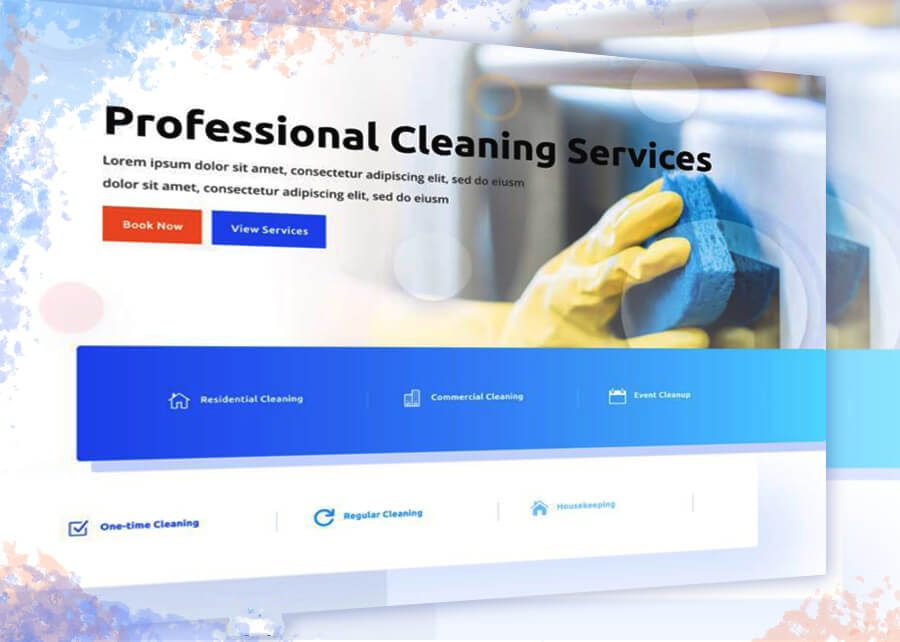 Divi is a many-sided theme with a ready-to-use cleaning company website template.
These theme is ideal for creating professional-looking cleaning company websites. Despite the fact that it may use to create practically any style of website with WordPress. You can rapidly import all of the content to your website. You will require thanks to its set of templates that were created specifically for this reason.
Plane homepage style, a landing page design for converting your visitors into new clients, and an about page are all included in the cleaning website template. Templates for adding a contact, services, and price page to your website are also available. If you need to add more pages to your site, you can either utilize the default page template or use the Divi Builder content editor to create to order designs. Furthermore, because Divi has hundreds of themes for different types of websites, you may easily select and choose any of those templates for your cleaning company website if you think they'll be useful.
You can display a lot of content on your website because all of Divi's pre-built cleaning website template are filled with valuable modules. This contains video players to help you to describe your services, pricing tables to compare your cleaning packages quickly and profile sections to introduce yourself and your members.
The Divi Leads tool is another useful Divi feature that you can use to optimize your website. It allows you to test different combinations of text, colors, and images to see which ones get the best response from your visitors. Divi Leads is certain to help you in making your website a genuinely effective marketing tool for your cleaning company. Divi is great for developing any form of cleaning company website with WordPress thanks to its nearly limitless customization options.
3. Consultio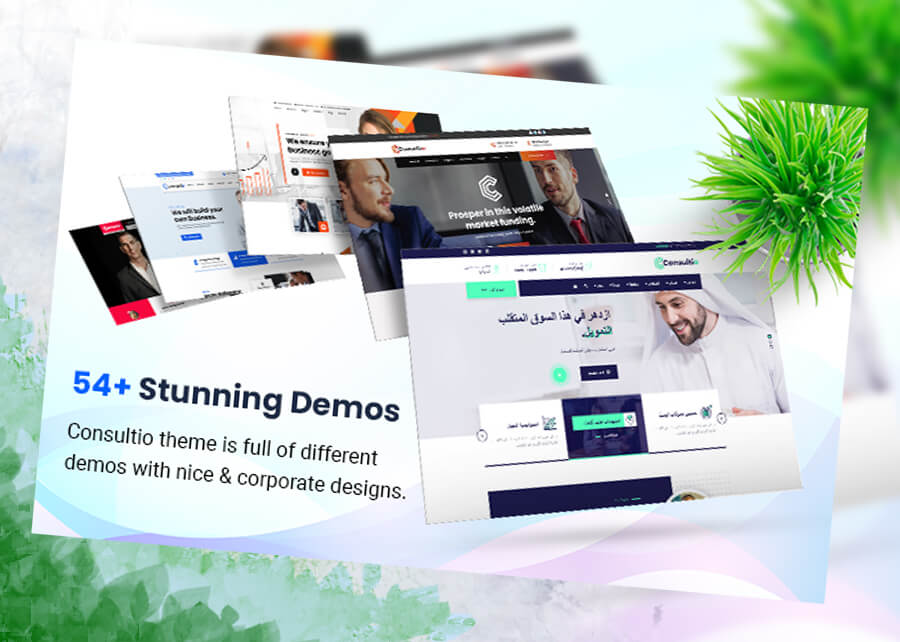 Consultio is the best Business, Finance and Consulting WordPress Theme. This theme is most suitable for business websites such as financial advisors, accountants, insurance, loans, consulting firms, tax assistance, investment firms, etc. This business theme is ideal for corporate businesses and consulting firms looking to establish an online presence. As a reason, if you're building a website for a company that provides service or product, Consulting was explicitly designed for you.
Many of the most significant elements of this theme are included in the TopConsult demo, which will assist you in creating a dynamic business website. Visitors come in by all the massive sliders on the home page. Consultio is prepared to use from the box. Install it quickly via FTP or WordPress, and then activate it to see the demo content. Then you can customize the pages in your material.
The design of your website on mobile devices is essential these days. As a result, we made Consultio appear excellent on mobile, desktop, and retina displays! Your customizations will be incredibly simple and quick thanks to extensive documentation and excellent video tips on setting up and adjusting Consultee! This theme develops on the most popular, well-known, and influential theme options foundation, Vafpress.
4. Clenix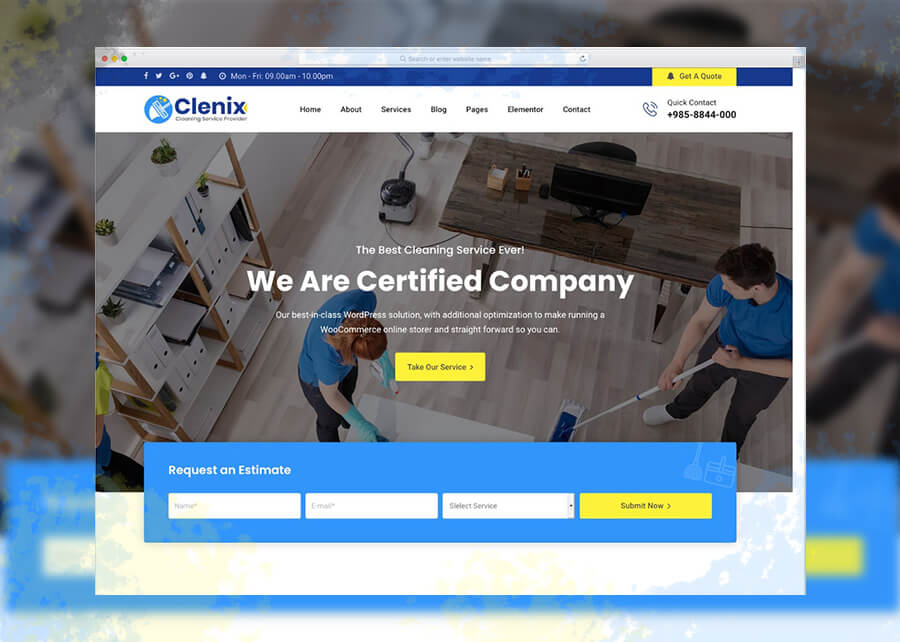 Clenix offers a variety of pre-built website demos to help you in selecting the best design for your cleaning company website.
If you're not sure how you want your cleaning company's website to look, the Clenix demos should help you get ideas for your new site. If one of the samples attracts you, Clenix can help you launch your new website constantly. Simply upload the theme package to your WordPress dashboard, then utilize the one-click to import the demo of your choice to your site. Then it's only a matter of filling in the blanks with your company's details. Clenix is a wonderful alternative if you're new to website design or simply want to get your new site up and running as soon as possible.
Clenix provides a lot of features that should attract individuals who wish to get more involved in the design of their website. One is support for the Elementor page builder, which makes it simple to edit all of the templates using a modern drag-and-drop interface. Clenix theme options and settings allow you to make a variety of different adjustments to your website. There's no need to do any adjustments if you don't want to because this theme comes with over 20 different templates. You should have all of the stuff you require already created.
Clenix has an online contact form to help you to generate more leads for your cleaning firm. This makes it simple for your new clients to contact you. You may also promote your services using other elements of the theme, such as the testimonials module, which allows you to quickly publish evaluations and feedback from your cleaning clients.
Clenix is certain to be able to help you in growing your cleaning company thanks to its professional design.
5. Apollo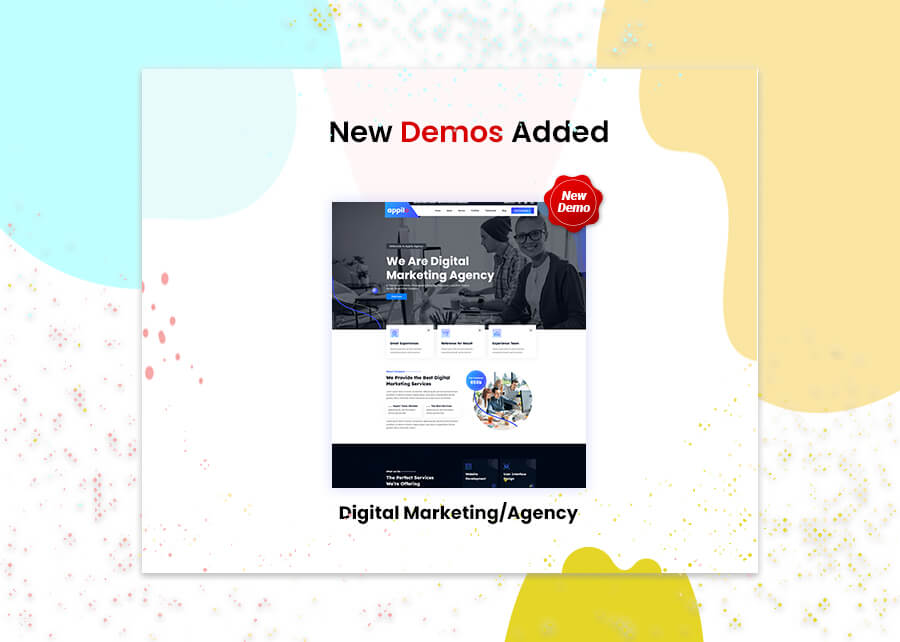 Appilo App landing WordPress theme is a unique and creative design based on the latest technology. Because all files are well-organized, we expect them to be simple to use and change. This theme is well-organized and simple to modify. It's also simple to use and navigate. Compatible with any device, including desktops, laptops, tablets, smartphones, and other mobile devices. Appilo theme is a clean and simple design that will offer your company a professional appearance.
More Suitable for anybody seeking an app, an app landing page, an app landing template, an app store, an app template, an app website, a clean app landing, a creative app landing page, a modern app landing page, and a current a mobile app landing page.
6. Cleaning Services
Cleaning Services is a multilingual WordPress cleaning service theme with complete RTL text support.
If you need to develop a website to promote your cleaning services in a right-to-left language, Cleaning Services could be an excellent solution because of its RTL text support. Furthermore, because this theme creates to operate with the best multilingual WordPress plugins. If you want to publish your material in more than one language, the Cleaning Services theme supports that as well, making it great for addressing a variety of demographics in your area.
Although the Cleaning Services bundle just includes one website prototype, it has the correct looks and layout to help you attract more clients. The huge full-width slider, for example, is great for showing your most critical information above the fold on your website's homepage. The animated cleaning-related icons can be utilized to showcase your important services by scrolling down the basic site layout. Another part of the webpage allows you to specify your method for accepting bookings, engaging with clients, and managing jobs online. If a visitor isn't sure if they need a cleaner or not, this section of your website will persuade them and answer any queries they may have.
Other important features include a client testimonial publishing tool, a mobile-friendly design, and a wide range of customization choices to guarantee that your website not only looks the part but also has all of the vital functions of a modern business website. The one-click demo content importing tool can also help you can start quickly and get closer to creating your new site. Cleaning Services could be the theme you're looking for, with its beautiful design and specialized text publishing options.
7. Make Clean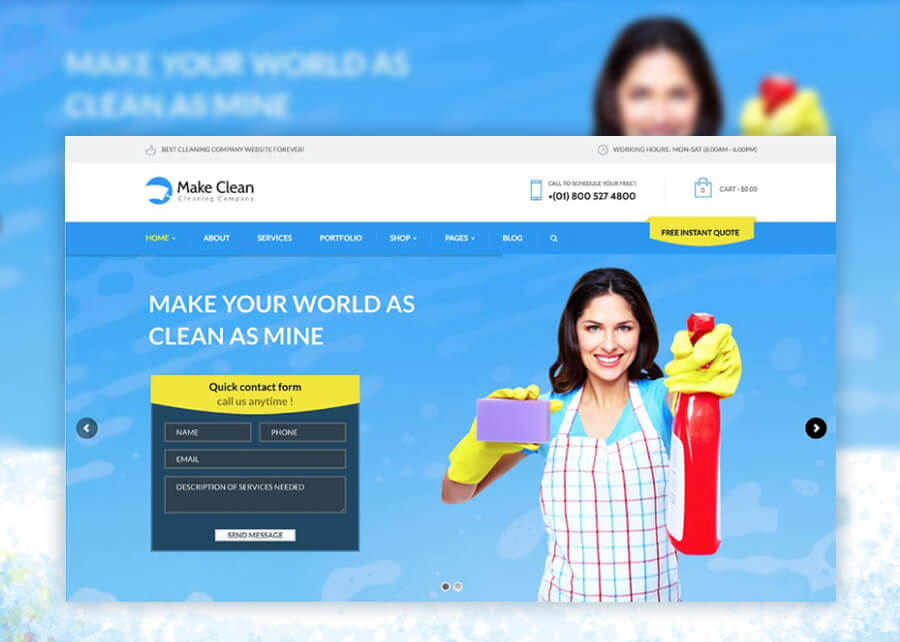 Make Clean is a WordPress theme designed specifically for cleaning companies that may help you launch a professional website for your company.
The Make Clean theme makes it simple to promote your cleaning services online, no matter what they are. In just a few clicks, you may import the pre-built website prototype into your WordPress site. After that, you may start adding your own material to the demo text and graphics. Make Clean is sure to help you build your business because the default homepage style is focused on turning more of your visitors into clients and customers of your cleaning company.
You'll find a full-width slider on the Make Clean homepage theme, which is excellent for presenting photographs and important information about your company. You can also utilize the services carousel to show off the many packages you give your customers, as well as a quick contact form that allows them to easily contact you and inquire about your services.
The staff profiles slider, the client testimonials area, and the section that can be used to display key statistics from your business such as how many clients you've worked with, how long you've been in business, and whatever other information you'd like to share are all sections on the default homepage layout that you can use. However, in addition to the main default homepage, Make Clean provides a second homepage layout for you to work with, as well as a library of inner page layouts.
Make Clean is one of the top cleaning services wordpress theme for people looking for a complete set of templates for your website as a result of this. Make Clean is an excellent theme for constructing cleaning website template with WordPress since it has a drag-and-drop page builder.
8. The Kleaner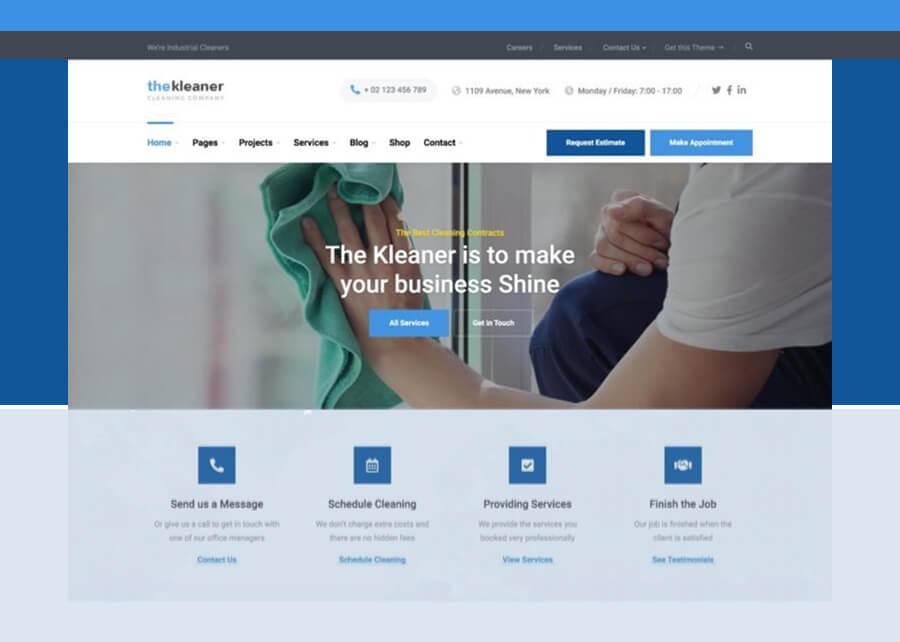 The Kleaner is a WordPress theme designed for commercial cleaning businesses.
This theme includes three website demos to help you in promoting your cleaning services online using WordPress. Because The Kleaner is designed for businesses that perform industrial cleaning services, if you clean factories, warehouses, or construction sites, this theme would be ideal for you. However, because The Kleaner's templates are freely editable, you may quickly modify them to make them more appropriate for home cleaning services.
The Kleaner comes with three homepage layouts that include all of the elements and sections you'd expect from a premium cleaning services wordpress theme. This means you'll be able to use a large homepage slider to highlight some of your most important information, display icons that guide new clients through the process of working with you, and a grid to illustrate the primary services you offer. There's a selection of portfolio templates you may use to share the information of projects you've worked on. The extracts from a selection of portfolio items can be displayed in the projects area of the default homepage layouts.
The testimonials carousel on the site is ideal for sharing feedback you've received from clients. It's fantastic to see that this function has been easy to use and is easily accessible, as customer evaluations may be a great way to attract new clients. If your visitors enjoy what they see, The Kleaner includes a few features that make it simple for them to contact you. One is the online form for requesting a callback that is connected to the homepage design, and the other is the header space where you can quickly display your contact information. Everything about The Kleaner can also be readily altered thanks to the WPBakery Page Builder plugin's integration.
9. Unfinity Plus
Unfinity Plus is one of the most significant collections of landing pages with a modern touch, which is extremely well polished, responsive, and stylish. It is a multipurpose business theme that is ideal for any business. A fantastic approach for entrepreneurs to begin their digital journey Ufinity Plus is one of the most exhaustive selections of landing pages with a nice touch. This user-friendly WordPress theme for non-profits is easy to alter and is suitable for multi-purpose enterprises.
You can create gorgeous and appealing landing pages in a matter of seconds, and you don't even need to know-how.It includes over 20 fantastic demos and may be utilized for a wide range of enterprises. It has several features, including a one-click demo installation, a visual composer, and SEO optimization tools.
10. We Clean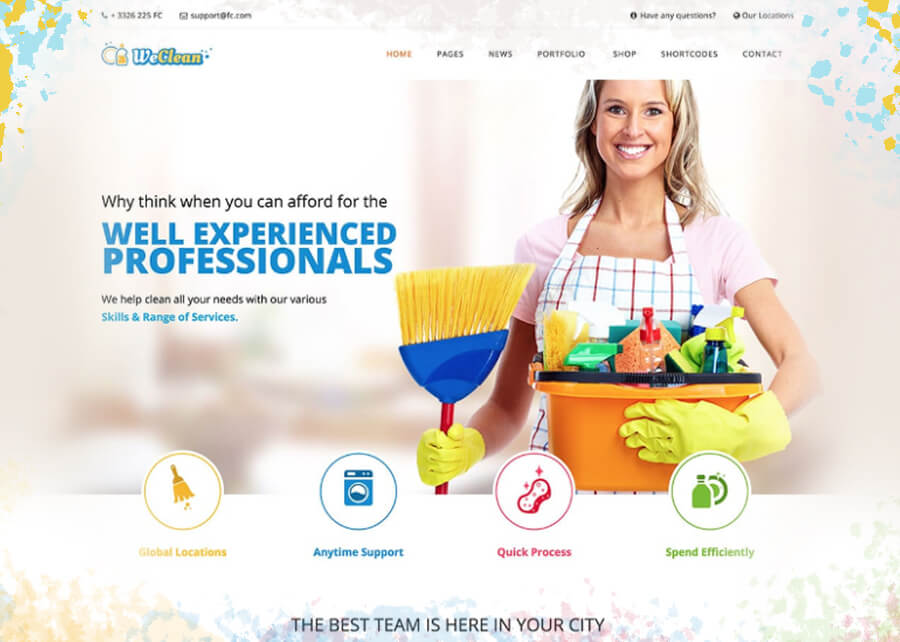 We Clean is a WordPress theme designed to promote service-based businesses, such as cleaning services.
Although this theme could be useful for anyone constructing a plumbing or maintenance service business website, We Clean is ideally suited for cleaning companies. In fact, because the primary website example is perfect for cleaning companies, you might have the basis for your new website up and running in minutes if you choose this theme. Simply upload the theme files, import the example content, and begin customizing the site with your own text, images, and videos.
However, because the We Clean theme contains an alternate homepage layout, you have two options for your site's front page. Checking over all of the We Clean demo content is suggested because both designs perform equally well for developing cleaning company websites.
The We Clean theme quicker is in the process of changing the colors and other visual elements of your website when it comes to setting it up and ensuring it matches your branding. You may modify the look of your cleaning company website with the click of a button thanks to the 5 color skins and 20 color schemes. If you choose this theme, you'll also have six header layouts to choose from, as well as two primary width settings for your entire site.
We Clean is sure to help you create more leads from your website because of its huge sales-related features.
11. Etalon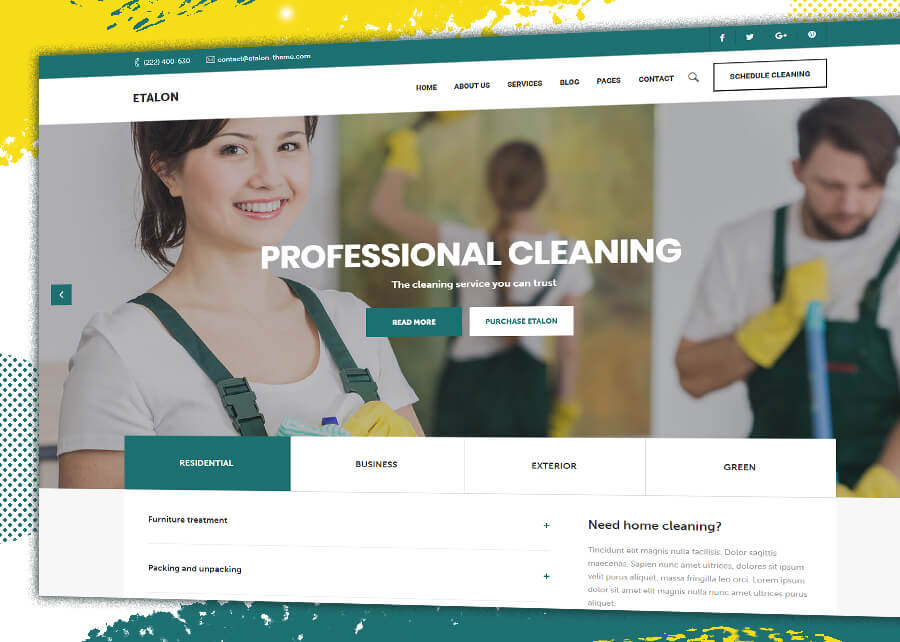 Etalon is a multi-purpose WordPress theme that may be used to create professional services websites, such as cleaning company website template.
A purpose-built cleaning company design includes among the many demos in the Etalon WordPress theme package, and it's grea1t for showcasing your cleaning services online. With a wide full-width slider as an important part of the cleaning company website homepage design, you'll be able to easily capture your visitors' attention as soon as they arrive.
A tabbed space for displaying your services, an important FAQ part for addressing frequently asked questions, and a call-to-action widget with a button that lets your visitors contact you are all included in the default homepage layout. Other templates include contact, about, and services pages, among other vital sections for your website. With the entire collection of post templates and layouts, you can easily add a blog to your website.
You'll have access to a huge number of important features to help you develop an effective cleaning company website with WordPress because this theme was designed for a variety of various types of websites. The online scheduling tool, which allows your visitors to request an appointment through your website, a widget for displaying your contact details and hours of operation, a pricing table tool for outlining your cleaning packages, and a testimonials carousel for sharing feedback from happy clients are just a few of the ways Etalon can give your website an edge over the competition. You may also pick one of the other Etalon service website demos and for your project if you think that would be a better fit for your site.
Etalon provides a wide number of tools that can help you in creating the type of website that your cleaning business demands.
12. Intime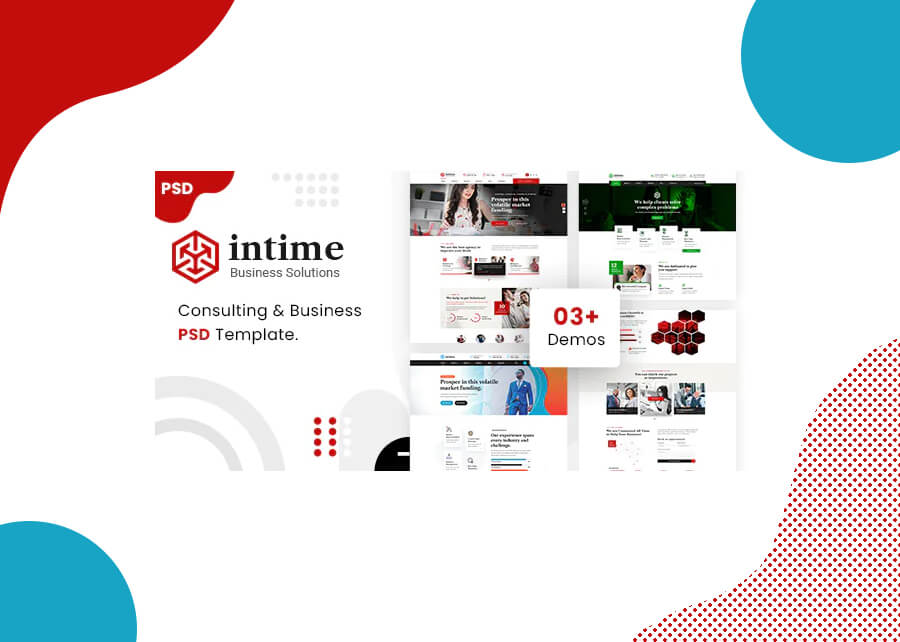 Intime is designed to provide a modern solution for any business. The theme includes a large number of attractively designed homepages and a variety of inner page designs. There are also portfolio templates that are adaptable and simple to customize, giving you complete control over the look of your presentation. Furthermore, because Intime looks excellent on all devices, your content will appear great. A personal or business theme, Intime is a superb option. Get it now and learn about all the features that a WordPress site needs
Don't be worried if you're having problems getting your site up and running at first. You'll never be left in the dark when it comes to establishing an excellent place for your cleaning company, cleaning service, or cleaning business, thanks to the demo material and video lessons that come with this theme. It also includes Elementor and Revolution Slider, which allow you to design unique layouts without programming skills.
13. Clany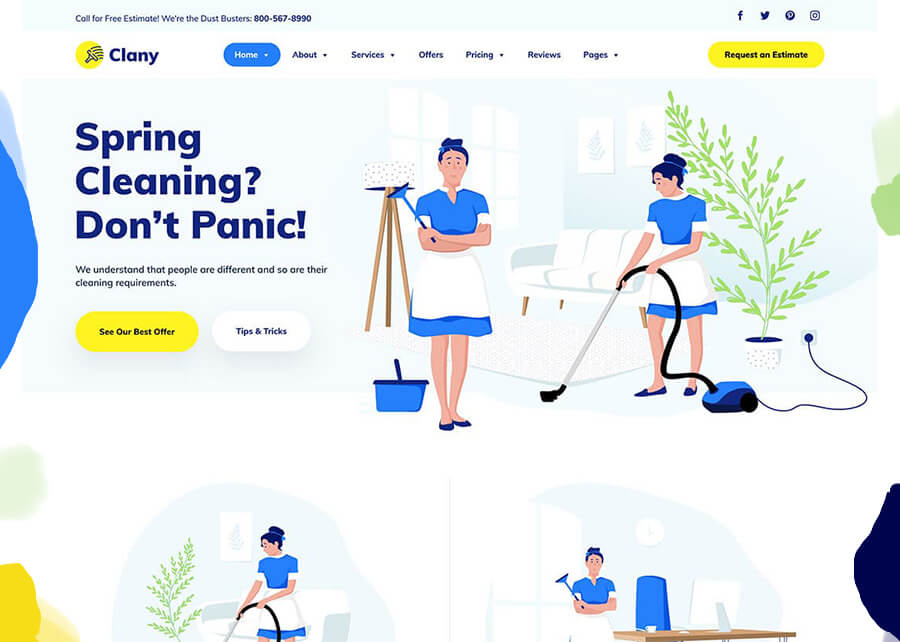 Clany is an excellent example of a WordPress theme designed specifically for cleaning company websites.
The Clany package includes a number of demos that allow you to customize the design of your cleaning company's website. A demo for constructing a website for a firm that specialized in cleaning offices, as well as more general-purpose sites for cleaning service providers, is one of the alternatives.
Because this is a modern WordPress theme, the pre-built designs and templates are not only current but the layouts have been filled with the most popular and helpful features and widgets. Full-width sliders, interactive pricing tables, and social media feed sections are some examples of these features.
You may use the recommended Beaver Builder page builder plugin to edit any of the templates included with the Clany. This tool's drag-and-drop interface makes it simple to move things around the templates and customize their looks.
Unlike some other WordPress themes, the Clany demo includes all of the images you see in the demo. As a result, you'll get access to a large number of premium stock images that you may use on your website, either temporarily until you're able to develop your own photos or permanently. This will not only save you money on stock photos, but it will also save you time when it comes to setting up your cleaning company's WordPress website.
Clany is popular with features and ready-to-use content, making it a compulsory option for cleaning companies of all sizes.
14. NIOBIS
NioBis is a WordPress theme for Financial Advisors, Insurance Brokers, Accountants, Lawyers, Consultants, agencies, Accountant, Startup companies, Finance businesses, Consulting companies, and any corporate consulting websites.
Lots of features you will get in this theme liken One-Click Demo Install, Drag And Drop Page Builder – Elementor Page Builder, Seo Friendly, Compatible With Contact Form 7, Child Theme Compatible, Advanced Typography Options,4 Awesome Home-Pages,3 Unique Header Style, Clean & Modern Design, Valid HTML5 & CSS3.,Latest Bootstrap, Unique results and performance, Smooth transition results, Cross Browser Optimization and so on.
15. CarpetServ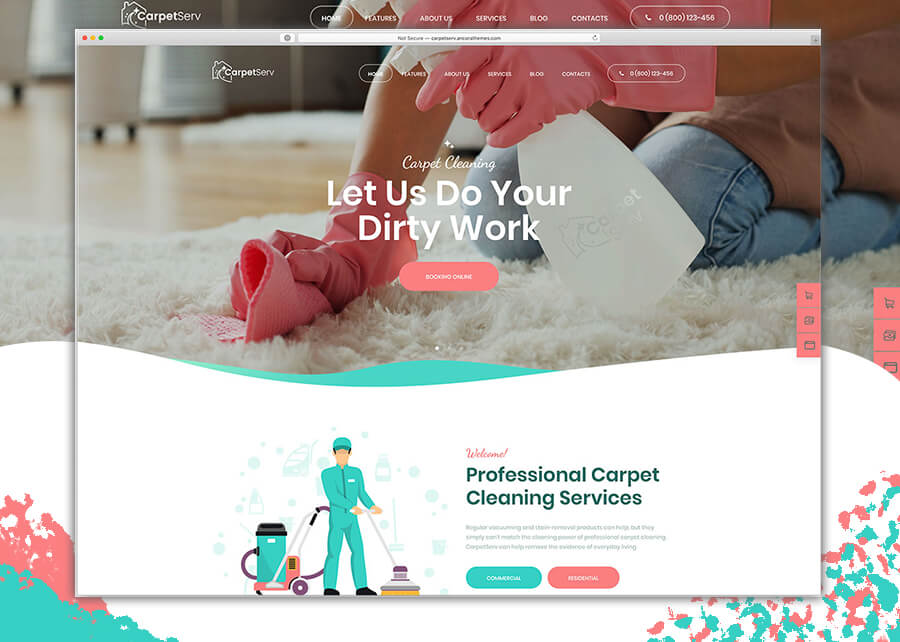 CarpetServ was created with a modern and efficient design in mind to make the process of building a cleaning company website as simple as possible.
This theme has two main homepage designs that exclusively focus on using WordPress to create cleaning company websites. Although they may use to market any cleaning service, this may be the best option for you if your company specializes in carpets. You can have your new website up and running in no time because the demo material includes a lot of carpet-related and cleaning photographs. Simply substitute your own words into the placeholder text and you're good to go.
If you prefer a more hands-on approach to website development, the WPBakery Page Builder plugin – formerly known as Visual Composer – makes it simple to change practically every view of CarpetServ via a drag-and-drop content editor interface. CarpetServ is one of the best wordpress themes for cleaning services for constructing special.However it makes to order websites in this market, with plenty of extra customization options.
The premium Slider Revolution plugin is another strong tool included in the CarpetServ theme package. You may continuously change the pre-built slideshows used in the CarpetServ example or design your own unique sliders from scratch using this new capability. There's also a lot of help for the MailChimp email marketing service, which gives you all the tools you need to launch an email newsletter and stay in touch with your visitors and customers.
CarpetServ is a powerful WordPress theme for building professional-looking cleaning company websites.
16. Sanitizex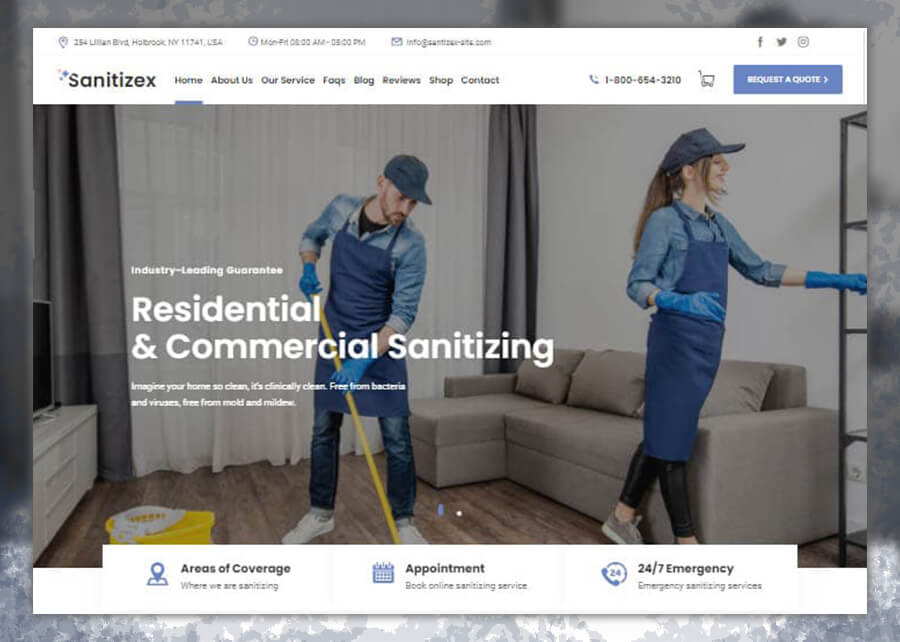 Sanitizex could be an excellent fit for your website if you provide domestic, commercial, or industrial cleaning, as well as other associated services like pest treatment. Despite the fact that you just get one website demo, it is quite well-designed and has everything your website is likely to need.
The homepage design in the example is user-friendly, with a huge slider at the top of the page. A button farther down the homepage encourages people to book an appointment, check their coverage areas, and browse your contact information. On the homepage, there's also a box for visitors to get a quote and learn about your availability.
The features that make up the default homepage layout allow you to publish a FAQ, provide comments from happy clients you've worked with, and explain why others should hire you.
Because this theme's demo content can be modified with Elementor, you have complete creative control over the looks of your site.
Sanitizex is the place to go if you want to promote your sanitizing and cleaning services with a well-designed website.
17. CleaninCO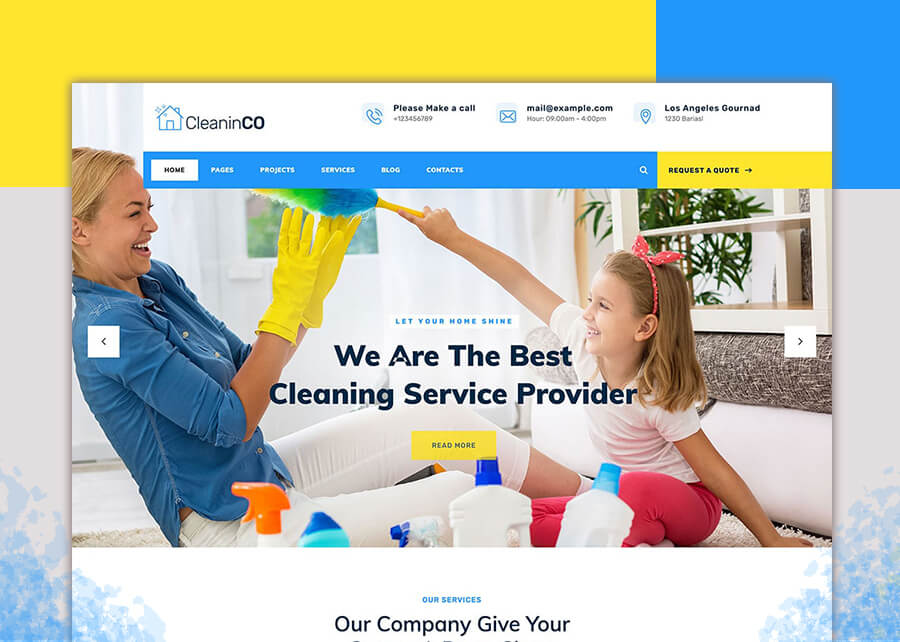 CleaninCO is another high-quality cleaning wordpress themes for cleaning services that is ready to use.
It should match your criteria if you're searching for a theme that you can add to your WordPress dashboard, import the demo site, and then replace the stock photos and text with your content to constantly establish a professional-looking cleaning company website. Its pre-built demos are worth adding to your shortlist, whether your existing cleaning company website needs a change or you're building your first website.
When you look at CleaninCO's pre-built content, you'll find that there are three different cleaning company website demos. Regardless of the demo, you select, you'll have access to a homepage that's designed to help you showcase your cleaning services and convert more visitors into customers.
Large picture sliders, symbol grids for displaying your essential services, and a panel for revealing your personnel details are just a few of the aspects that make up the pre-built homepages. While many themes include staff member profiles, this feature is especially vital for a cleaning company website because your consumers will trust their homes and offices to these individuals.
The prominent call-to-action elements throughout the templates, such as the phone number and email address banner in the header and footer, as well as the request a quote button, ensure that when your visitors are ready, they can contact you with just a few clicks, no matter where they are on your site. You may alter the web forms that come with the CleaninCO templates to ensure that you capture all of the information you need from possible new clients by using the recommended free plugin.
CleaninCO's templates are also very customizable if you need to make any modifications.
18. Queak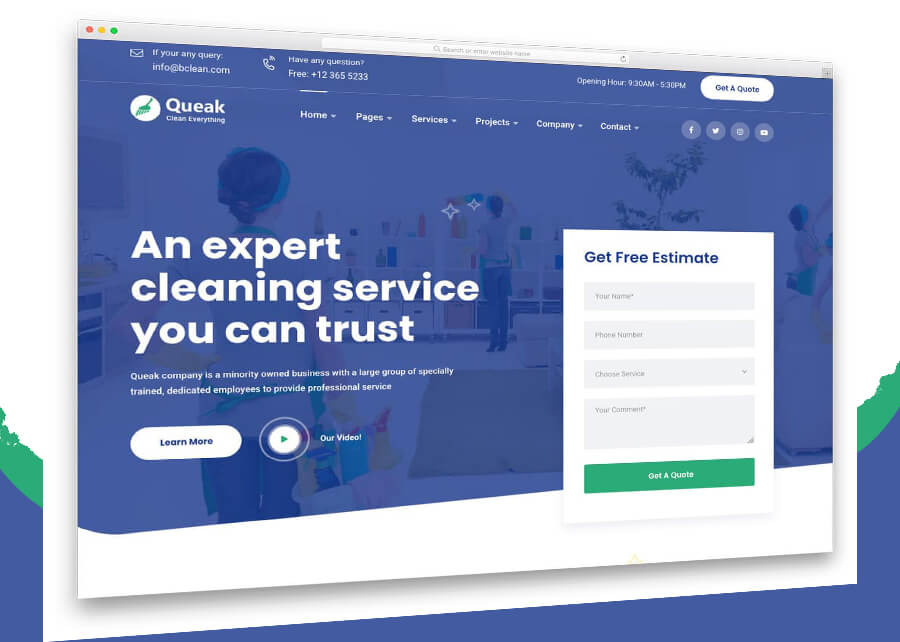 Queak comes with a pre-built demo for quickly developing a variety of cleaning company websites using WordPress.
This theme pre-built templates are an excellent alternative if you want your cleaning company to have a professional look that not only appears trustworthy but also helps you build your business. Although the two homepage layouts included in the Queak package have several looks, they both have a lot of the same fantastic functionality, executed in different ways.
The form that's been set up to enable your visitors to request a quote, the client testimonials slider for sharing feedback from people you've cleaned for, and the pricing table panel that makes it easy to explain the details of your cleaning packages are just a few of the useful homepage features you get access to with the package.
Other site components include a part for displaying your team members and a FAQ area for answering typical queries, as well as a welcome film that introduces your services. You don't have to use these elements if you don't require them for your project because they're all optional.
Queak, on the other hand, features more than a few homepage templates. You'll discover layouts for all of the other content your cleaning company website is likely to require in the theme package. This contains, for example, the services, about, and contact pages. There are many versions of each template type available in certain situations, providing you with a wide range of design alternatives for your website.
Queak comes with an appointment booking plugin in addition to the beautiful templates, which could help you automate some of your procedures or at the very least make it easier for clients to request a visit. When it comes to website customization, It offers complete support for the renowned Elementor page builder plugin, as well as a variety of settings and features that allow you to modify the look of your site from a simple panel.
Queak is a highly recommended WordPress cleaning service theme that will not let you down.
19. CleanMate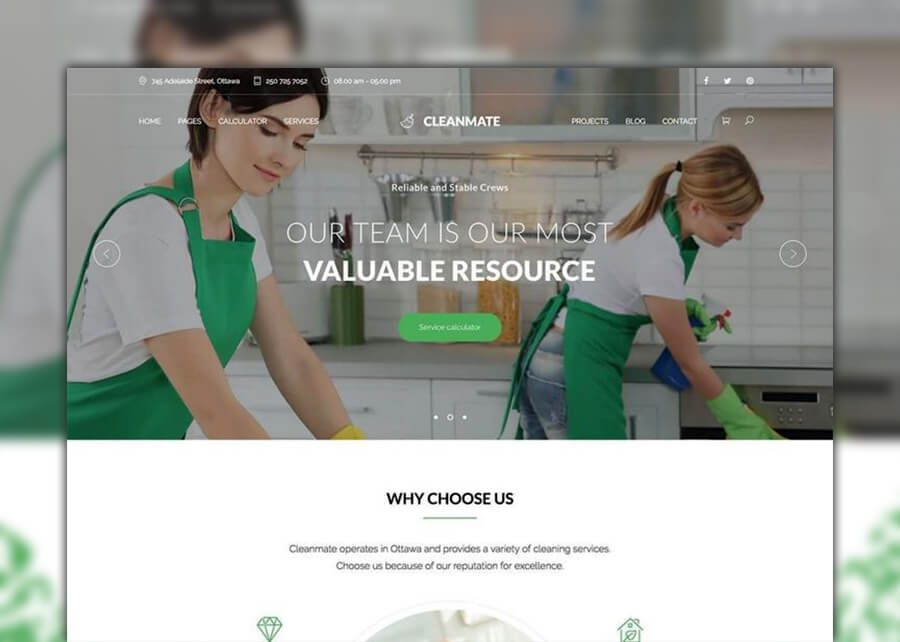 CleanMate is multiple WordPress themes for service providers, such as cleaning businesses.
The CleanMate theme and its demo site are more than up to the challenge if you want your website to be an effective tool for promoting your business. The CleanMate theme is designed for service providers of all types, including workers and companies with several staff, and it can be simply customized to meet your needs.
The two CleanMate website demos are not only natural in looks, making them suitable for a wide range of specialties and services, but they can also be significantly altered if necessary. The theme control panel allows you to customize your site with a single click, allowing you to change the menu and header layouts, as well as the site width, to mention a few options. You may also alter any of the pre-built content layouts and styles, as well as construct your own custom pages from scratch, using the renowned WPBakery Page Builder plugin. WPBakery Page Builder can add practically any form of the element to your site in only a few clicks, thanks to its 65 modules. Slider Revolution is also included, so you'll be covered for all of your slideshow requirements.
The optional service calculator is another handy element of the CleanMate theme. Your visitors may use the sliders and drop-down choices on this interactive tool to get an estimate of how much your services can cost them by adding them to your website. They can then fill out the online form with their information, ensuring you have all the information you need to provide them with an accurate price for the service they require.
CleanMate is another professional cleaning company theme worth considering because of its flexible design.
20. Clengo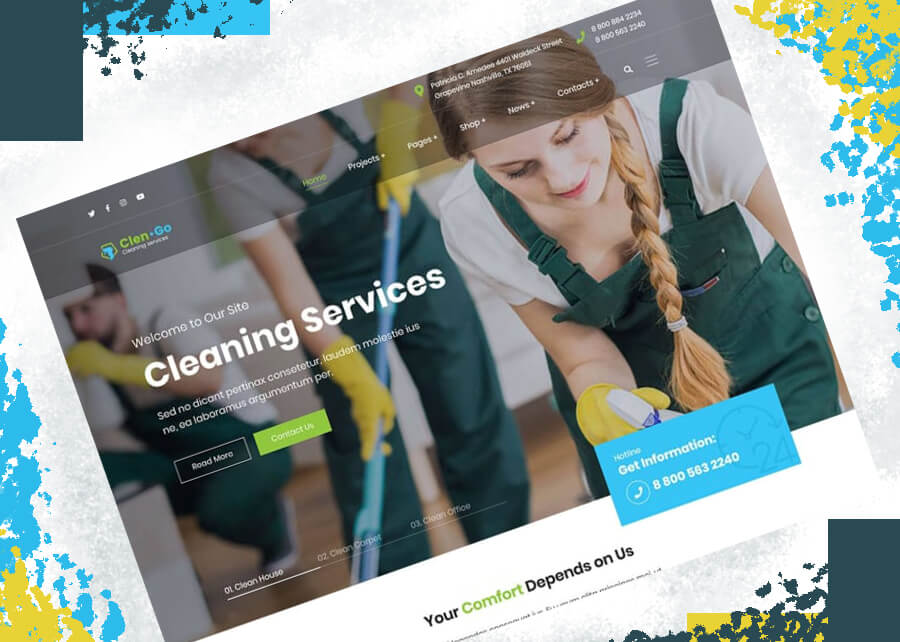 Clengo includes all of the templates and other ready-to-use content you'll need to promote your cleaning business online.
If you choose the Clengo theme, you should be able to quickly get started with developing an online presence for your cleaning firm thanks to an amazing website demo. Another reason to select this theme is that the Clengo website demo's homepage contains huge essential components for promoting your cleaning services.
The wide homepage slider is perfect for showcasing photographs relating to your company, such as photos of your employees or the kind of settings you clean for your customers. Below the slider is a section for marking your cleaning company's important features and explaining why visitors to your website would be interested in using your services. The remaining modules on the default site layout take care of outlining your services, presenting price details, and sharing feedback from pleased clients.
The Clengo bundle includes huge different templates in addition to the homepage design. This contains templates for sharing details about cleaning tasks you've completed, offering information about your organization on the about page, and presenting your team via the team template. Thanks to the set of blog post templates, you can also add a blog to your cleaning services WordPress theme. As a result, if you want to use content marketing to drive more people to your website or if you want to share your news to better connect with your target audience. It also provides all of the necessary blogging capability.
If you look at the Clengo demo, you'll notice that this theme has a high-quality design. The templates that make up this theme, on the other hand, can be simply customized to match your individual requirements. This work is done with the Elementor page builder plugin, which is a tool that provides you with complete control over the looks of your cleaning company website.
Clengo works great for all cleaning websites, whether you're promoting your own cleaning services online or building a website for a cleaning firm.
21. SmartClean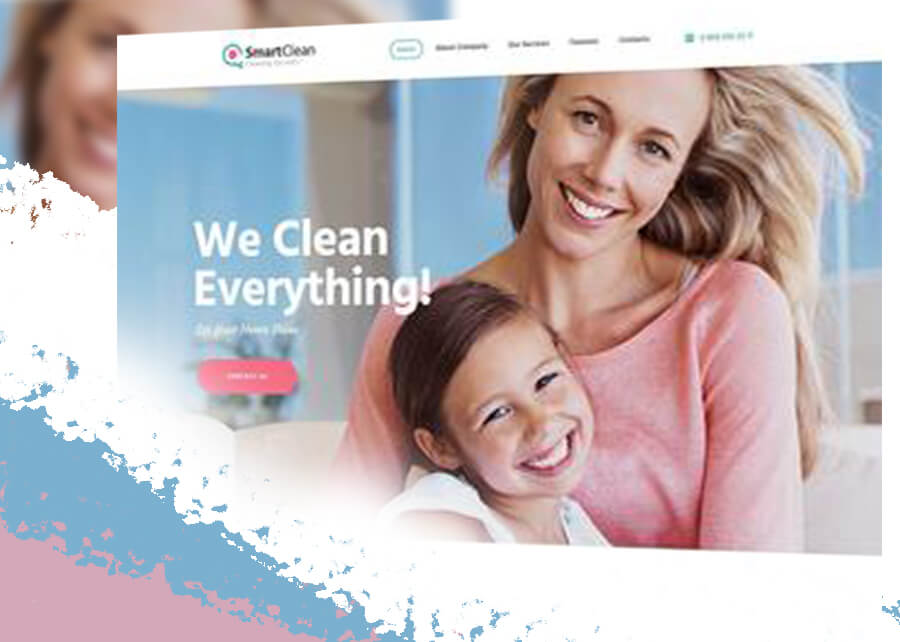 SmartClean wants to provide you with everything you'll need to create your own WordPress-based cleaning services WordPress theme.
If you choose this theme, everyone will be able to browse your website and determine whether or not they want to hire your services. Because of its designe for use on laptops, desktop computers, smartphones, and tablets. SmartClean gives you the option of adding an online appointment scheduling function to your website. In addition to the mobile-friendly contact form and call now buttons. SmartClean makes it easy for you to allow potential new clients to book your services online while you're away from your computer.
The SmartClean theme features a good range of pre-built layouts for the pages. Your site is likely to need when it comes to defining and promoting your services. You may also utilize the pop-up video player to include short movies describing your services and new visitors to your website. With this theme, you can easily create cleaning package comparison tables. offering you even another method to present your services to your visitors. Additionally, if you use a mobile app to handle your services and appointments, the SmartClean theme includes a template for sharing screenshots of your app as well as links to download it for your clients. The WPBakery Page Builder tool that comes as part of the SmartClean theme package makes customizing your website as well.
SmartClean is a highly customizable cleaning service WordPress theme with an excellent performance from the developers.
22. Moppers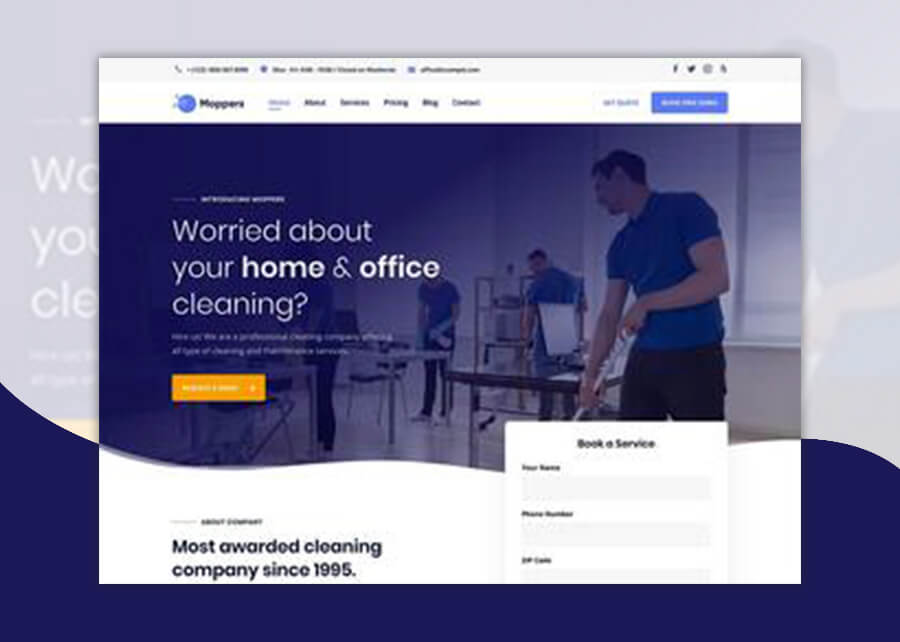 Moppers is ideal for establishing websites for cleaning companies in the residential, commercial, and industrial sectors.
Despite the fact that Moppers just offers one pre-built example website, it features many things that you may use as-is or alter to reflect your cleaning company's vision. The request-a-quote buttons and the service booking form are two of the most noticeable sectors of the Moppers homepage layout. Because these aspects are highly displayed, your website should be able to effectively convert visitors into new customers.
If you wish to showcase the logos of firms, the dedicated company logo section on the Moppers homepage. You may also utilize the how-it-works section to describe your services and what happens after a new client hires your cleaning service. Moppers is a great set of templates for cleaning companies. It offers different services and packages to publish the information of these services. Another key feature of Moppers is the option to show client testimonials on your cleaning company's website.
Because presenting video content on your website might be another way to engage with expected new clients. It's great to note that Mappers supports displaying these files on your pages. The premium WP Bakery Page Builder plugin includes allowing you to easily add videos and a variety of other components to your pages. It includes, like sliders, price tables, and call-to-action buttons.
You can rapidly launch your new cleaning services wordpress theme with this theme thanks to Moppers' one-click demo tool.
23. Webify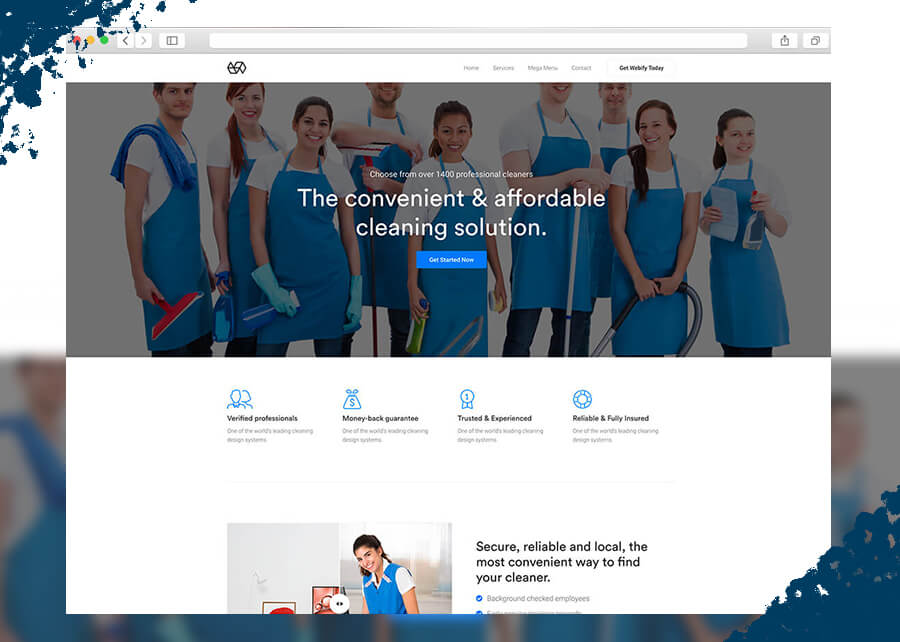 Webify is a wordpress themes for cleaning services, thanks to its multiple approaches. There's no need to search further because Webify has all you need and more. With no prior experience or coding skills, you can immediately have a page up and operating in a matter of minutes. Allow Webify to do all of the work while you enjoy adding your personal touches. Stick to the out-of-the-box version of Webify, on the other hand, if you want to keep it incredibly basic and quick. Let's face it, it's already attractive, amazing, and pleasing to the eye.
Let's talk about the characteristics, shall we? Countdown timer, huge menu system, hover effects, shortcodes, pricing table, and few others are just a few examples of Webify's excellent features.
24. Cleanco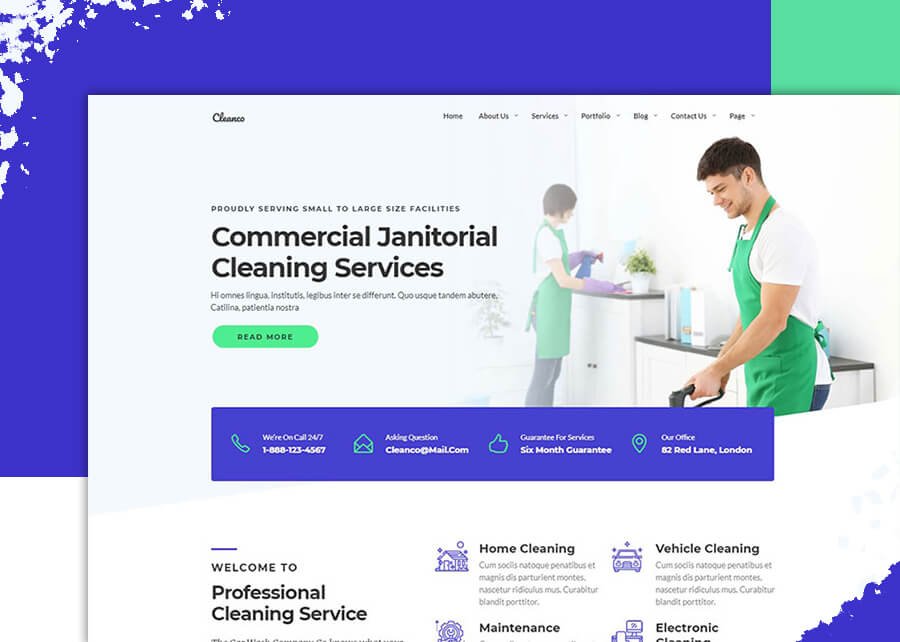 Over the previous three years, Cleanco has flourished. In that time, this theme has gone through multiple critical and design-changing improvements while still retaining its original demo. As a viable alternative for your cleaning services WordPress theme. I'm very positive that of all the cleaning agency themes available. The Cleanco theme has to feature the most complex Appoint Form. This Make an Appointment form is broken down into five simple steps. Clients can send you a request to book their services immediately once they've finished the form. You can establish your Service Categories, Services, and individual Employees. It would be appropriate for the task on the admin panel.
As you fill up those details, they appear in the homepage widget. As a result, clients will find it much easier to schedule their ideal cleaning service. A Time Schedule step includes in the same form, as are steps for entering personal information. . Indeed, this appointment form is perfect for the Cleanco concept, making it completely unique and creative. But that's only a small part of what Cleanco has to offer.
In addition to what we've already discussed, Cleanco also provides eCommerce and dynamic Mega Menus to make navigation easier.
25. Sway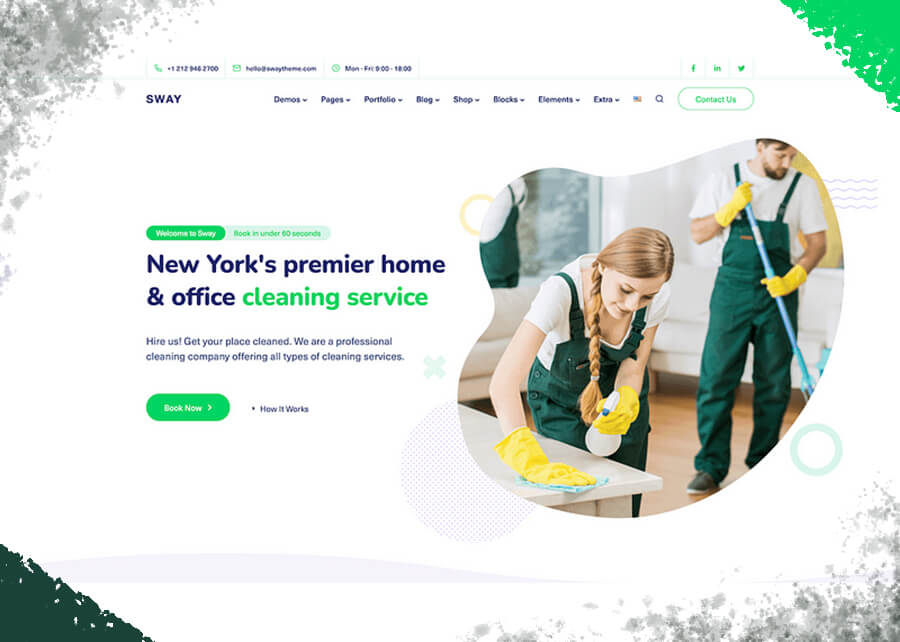 Every company nowadays requires a website. It not only explains your professionalism, but it is also really simple to create a page. Sway is a fantastic cleaning services wordpress theme that gets you started on the correct path right away. You may get started right away with the one-click example data import and can have the finished company site ready to go with just a few changes and setups. You may even make a version for your local audience by translating Sway into whatever language you desire. Thanks to Sway, you can promote your services and develop your customers with a powerful website.
26. EcoClean
EcoClean is a clean and dynamic WordPress theme designed for cleaning businesses and agencies. The EcoClean is really simple to maintain, thanks to a professional design and a simple Page Builder. Modern elements increase the outstanding yet simple design. An Appointment Calendar, for example, will help you in keeping track of your customer appointments. However, for new clients, provide far more experience.
You also receive a personalized Blog layout in addition to the Calendar. However, once it works, you'll have a blog where you may share your ideas and experiences. EcoClean is the best in the customizations industry. Organize a site-wide color palette and organize dynamic Parallax Sections for a fresh look. With a simple click, you can also create Team Member pages and add interactive content carousels.
Even though EcoClean is nearly complete, the PSD files can be used to add personal touches to the design. The EcoClean theme makes use of AccessPress to display important social media data. There's also a MailChimp plugin if you want to start collecting email subscribers right away.
27. Ekko Cleaning
Take things to a whole new level with a strong online presence, even if your services are already out of this world. Ekko is a cleaning service theme that can get you up and running quickly. The demo is there, ready for you to personalize and make your mark online. Be prepared for speed, as working with Ekko is simple and fast, making it ideal for both beginners and specialists. Also, while working on a page with Ekko, you can't really go wrong. The WPBakery drag and drop page builder is included with this theme, ensuring a code-free experience.

More than 250 template blocks, Slider Revolution, IconsMind icon pack, child theme, CSS3 animations, parallax effect, and price tables are just a few of the extra features. Of course, you'll get free upgrades for the rest of your life and access to world-class support. Ekko makes starting a blog, sharing video content, and even selling things.
28. Max Cleaning
The Max Cleaning theme is a cleaning service theme for businesses. This category is supported by every category of the design, as well as every feature. When visitors arrive at your website, you can use a content slider to welcome them with attractive visual imagery. Furthermore, each slider container contains a summary of business information in addition to the slider itself. As a result, you're immediately "educating" your customers on your company hours and contact information.
Max Cleaning supports "counters," which are frequently uses in businesses to display their work history. You can use counters to show how many clients you've served or how much praise you've received. Max Cleaning also includes features such as a Portfolio, Pricing Tables, and Team Members' pages in addition to the previously mentioned tools. The Portfolio, in particular, deserved another examination. You can integrate your work portfolio flawlessly so that clients may navigate it using categories or tags.
Your visitors can transport to the project page when they click on a portfolio item. Which you must, of course, make public Photos, project-specific details,. Your personal report on what was accomplished or done for the customer can all be found on project pages. This theme is incredibly easy to customize because of integrations into WPBakery Page Builder, which is your greatest friend when it comes to visual design modification.
29. Dustar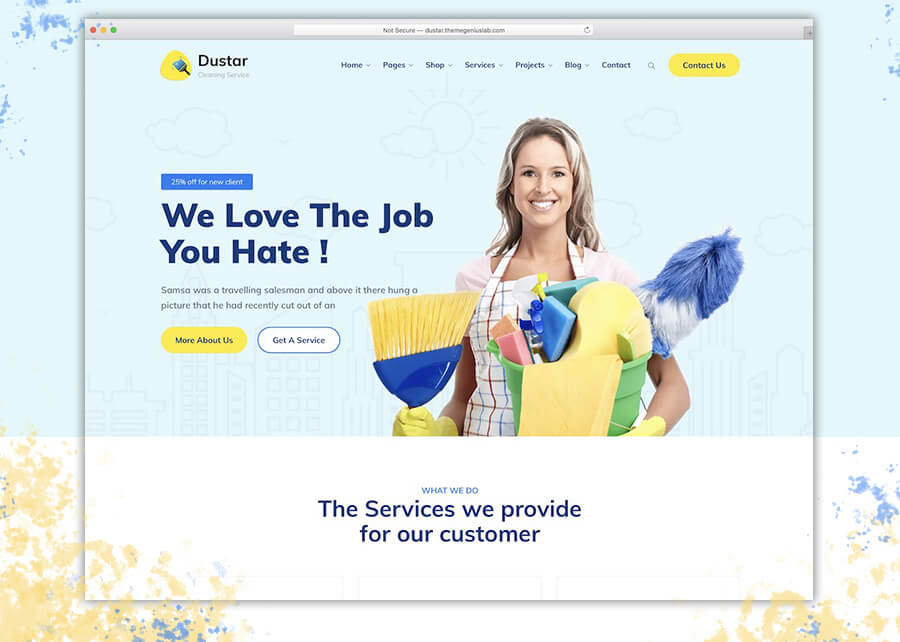 Dustar is a simple business WordPress theme that comes with all of the required tools to get you up and running quickly. Rather than starting from the start, you can now expect an online presence to be set up quickly and with little effort. There are three homes to pick from, all of them are fully functional and ready to use right away to get your website up and running. Additionally, you can use the Elementor page builder to fine-tune each layout and part of Dustar down to the last detail.
A one-click importer, sticky menu, Contact Form 7, fluid animations, and full blog and online shop sections are among the tool's other features. Dustar's design is mobile-friendly and cross-browser friendly, and it obeys all current trends and rules. Start strong on the web from the outset and grow your business accordingly.
30. Klear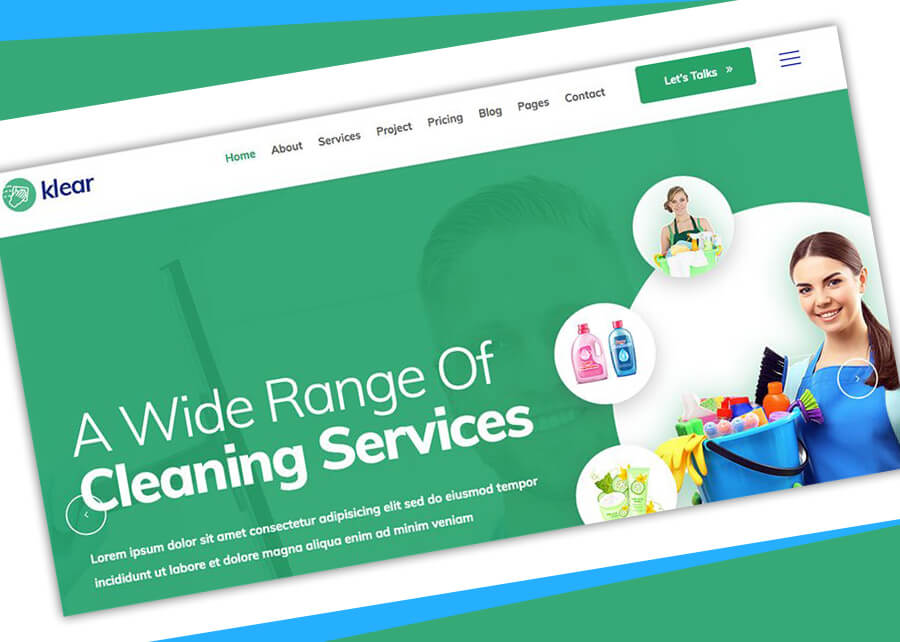 Klear is a flexible and highly functional cleaning services wordpress theme that includes all you need and more. It has various pages like home & inner pages, in the end, you could go online as soon as possible with those amazing features. there's no need for you to start from the start. Even if you want to design any page layouts, you may do it using WPBakery, a drag-and-drop page builder. There will be no more coding for you!
This theme is RTL and made by online booking, various headers and footers, animations, and custom add-ons and widgets. This theme is perfect for speed and SEO, and it also includes expert support and updates for the rest of your life. For years to come, your cleaning service website will run like a pro.
31. Be Clean
A well-designed website is unlikely to be a major criterion for clients when evaluating your services. However, having a well-organized and easy-to-navigate website can be really beneficial. The Be Clean theme combines fantastic functionality with a down-to-earth design approach to provide a powerful template for cleaning services, maid services, and other cleaning-related businesses. The large spacing between elements, as well as the intelligent use of colors, assist to showcase each piece of material separately. It'll only be a matter of time until you start scheduling your first clients on your website, thanks to a simply accessible Appointment Form.
While a cleaning company's website doesn't require many features, it's still wonderful to have the option of using various elements and tools. Adding a Mega Menu, for example, can help index a big number of website connections. A Forms Builder, on the other hand, is great for developing new booking forms as well as concluding surveys and creating contact forms. Layer Slider and Revolution Slider are two unique solutions for adding sliding material to your cleaning website that Be Clean is implementing. If you're coming from a nation where English isn't spoken, adding translation is easy thanks to pre-defined translation files.
32. Clerina
What matters is that you have a website. It doesn't matter what your business is about; what matters is that you have one. Consider it this way: a page is your number one brand ambassador, allowing you to sell your company products as you like. You can develop an online presence that will draw people in and encourage them to take action. Clerina is the appropriate cleaning services wordpress theme to get your business started if you offer cleaning services.
You can easily decide how your products will appear on the internet with the three available, optimized, and fully adjustable home designs. Clerina also comes with two booking forms, completely mobile-friendly, and the WooCommerce plugin, which allows you to start selling cleaning supplies online. Begin strong on the internet with Clerina, and you'll be able to reach a far larger population of people in need of your excellent cleaning services.
33. Cleanora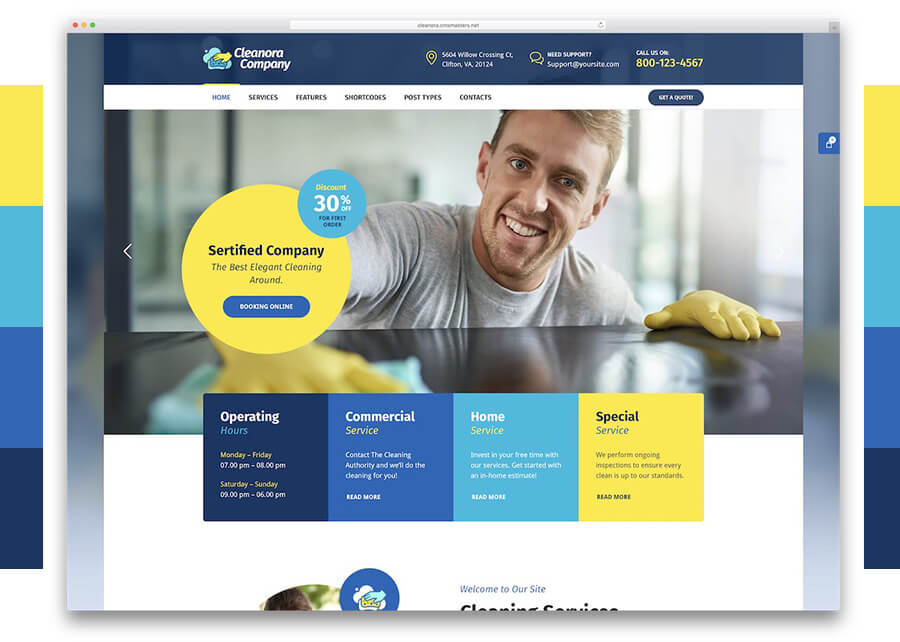 Cleanora is an amazing cleaning services wordpress theme with a fantastic set of ready-to-use demo content that will put you ahead of the competition with a mobile-ready, cross-browser-friendly website. In addition to, this also features a helpful cleaning cost calculator that will help them locate the best choice for their needs quickly and easily. Cleanora has various features & components for designing amazing cleaning services WordPress theme.
You can also use Cleanora to introduce your team members and show all of the different cleaning services you provide in a perfect way. may also start a blog and use it for content marketing to help you attract even more customers. You might see a huge change in your business if you approach your web presence properly.
34. Max Cleaners
Seeing the Max Cleaners demo gives us a "business" vibe. As a result, if your cleaning company provides services to businesses, this is the one! Despite its "cleaning" title, the Max Cleaners theme is also great for moving firms! The authors of the theme actually suggest that you sample both sides of the coin. Furthermore, buying one theme for two purposes is a good deal. Cleaners/agencies who travel significant distances to work may want to consider working in the moving sector to supplement their income.
Anyway, what is the substance that Max Cleaners are made of? First and foremost, don't bother with mobile website plugins or any other bullshit. Max Cleaners is responsive design standards, ensuring that users have a fantastic experience on their mobile devices. It also makes with the Bootstrap Framework. You know, the world's best front-end framework! Let's get started with the content-related features.
Max Cleaners, for example, allows you to unique and dynamic content pieces in your design process. All you have to do is access the admin dashboard panel and start producing, whether it's a chart or a graph. Custom Posts and Custom Styles, which you can create in your own time, work in the same way.
35. Painting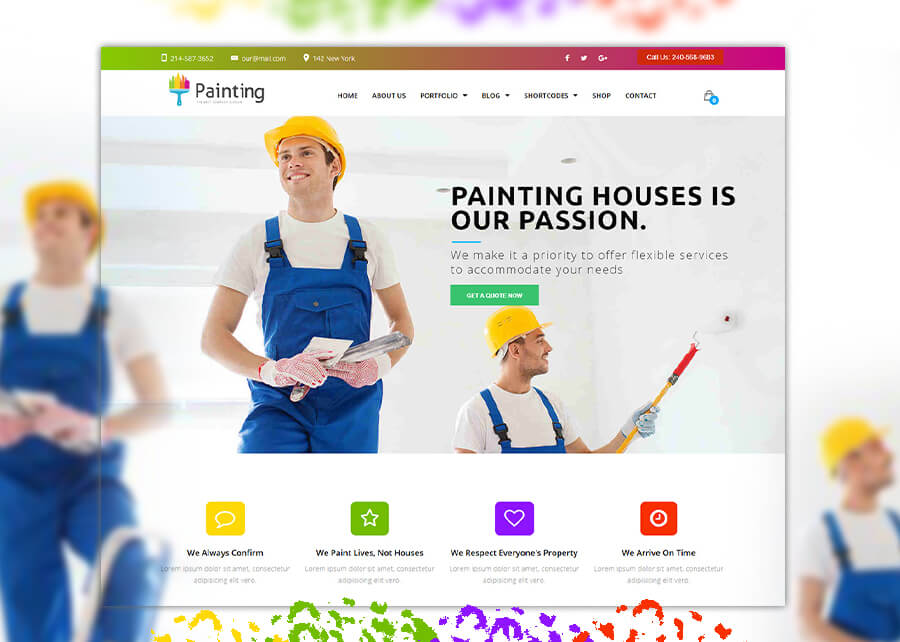 Isn't painting and cleaning the same thing? A client will almost certainly require cleaners following a paint job to clean up the mess left by previous employees. After looking at the Painting sample, it's evident that a theme of this caliber would work well for a cleaning services website. Everything in the Painting theme is identical to what it is in the Cleaning theme. As a result, you won't have to make any significant design adjustments. In keeping with our universal design philosophy, the Painting theme has a clean codebase, which means less work is spent implementing new features.
We didn't see any appointment form widgets right away. But there was plenty of design space set aside for contact information. A contact form is also still an important feature of the Painting theme. A well-designed navigation system allows customers to easily reach pages. Additionally, you will have a Portfolio Design to which you can add your work projects. To achieve personalized content quality, the Painting theme heavily relies on Shortcodes. Check out the Shortcodes to see if there's anything you could utilize in your blog entries or upcoming project sites.