41 Top Interior Design WordPress Themes to Inspire Your Creativity in 2021
All of the greatest and most popular interior design WordPress themes are available, download, and install right now!
What a pleasure it is to live in a loving, decorated, and furnished flat. We're all aware of how significant interior design is and how it affects our daily lives. At the same time, we must not overlook the significance of our website design.
This amazing collection of interior design WordPress themes is perfect for that. It provides professionally designed interior templates for any taste and choice, and it displays you different alternatives to your website's future looks. A website not only assists your clients in finding you but also serves as an online representation of your firm.
When you take a closer look at these interior templates, you'll discover some really beneficial elements that will improve any user's experience. Most importantly, the interior templates are responsive, which means they will look fantastic on any device.
Every component has its own size and location. Furthermore, every part of the page may be constantly changed to your preferences. You can play around with font styles and sizes, background images, headings, color schemes, and a variety of other things. Create a one-of-a-best interior template to set yourself out from the crowd.
It can be difficult to create an interior design website. Your target audience wants to work with someone who can show that they have a good sense of design. As a result, your website should reflect this. As a result, a standard theme will not complete for this project. Gladly, This amazing collection of WordPress themes will help you to decide to make the perfect website for your business in no time by easy customization.
Some of the interior design themes in this collection can be able to work directly. Simply import the example material, customize it with your own text and images, and your new interior design website is ready to go. Other themes are better suited to website owners who wish to build a personalized site that reflects their originality and rareness.
There are plenty of possibilities available for everyone, no matter what type of interior design website you want to create or how involved you want to be in the design process. This collection of themes has a wide range of possibilities, from freelancer and agency themes to e-commerce and online portfolio examples.
WordPress Themes for Interior Design
There's also a nice bonus feature if you want to improve your website's search results and ranking positions: the interior design templates are coded according to SEO principles, making it much easier for your potential clients to locate you on the web. These themes would be ideal for any furniture or interior design firm concerned with product quality and amazing looks. So, it would be great to introduce you to this amazing collection of themes that are perfectly created for interior design WordPress themes.
ArchiPress is an Interior Design WordPress Themes that is modern, engaging, and simple to use. If you want to advertise your company online in the best possible way, you need to invest in a strong web presence. You may get a fantastic finish using ArchiPress that will turn your attention.
The theme promises first-class performance on all devices and web browsers because it only uses the most up-to-date technologies. A sticky menu, numerous home styles, Google Fonts, a slider, and animations are all fantastic features of ArchiPress. You can use ArchiPress to make a single-page or multi-page website.
2. Divi
Are you looking for the best WordPress theme for interior design? If that's the case, look no further than Divi. You may be sure that with its mind-blowing storehouse of 800 designs and over a hundred website demos, you'll be able to find the perfect look for your project idea quickly. Divi's layouts and sections are also completely changeable without the requirement for scripting. You all do it with the visual editor, which is both complex and user-friendly. Divi is definitely the finest option to go with if you want to develop a fully personalized online space for your interior design business.
Regardless of your previous experience, you may confidently begin using Divi. It's a welcoming website with all of the information you'll need. Divi doesn't miss anything, as you'll quickly discover. In fact, it works over expectations, allowing you to get the most out of it without the need for additional tools or components. You have endless alternatives with Divi, whether you want to sell things, build a blog, or introduce marketing.
3. Archio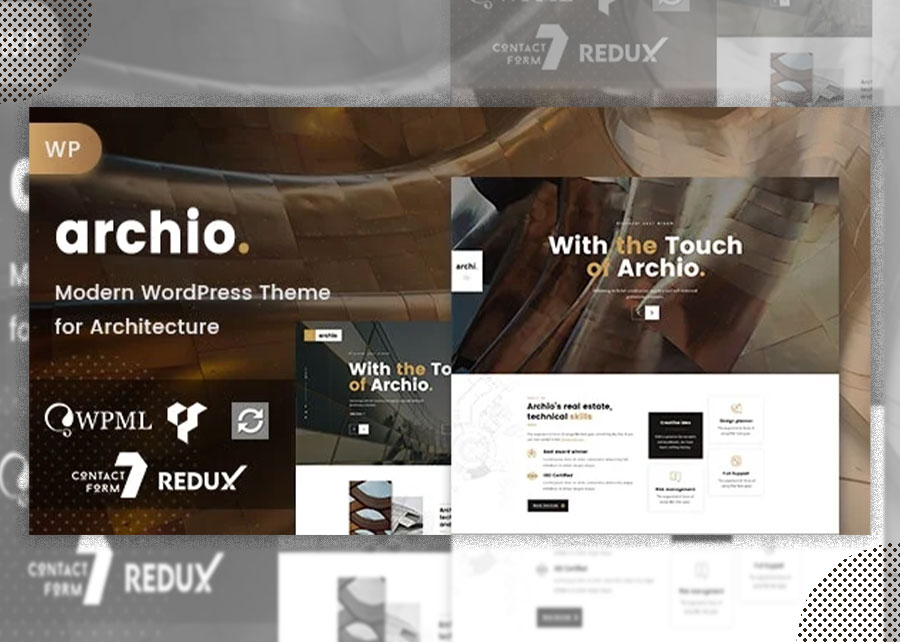 Archio is an amazing and living architectural design. It may be used for any type of website, including architect, architectural, building, construction, decor, estate, furniture, house, and a variety of other related industries. You can get a wonderful business website with well-structured code and simple documentation.
4. ArchiPark
ArchiPark is a landing page template for architects, architecture firms, construction companies, interior designers, property developers, and real estate agents that is both powerful and simple to use. ArchiPark has various amazing features like Typography, super-fast loading, optimized files, youtube video integration, W3C valid code, easy customization, SEO-friendly site, and many other features includes in this theme.
If you prefer a clean and modern look, ArchiPark is a Creative Responsive Architecture Template for you. This template is written in legitimate and clean code, allowing you to modify it as needed. It also has a responsive feature, which means it will adapt to different screen sizes. The ArchiPark template is totally responsive. It looks great on a wide range of monitors and resolutions, from desktop computers to tablets, iPads, iPhones, and other small mobile devices.
5. Inteco
If you're looking for a WordPress theme for interior design, you should definitely check out Inteco. It's a one-of-a-best tool for architects and designers who want to test their limits and see for themselves how far they can go. Now you can, and it just so happens that achieving all of your desires is insanely simple and quick. You may quickly pick how your web design will look with the six homepage samples and many inner pages provided. Furthermore, you can use the excellent drag-and-drop page builder to improve and change the out-of-the-box look.
Auto updates, endless sidebar variations, configurable color schemes, floating navigation, and custom fonts are just a few of the features included in Inteco. Inteco is, mobile-friendly, search engine optimized, retina-compatible, and well-suited to modern web browsers. By Inteco Show your works to the rest of the world & it would be a great feeling.
6. Sway
Sway is a stylish WordPress theme for interior design and home decor. If you want to create a brand website and sell things directly from your page, Sway is the way to go. In fact, if you're a reseller, Sway will be really useful.
Sway has a trendy, eye-catching style that makes scrolling a pleasure. It's just the proper amount of originality if you'll know the expression. It also comes with many features, including all of the necessary eCommerce pages and plenty more to mix and combine.
7. Scape
Scape is a beautiful, well feature, and fine interior design wordpress theme. To make a long story short, it's a tool that'll help you get your project up and running quickly. Scape is one of the best themes.
Anyone may create a page of their dreams thanks to the integration of WPBakery's drag and drop page builder. Scape comes with a visual amazing demo that is ideal for interior designers and agencies. If you want to make a strong and lasting first impression, here is the place to be!
However, Scape is more than just a nice design.
Scape has many additional comforts and features available and ready to utilize for your fun. You'll find all of these amazing effects and animations, as well as widgets, shortcodes, and predefined layouts, in the Scape bundle.
8. Ekko
Ekko is an interior design WordPress theme with two main characteristics: cleanness and correction. Feel free to proceed after thoroughly inspecting the live preview page and expect to be an instant barrier. Ekko is fantastic, easy to use, and packed with amazing pre-defined layouts and features. You may now get a fully working website up and running quickly without having to perform any programming effort.
You may always make specific customization and edits to Ekko in addition to the ready-to-use demo, ensuring that it ensures all of your branding laws and preferences. Nonetheless, this theme is incredibly perfect and flexible right out of the box, moving to a variety of tastes with ease. Get your name out there, advertise yourself like a pro right away, and make an example in the industry.
9. Arcdeco
Nothing will be able to stop you once you get complete access to Arcdeco. You have the ability to construct an eye-catching and engaging interior design website that will attract everyone's interest. Arcdeco's fine and awesome design ensure that all of your material is beautifully displayed. The experience of accessing your website, whether from a mobile or desktop computer, will always be eye-catchy.
There are three various home designs to collect from, as well as dark and light modes. Simply by using the pre-defined content, you will have all you need to have a great new website up and running quickly. You also don't have to touch a single line of code while making personalization changes. Beginners and experts both will enjoy Arcdeco. This WordPress theme is the best option that you should check out right away. There is no turning back after that. Use Arcdeco to its full potential and make your interior design firm looks amazing.
10. Litho
With Litho, you can easily and quickly take your interior design firm online. Get a superb result with an easy effort that guarantees a pro-level performance.
Litho is here to help everyone, regardless of how busy they are or how little experience they have.
To successfully construct, operate, and maintain an interior design website, you only need one tool. Demo content, additional page layouts, portfolio styles, a blog, a contact section, and testimonials are just a few of the useful features.
Note that Litho may also be used to construct a one-page website and sell items with the WooCommerce plugin.
11. Argu
Argu is a fantastic WordPress interior design theme that focuses on all things about kitchens. Argu's website design is simple, modern, and visually attractive. If you want to make a strong and lasting impact on your potential customers, Argu is the way to go. Keep in mind that Argu is currently a fully functional website, so you may use it right away. You can also take things a step further by customizing the default design to fit your branding guidelines. You don't need to write a single line of code to make changes and alterations using WPBakery's drag-and-drop page builder.
There are many features in Argu like One-page design, 360-degree view, before/after slider, Revolution Slider, parallax effect, etc. Argu's design is fluid and responsive, loading quickly and working with modern browsers. Argu can help you take your kitchen business to new levels. So you can try to use this Interior Design WordPress Themes.
12. Robin
Robin is a WordPress theme created specifically for the furniture sales sector. It's also an excellent choice for creating furniture, interiors, or an architecture website. You will receive a theme with a professional design produced by experts. Robin features a clean, modern that pairs well with the majority of high-end furniture brands. There are also some pre-designed parts and a fantastic page builder provided. In addition, you'll find 9 gorgeous homepages, 2 shop archives, and 5 product categories to inspire you! You'll get a theme that's simple to customize and utilize, and you won't need any coding knowledge.
Robin will enable you to give an outstanding online purchasing experience to your customers. Thanks to WooCommerce, it also includes an elegant comparative buying feature, quick view mode, and more. Clients will appreciate the Ajax Live Search plugin since it allows them to view search results without having to reload the page. This theme also includes a layout that is user-friendly. Robin also includes premium features like WPBakery Page Builder and Slider Revolution. WPML translation and the Contact Form7 plugin are also supported. You'll get a responsive theme with extensive documentation and excellent customer service. Try it today if you want to make a big impression and put your company in the spotlight. Robin is a good example.
13. Addison
Addison is a top WordPress theme for interior design . It is mostly concerned with the decoration and construction of internal spaces. It also manages landscaping and the placement of external structures. It manages everything related to making spaces walked by humans awesome. Addison is mobile-friendly, retina-ready, and fair to a variety of displays and devices. It has a lot of panel modifications and page transitions to look at. As a bonus, you'll receive a feature calculator to help you fill out paperwork and make payments. With WooCommerce, you can create online stores with fully working shops and product lists.
Addison uses the Bold page builder as well as custom shortcodes. It also makes use of fantastic icons and fonts from Font Awesome, Bold Icons, and Google Fonts. WPML balance allows for text translation. The layout of your page can be boxed or full-width! Addison also has a blog and more than four separate portfolio pages. Headers, menus, and layout style pages are all fair and changeable. You'll even have a kid's theme at your adjustment! Addison is a multi-purpose theme that was created with excellent artistic skills. It is appropriate for anyone who owns a little or large business and enjoys attractive arrangements. It's amazing that might help even party planners and architects! Addison is a good option.
14. Bridge
You're in for a nice web design treat, interior designers. There's no need to start from the base when you have the amazing Bridge interior design WordPress theme at your adjustment. With this amazing theme, you can create a visually awesome website that will help you attract more clients and land more gigs. You may now promote your work in a unique style that no one will be able to resist.
Select the appropriate demo, import it with a single click, and begin customizing right away. In a matter of minutes, Bridge will have your interior design or architectural page up and running. The bridge is also fully mobile and retina-ready, as well as cross-browser balanced.
15. Webify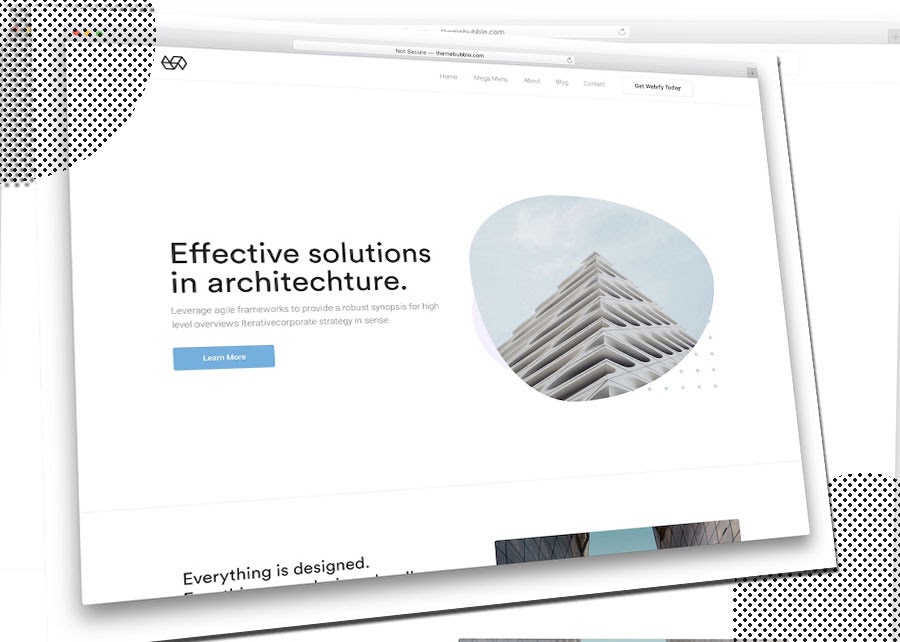 Webify is an awesome WordPress theme for interior designers who want to take their business to the next level. If you still don't have a website, you should make one right now. And yes, I am speaking literally — right now. Your confidence will fulfill once you see how much content you have available after opening the Webify package. You can create your first page right now with Webify, even if you're a complete newbie. Simply mix and match the available options – no coding required – and you'll have a finished output in no time.
Webify's design is also responsive, cross-browser balanced, and quick to load. It also has a variety of extra features, including headers, footers, shortcodes, special blocks, internal pages, and more. The final result will be a user-friendly website that will inspire everyone.
16. BIM
BIM is a multi-purpose WordPress theme that is great for architects and interior designers. With twelve and over fifty elements, you can get started on your website right away and have it and running in no time. Furthermore, you may personalize BIM to your desire using the Elementor page builder's functionality.
Slider Revolution, MailChimp, a portfolio, a floating navigation bar, and a back-to-top button are among the other features included in BIM. You can also take advantage of the pre-defined contact form, blog, and shop sections. With BIM, you can now create a website and showcase your excellent services.
17. Theratio
Theratio will make you feel its unique and excellent design. You don't even need to make any changes; Theratio is fantastic as it is. Of course, you're welcome to brand and customize it as well, since it'll only take a few minutes.
You can quickly develop websites for various purposes using various designs. Everything is taken care of by Theratio, from the technical to the overall everything. All you have to do now is add your material and you're ready to go. It's simple to work with a fantastic theme that does all the heavy customize for you.
18. Intoria
Intoria is an excellent WordPress theme for architectural and interior design that requires a speedy website update. With the four bundled houses and numerous inner page layouts, getting online is now trouble. And if you prefer the default look, you won't have to do much more than fill in the blanks with your own information and personalized content. However, you can customize the default look down to the smallest detail. You will achieve everything because Intoria contains the Elementor page builder.
Intoria includes a number of useful and rewarding features in addition to page layouts. Some things you should be aware of right away include Slider Revolution, header layouts, parallax effects, custom backgrounds, CSS3 effects, and testimonials. Now go ahead and use Intoria to boost your company to new heights of prosperity.
19. Diaco
You can expect a quick disclosure of a remarkable online presence with a fantastic interior design WordPress theme like Diaco. Keep in mind that the Diaco kit has it all, from the technical features to the overall amazing features. You can also use the drag-and-drop builder to fine-tune the pre-defined layouts to your choice. But first of all, examine the six ready-made demos and proceed from there. Who knows, you might discover that you can use one ultimately as is and save even more time.
Slider Revolution, blog pages, Bootstrap basis, social links, widget-rich footer, and parallax effects are just a few of Diaco's additional features. Diaco users also have access to helpful customer service and large documentation. To summarize, creating a website using Diaco will be engaging and fun.
20. KitGreen
KitGreen is a WordPress theme for interior designers who specialize in kitchens. However, because you can use the tool for a variety of purposes, you will not feel restricted in any way. In fact, the only limit is your creativity. Furthermore, KitGreen is a stunning theme that will increase your online presence and boost your company to new heights. Keep in mind that KitGreen requires relatively little effort on your part to produce a finished site design that will blow everyone on the internet.
KitGreen comes with six fantastic samples, 25 shortcodes, and all the necessary inner pages right out of the box to save you time. No, there's no need to start from base; everything you need is included in the KitGreen kit.
Booking appointment and booking form pop-up, before and after photographs function, various headers, and mega menu are some of KitGreen's other features and assets. There are even more characteristics that will be really beneficial to the successful launch of a fantastic website.
21. Etalon
Etalon is a multifunctional WordPress theme that's perfect for creative entrepreneurs. It contains a lot of customizing options as well as a lot of specialist demos. You will be given the freedom to develop the website you choose. Etalon also has beautiful views such as parallax backgrounds and Slider Revolution for any page. There are more than ten inner pages in each demo. There are almost 30 elements in total. Etalon is also an excellent choice for businesses such as interior design and artists. It provides you with personalized service sites, portfolios, and blogs! They help you save a lot of time when it comes to creating content for your website.
To display your products, Etalon provides photo galleries, carousels, and a pricing table. Etalon is also WooCommerce friendly, making it a ready-to-use business tool. It also includes WPBakery Page Builder and the IconsMind icon set for free. These unique features save time, add amazing looks, and allow for customization without the need for code. Etalon is also responsive and even mobile-friendly. It works with all browsers and mobile devices such as the iPhone and iPad. You can also recreate the example you choose with a single click: simple and quick! If you have any kinds of queries, please contact them. Look for this fashionable theme for yourself! Get Etalon! It's simple, it's beautiful.
22. Oshine
Oshine is an amazing, fine, and mobile-friendly WordPress theme. Despite being a multi-purpose theme, it has demos which is specifically for Interior Designers and Architects. Oshine is an excellent alternative for showing your portfolio in a good sense, thanks to its great portfolio and gallery options. With the Tatsu builder, Oshine allows you to design like a pro, regardless of your level of experience. You may play around with over 50 stylistic modules in this top visual page builder. To meet your needs, mix and match dozens of pre-built websites and pages.
Conceptual sections give your website a one-of-a-kind, unforgettable feel. Furthermore, Oshine goes beyond showing your work thanks to a large portfolio selection. Oshine is a favorite among interior designers, decorators, and stylists. Furthermore, its favorable, clean setting serves as an ideal canvas for displaying its amazing work. They can control the style and feel of their project thanks to great and powerful customization tools. Give this theme a cast if you want to create an engaging end-user experience.
23. Halena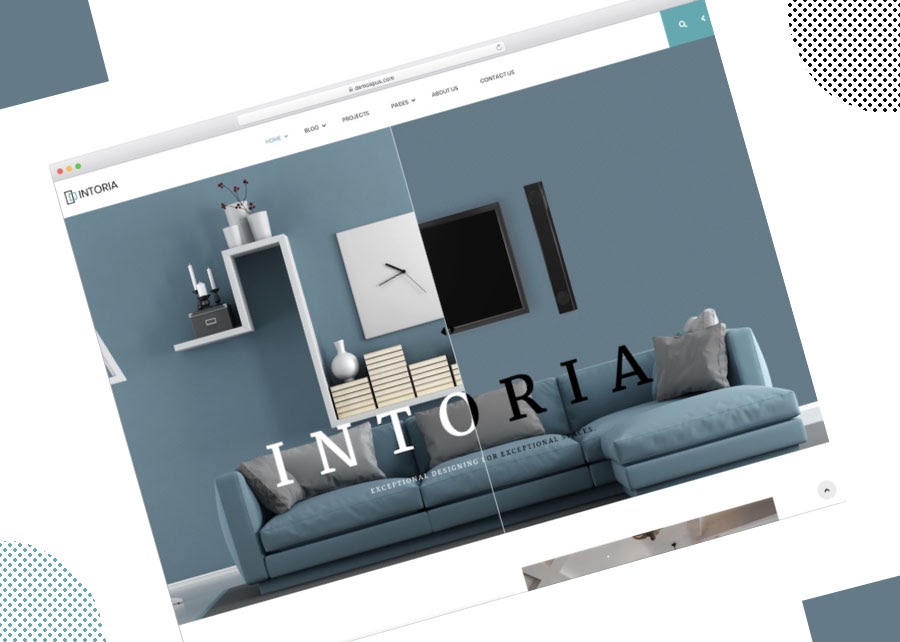 Halena is a WordPress eCommerce website theme . It can be use as Interior Design WordPress Themes. This theme is simple, secured, and responsive. It's an amazingly designed theme that follows professional and strict standards. Additionally, its pre-built layouts provide an easy framework for creating modern retail websites that are both stylish and functional. Furthermore, each site is suitable for a variety of enterprises or industries while being many-sided and fair. Halena is a favorite of interior design firms. It's secured and beautiful, and it's incredibly resourceful.
Halena also has several fantastic commercials destiny. Every item is highlighted in a beautiful unique Product Quick View. AJAX searches make it easy for your customers to find what they're looking for. Live AJAX filters structure their results into a variety of bespoke categories. Compete with the big companies by providing the same functionality as the biggest brands in online retail. Finally, with Halena, take your interior design business to the next level!
24. Coca
Are you looking forward to presenting your clients with the best portfolio they've ever seen? Then buy Coca, a fun theme that never fails to please. This interior design WordPress theme is ideal for any home-related industry, such as furniture sales, architectural services, and so on. It's also totally responsive, friendly to any device instantaneously, and simple to configure. This theme recognizes the growing demand for personal designers who can brighten any home, and it guarantees dependable service via mobile access, combining both new and old homeowners.
Because the industry is competitive, you'll need a theme that stands out and follows current design trends. Coca, thankfully, does just that. Use its eighteen attractive homepage designs, six project styles, and huge interior parts to get your project off the ground. Coca includes Google Maps and huge advanced page settings. It also supports videos and knowingly implements call-to-action buttons. Coca will help you create a masterpiece.
25. Architecturer
Ensure a successful client search with Architecturer, one of the most popular interior design WordPress themes available today. For architectural and gardening projects, this motif is ideal. It also detail-oriented design, a responsive layout, and unique features such as typography, social sharing, and a giant menu. Architecturer is based on modern technology that ensures a clear, high-resolution look that performs to its full potential.
Architecturer also has a ton of gallery pages, blog layouts, colors, headers, background effects, and index page designs to choose from. There are also a variety of pre-designed slider layouts to assist you to make a good first impression on all of your potential customers. More is on the way in the future, so keep an eye out and keep a fantastic and dynamic page open at all times.
26. Dessau
Dessau is a modern WordPress theme for interior designers and architects.
Dessau is a WordPress theme that comes with a variety of interior design and architecture demos that can be used to construct a variety of different websites. Although the Dessau package includes an interior design website demo, the other options, including the online portfolio website demos, should also work well for this type of project. There are also demos for building studio websites and designs for individuals who want to promote their services online. However, one thing that all of these demos have in common is a fully current and professional style that will make your website stand out.
Dessau has a number of templates for publishing this type of content, as a worthy portfolio of completed work is an important component of an interior design website. A variety of layout layouts are available, including masonry grids, alternative column distributions, and a Pinterest-style layout, to mention a few. You can also use this theme to build an interior design blog by adding a blog to your website to publish the newest news from your company. Dessau fully supports the top WooCommerce online shop builder plugin if you wish to sell items on your websites, such as books, materials, or other relevant products.
Although Dessau and its pre-built content have stylish looks, you may easily customize your website's style. All of the demo material may be updated using a visual editor because this interior design theme features a premium drag-and-drop page builder tool. Other adjustments to your site can be made through the Dessau control panel, such as changing the colors or fonts.
Dessau has a lot to offer anyone using WordPress to create an interior design website of any kind.
27. Artex
Artex is a multi-demo architecture and Interior Design WordPress Themes . The Artex samples and pre-built content were created to offer your website fine and amazing looks.
The themes are great for presenting photographs and videos alongside the text, allowing you to offer examples of your work as well as information about the types of projects you can take on. There are also many useful things such as testimonial sliders, calls-to-action, and contact forms that can help you promote your services and generate leads.
Artex is a well-rounded and adaptable interior design theme.
28. Maison
Maison is a WordPress theme that was created with interior designers and architects in mind.
There's a strong chance you'll discover at least one choice ideal for your interior design website among the 12 trendy homepage templates available. The Maison demos are available in a variety of styles and purposes, ranging from portfolios to more service-focused designs that are great for interior design firms looking to attract new clients.
Because all of the Maison examples are highly qualified, you can use pieces of the other demos once you've chosen one, allowing you the freedom to mix and match elements from other layouts to create the perfect website. Because Maison is based on the popular WPBakery Page Builder plugin, mixing and combining content from the huge layouts and templates that make up the Maison samples is simple.
If you use Maison to promote your interior design services online, you'll find that it includes a lot of useful features that will help your website succeed. Panels for showing logos from clients you've worked with and you've won are examples of these features, as are animated skill graphs that may be used to illustrate your core areas of experience.
Large sliders, which are included in several of the Maison layouts, allow you to share full-screen photographs and videos of your work. You should have everything you need to start customizing the example slideshows and generating your own choices from scratch because the slideshows were made with the included Slider Revolution plugin.
Maison is a modern home design theme with a lot of useful tools, as well as superb social media integration capabilities.
29. TheGem
TheGem provides a demo for an interior design website as well as a variety of Business Consulting WordPress Themes .
Apart from the interior design example and the huge possibilities for developing an online portfolio to advertise your interior design skills, TheGem also includes a number of service-focused demos that might work just as well for launching an online presence for your business. Whether you're a freelancer or part of a team, TheGem has a variety of interesting demos that you might wish to use for your website.
You may get a decent sense of the type of website you could construct with TheGem by looking at the interior design demo. TheGem interior design demo is created with useful elements, from the full-width slider at the top of the homepage layout that gives you a great opportunity to share some photos of your completed projects, to the footer area that can be used to display your contact details, the latest items you've added to your portfolio, and a small contact form.
You're not bound to use it because TheGem gives you all the tools you need to edit the pre-built content. Instead, using the integrated drag-and-drop page builder tool in your WordPress dashboard, it takes very little effort to open up the templates. This allows you to alter the text and overall look of the pages, as well as add and delete parts and modules, to ensure that your site is a real expression of your creative ability and personal style. However, because the demonstrations are all visually looking, you may not need to use the page builder at all.
TheGem should be able to assist you with whatever form of interior design website you wish to develop.
30. Cozy
Cozy is a WordPress theme that's perfect for constructing custom interior design websites.
Cozy provides everything you need to get started and publish your interior design website quickly with its pre-built templates, but it's also a great alternative for anyone who wants to create their own unique site. The bundled WPBakery Page Builder tool can be used to alter all of the templates in the Cozy theme package. Using a visual, drag-and-drop user interface, practically anyone can pull up the Cozy templates, including the homepage, portfolio, and contact pages, to mention a few, and begin altering them.
Instead of starting with the start with WPBakery Page Builder, you may mix components from the Cozy templates to create your own. With so many layouts and templates included in the Cozy theme package, putting together your website should be simple.
If you're looking for a quick way to get your new interior design website up and running, the Cozy theme bundle includes 12 demos that can be easily imported into your WordPress dashboard after you've uploaded the theme files. After that, you may start customizing the templates with your own text and graphics. The theme options panel also allows you to make changes to the overall look of your websites, such as changing the fonts and colors. With Cozy, you can do whatever you want with it, whether you want to use it as is or make a few or a lot of changes.
Cozy is ideal for showcasing your work and promoting your services in order to help you expand your interior design firm.
31. Ratio
Ratio is a WordPress plugin that allows users to develop professional websites for architectural and construction companies.
Ratio, on the other hand, has earned a lot in this collection of themes thanks to its range of interior design-focused website designs. Ratio has a lot to offer interior design website owners, with 15 homepage styles to select from.
Your new website may include a variety of remarkable features, depending on the homepage demo you choose. Interactive sliders, portfolio, parallax scrolling, online shop product displays, and video backgrounds are just a few examples of the types of content that could be featured on your new homepage.
Ratio also has a one-click demo, a library of essential shortcodes, a variety of inner page layouts, paid plugins such as Visual Composer and Slider Revolution, and a wide set of customization possibilities. Furthermore, all of this capability is bound to a smooth and contemporary look. Ratio offers the looks to help you stand out from the crowd with your interior design website.
Ratio has something for everyone, with a wide range of homepage designs – at least if you're building an interior design or architecture website.
32. InteriArt
In the category of interior design wordPress themes, InteriArt is proving to be a popular choice.
InteriArt has had a fair number of sales and a very positive user rating since its initial release. It's easy to see why when you take a look at the theme demo. InteriArt is an excellent solution for constructing interior design studio websites as well as more general architectural agency homepages, with six demo versions to pick from. There are also a few e-commerce-ready demos that would be ideal for promoting and selling high-end furniture online.
If the six homepage samples and library of content page templates don't quite fit your needs, you may use the drag-and-drop Visual Composer page builder plugin to pinch the designs or create your own. You'll also get access to the Slider Revolution premium plugin, which allows you to make animated slideshows for your website.
InteriArt could be the theme you've been looking for if you want to market your interior design-related services and abilities to help you attract more clients or find new work chances in this area.
33. Allston
For interior designers and architects, Allston is a creative WordPress theme.
Whether your services cross over into the worlds of interior design and architecture, or you specialize only in interior design, Allston provides a variety of pre-built designs for your new website to pick from.
For most people reading this guide, the purpose-built interior design website sample is the obvious choice. The main homepage design, as well as the portfolio and decor, perform nicely for this type of project. Making a choice from so many excellent themes might be challenging. It's worth noting, though, that you can use pieces from the other demos regardless of which one you choose. You can mix and match the templates from the various demos as a result of this. So, if you like the looks of one demo's homepage but not another's services page, you can easily use both.
You are not restricted to using only the demo templates. You can utilize the WPBakery Page Builder plugin that comes with Allston if you need to develop your own page designs. All of your posts and pages may be modified through a modern frontend drag-and-drop user interface after this application is installed on your website. If the concept of building a one-of-a-kind website with an off-the-shelf theme appeals to you, Allston is one option to consider.
The WooCommerce plugin is also fully supported by Allston. As a result, selling things, collecting service payments, and conducting any other financial activities on your website is easy. While any good theme will work with WooCommerce, this one comes with a lot of the templates you'll need for your site's e-commerce section. The paid WPBakery Page Builder tool can also be used to personalize these pages.
Any amazing interior design website will need the professional look that the Allston themes provide.
34. Ambient
Ambient provides a wealth of demo content to help you in marketing your interior design services online.
If you choose Ambient, you'll have 12 attractive homepage layouts to choose from, giving you a lot of alternatives for how the most important section of your interior design website will look. Sliders to show off photographs of your work, abilities graphs to share your areas of ability, and a testimonials carousel to present comments from clients are all included in the homepage layouts to help you promote your business more successfully.
Ambient features a variety of portfolio themes to help you share your completed projects with your guests. In reality, some of the Ambient package's website examples were designed to establish interior design portfolios rather than agency websites. As a result, if the primary goal of your website is to showcase your work, one of the portfolio samples may be the ideal choice. However, thanks to all of the unique templates, you can easily add a portfolio area to your site even if you don't choose a portfolio website demo and instead choose one of the other possibilities.
Although the templates and overall design of Ambient are amazing, if you choose this theme, you will have complete control over the looks of your site. Using Ambient, you may construct the interior design website you want by changing the typography settings and color schemes, as well as editing the templates with the integrated WPBakery Page Builder plugin.
The ready-made contact forms, which will help you generate leads from your website, the social sharing buttons, which will encourage your visitors to share your content with their followers, and the support for WooCommerce, which will allow you to conduct financial transactions on your website for any purpose, are just a few of the other useful features of this theme.
Ambient is a WordPress theme that's great for developing luxury interior design websites thanks to the high-quality templates included in the bundle.
35. H&D
H&D is a WordPress home and decor theme designed to help in the creation of professional websites for interior design firms and service providers.
H&D, like the other more feature-rich alternatives in this collection, has a variety of homepage designs to pick from. You'll find homepage designs with video backgrounds, animated sliders, rotating text, parallax scrolling, and many other popular web design trends and effects among the various alternatives.
The H&D WordPress theme also comes with a large number of layouts for your site's internal pages. H&D is a solid candidate if you want to construct a professional portfolio website to display your interior design expertise because the portfolio templates are very eye-catching. There are also numerous layouts for your site's other forms of content. This covers both standard article templates and a variety of blog post themes.
Once you've made your selection, you can use the one-click tool to swiftly import the demo content into your WordPress website. After that, you may use the theme settings control panel to customize practically everything on your website. Another alternative is to use the included paid Visual Composer page builder plugin, especially if you wish to change any of the included demo material.
Within the interior design themes area, H&D is a multi-purpose solution – this theme is both incredibly many-sided and created with essential features.
36. Aalto
Aalto is a premium WordPress theme for architectural and interior design with many website demos.
You have some good options to choose from when putting up your interior design WordPress website thanks to a variety of 12 high-quality website demos. Despite the fact that just one example is completely designed for interior design websites, the others would all function nicely. A portfolio website showcase, a design studio concept, and an e-commerce demo for selling interior design and other types of products online are among the alternatives available. The interactive project list demo is also a great choice, as it allows you to share the details of interior design projects you've worked on in a visually amazing way.
The Aalto demos' homepage layouts feature a lot of elements to help you show your abilities and promote your services, and the interior design bundle is no exception. While you may choose which components appear on your homepage layout, you'll have access to image sliders for sharing photographs of your work, carousels for showing more visual content from your portfolio, and a panel for publishing customer feedback by default. The default homepage layout includes a useful contact form in the footer, as well as room for your other contact information like phone number and address.
If you wish to change the homepage or any of the other templates included in the Aalto theme bundle, the process is completely simple. The included premium WPBakery Page Builder plugin is one option. Then you can open up all of the pre-built material that comes with this theme and begin moving things around the templates, adding and removing items, and overall modifying as your requirements.
Aalto should have all you need if you're looking for a theme to help you to promote your interior design services online.
37. Craft Portfolio
Craft Portfolio is a WordPress theme that allows you to showcase your abilities and previous projects in a professional manner.
Craft Portfolio is designed specifically for architecture and interior design websites, so you'll have no trouble getting started. With this theme, you can choose from a large number of website demos. Whether you're promoting your interior design firm's services or promoting yourself as an employee, Craft Portfolio should have all you need.
There are designs that feature full-screen video background displays, animated sliders, more traditional website layouts, and blogging themes among the Craft Portfolio website demos. There's also an under-construction demo, which is ideal for keeping your visitors updated as you work on your new site.
There's also a good range of templates for your site's most popular inner pages, in addition to the library of homepage themes. There are themes for your client's page, FAQ section, awards display, and image gallery, as well as a variety of portfolio designs, including an eye-catching carousel option.
Although the pre-built content and designs are attractive, you have the option of changing their looks. You can quickly customize this interior design WordPress theme to meet your branding and personal likes by customizing the typography, color, and layout options. If you need more detailed customization, there's also a page builder tool available.
With so much pre-built material, graphics, and layouts, the Craft Portfolio theme will make putting together a suitable website look.
38. Interior Design
Interior Design is a WordPress theme for design and architecture websites that is described as "simple, fine, and attractive."
This theme's demo version has been set up to help you to present your business in a classy and professional manner. The white borders utilized on the homepage layout offer a touch of experience to your website, while the homepage slider's transitions add a sense of action and motion.
Having the ability to display your greatest work or most amazing pictures on your website's homepage should help to capture the attention of your visitors as soon as they arrive. They can explore your fundamental beliefs, find more things from your gallery, read client testimonials, and see your partner logos as they scroll down the default site layout. There's also a nice collection of blog post styles and themes to help you launch an interior design blog or simply share the newest company news.
This theme is ready to help you sell items and services online if your interior design firm has an e-commerce component, whether it's selling directly to customers or a more business-to-business approach. With full WooCommerce support and all the e-commerce templates you'll need, the Interior Design theme makes setting up an online store of quality. For your interior online shop Interior Design WordPress Themes is one of the best choice .
Interior Design is beautiful as is, but you can quickly customize it to match your specific needs to its customization features.
39. Archi
Archi was recently upgraded, with even more outstanding features, its position as ThemeForest's best-selling and most popular Interior Design WordPress Themes.
You may now choose from 15 various homepage layouts and designs with this popular interior design WordPress theme. You'll have lots of options to explore because each of the Archi front page templates was built for business websites in the interior design and architectural industries.
There are one-page websites, multi-page alternatives, landing page templates, and coming soon pages that you may use while your entire website is being built. There are also seven different header layouts to pick from, each of which may be used with any of the website samples.
With Archi, changing the colors and other visual settings of your website is simple. The theme settings control panel allows you complete control over the look and feel of your site without requiring you to alter any code. The premium Visual Composer page builder plugin is also included, making it simple to customize any of the provided page templates and styles.
Because this theme has been updated on a regular basis since its first release, it appears that Archi currently contains every function you can dream of. An increasing number of portfolio page templates are available, as well as full e-commerce support for selling items and services online and the premium Slider Revolution slideshow plugin. Check out the real-life examples of websites developed with Archi on the theme's ThemeForest page if you want to see how this theme is utilized.
Archi is well worth a deeper look, with a various range of pre-built website examples and homepage layouts to choose from.
40. Megatron
Megatron will provide you with more than 13 relevant tags to help you find what you're looking for. If you have any doubts, you will receive excellent customer service. It makes use of PSD files as well as drag-and-drop tools like WPBakery Page Builder and Slider Revolution. For translations, use WPML and RTL. Megatron is a WooCommerce helpful theme and has an XMENU that may be customized. You'll also have access to a very simple Admin Panel with custom shortcodes for all of your required areas. In addition, the theme includes Redux FrameWork as a bug recovery. With all of its premium features, Megaton Creative wants to be the number one choice for interior design creative portfolios. Try to bring Megatron's touch to your business!
41. Jevelin
Adjusted automatically MegaMenus maintains a hierarchical structure. Advanced page number features allow you to present your content in a variety of innovative ways. With several page options for your blog postings, you can increase your ad earnings. With many style parameters to experiment with, custom post styles help you handle all types of media and content. A variety of portfolio layouts and combinations are available to show off your best work and featured content. Smooth sliders will draw your audience's attention to where you want them to go. Your website will look more alive with simple Parallax background sections and video background sections. The fine Bootstrap foundation in Jevelin allows you to request to users on any device. Jevelin can help you expand your audience and increase your earnings today. Give your project the Jevelin touch in the end!
Thank you for taking the time to visit Themexriver and read this post about interior design website templates ! It is greatly appreciated! You may now choose to learn how to create a website using one of our WordPress themes.