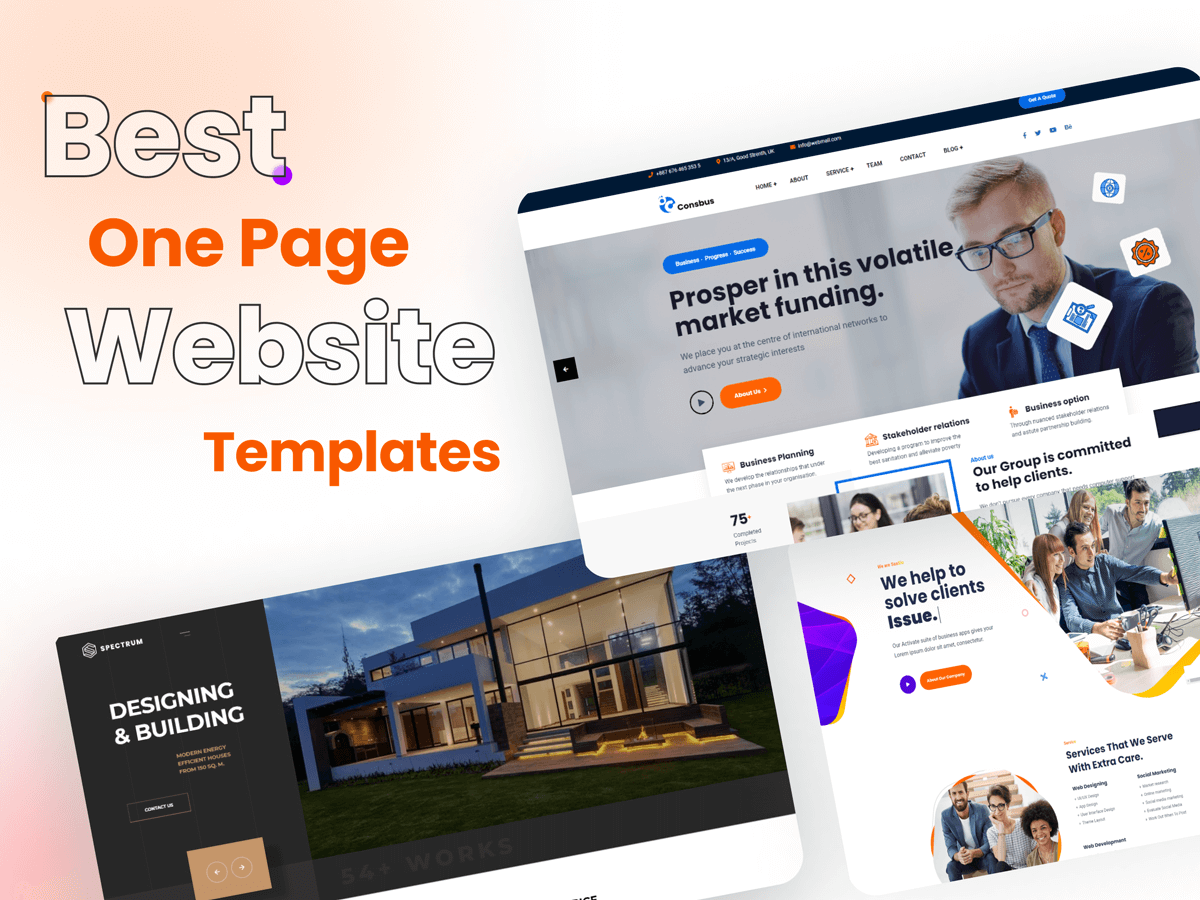 15+ Best One Page Website Templates 2022
Have you just set up your website and don't know which is the best one page website templates to install? In the case of WordPress and Html. From the themes section, you can discover yourself the most downloaded, popular, with the best ratings, free, paid … But if you still have doubts, today we will talk about the 15+ best templates for websites.
Not all websites make use of the WordPress CMS, since they can be based on HTML5, CSS3, or other web technologies. So below we bring you a list of the best templates for web pages:
Best one page website templates
If we talk about WordPress, there is so much variety that we could say that it is scary. From the panel itself, as we told you above, you can access a multitude of options. What's more, it is already installed with a very basic and free one that many use for SEO projects.
But if this is not enough for you, then we will analyze what are some of the best templates for WordPress:
Nimmo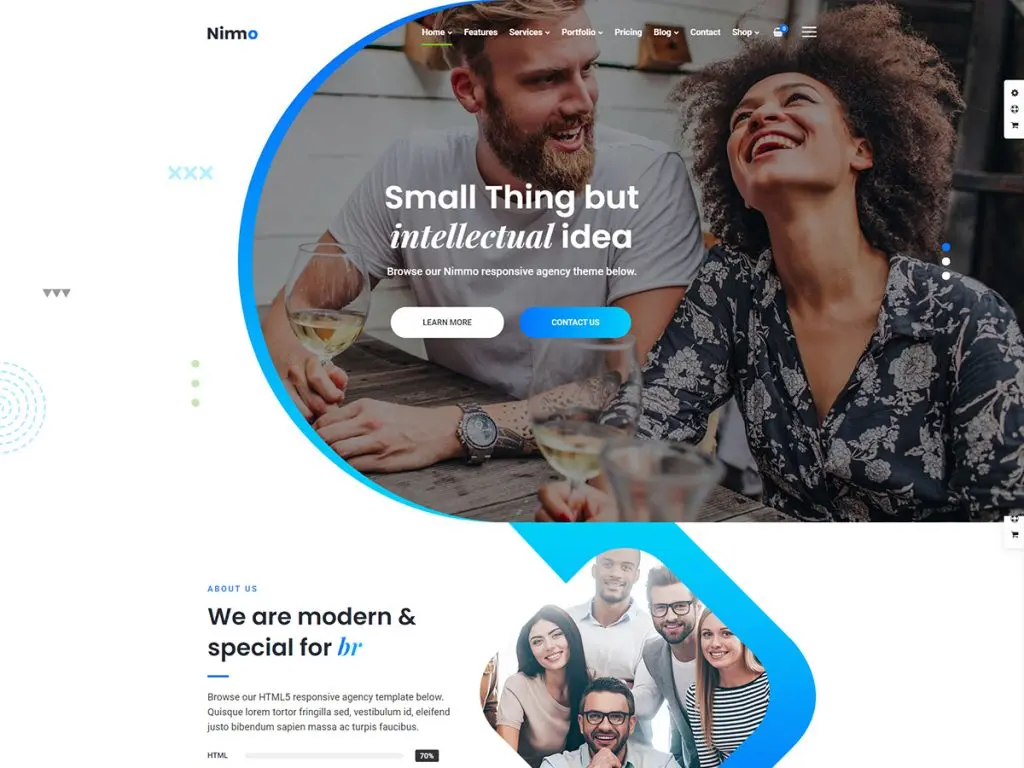 The Nimmo WordPress Theme is a creative and original design that is based on the most recent technological advancements. Since everything is well organized, we're certain that editing and working with them will be a breeze. The design of this theme is well-structured and simple to modify. In addition, it's quite simple to use and navigate. Adaptable to a wide range of devices, including desktops, laptops, tablets, and smartphones. Using Nimmo will provide your firm a professional appearance because of its minimalist and clean style. App Showcase, app website, landing page for a creative agency, page for a company, and a contemporary appearance are all good candidates for this app landing template.
Feature

Over 15 header layouts.
Modern and Clean Design
Awesome CSS3 animations
Compatible with Retina Displays
Search engine optimization
Carousel elements
Include a sticky menu that scrolls down
Awesome Unique Look.
Special effects and functionality.
Smooth transitions.
Compatible with all browsers.
Support from experts.
Background video for section.
Hundreds of colors available.
Plus 15 homepage demo layouts
Unfinity Plus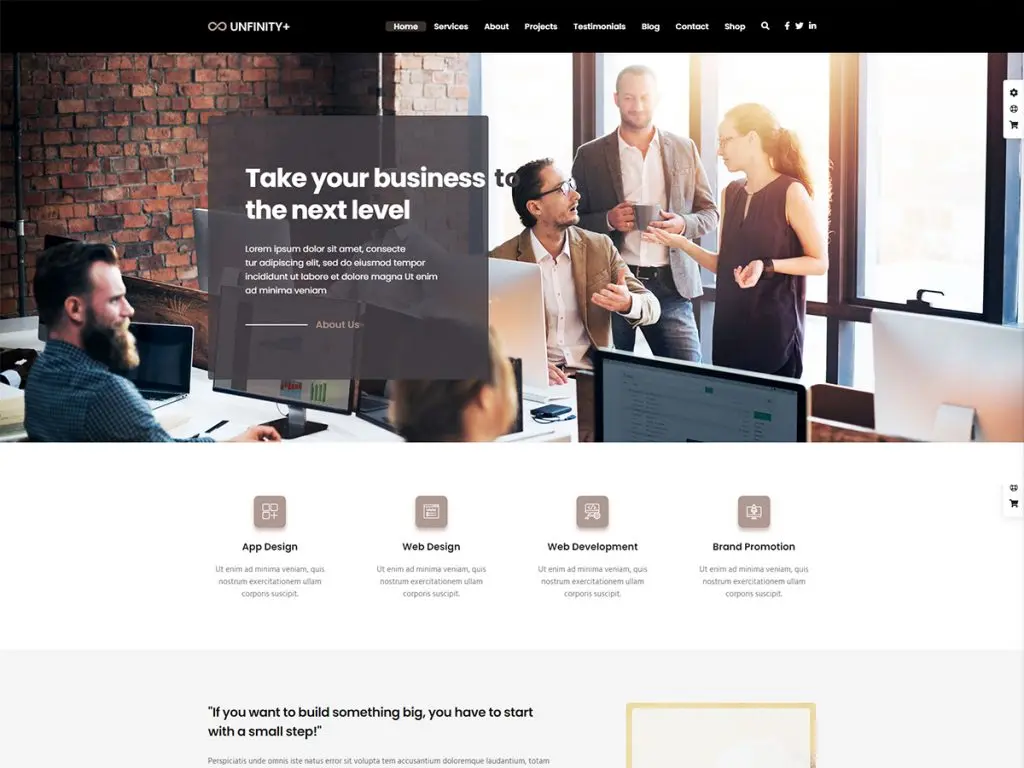 Unfinity Plus is one of the greatest collections of contemporary landing pages with a clean design. The theme is a responsive and stylish one-page website. In addition, it is easy to personalize. Moreover, Unfinity Plus is an excellent multipurpose business theme. You can leave it on your desk for as long as you need it.
Unfinity Plus's customization options make it unique. Customers have access to a complete visual content editor which can be used to modify any aspect of their website. Instead of being restricted to changing the content of the WordPress post and page, as other builders do, you may change the header and footer of your site, giving you full control over its design. Therefore, Exponent should be appealing to anyone who desires complete control over their website's appearance.
Feature

Over Twenty Header Layout.
Modern and Clean Design.
Awesome CSS3 animations.
Retina-compatible and responsive
SEO-friendly design.
Elements including carousels.
Stick when scrolled down.
Creating an awesome, unique look.
Innovative effects and functionality.
Smooth transitions.
Compatible with all browsers.
Using Google fonts.
Professional customer service.
Background video for section.
Many colors to choose from.
WP Customizer theme options.
Easily customize your theme.
Import demo content in one click.
Twenty plus Demos One Page.
Consbus
Consbus is a one-page HTML website template with a clean, modern design style and 100% adapted for mobile devices. It allows you to show a large amount of content in a coherent way. Making your company is known and the services it offers to its customers.
Its modern design, attractive visual appearance, well-structured content, and its intuitive navigation will offer your visitors a pleasant user experience and will invite them to visit you one more time. Consbus is easy to use, has many designs, and is very versatile. So you can build many different websites using this same template.
SaaSio: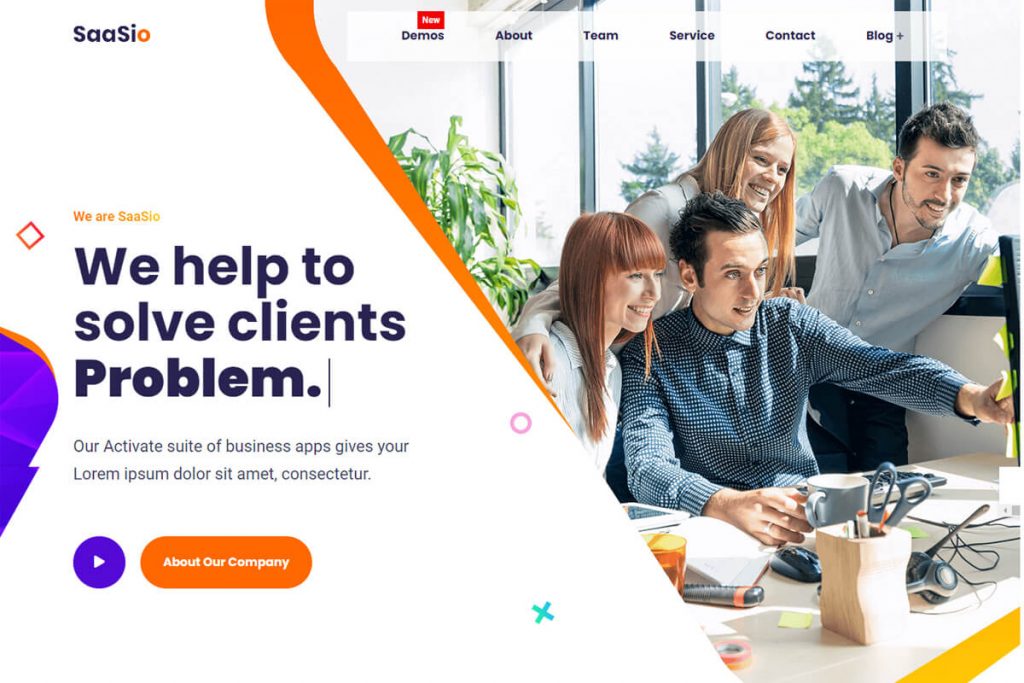 SaaSio comes across as the best-selling single page HTML template of all time. It is very flexible, allows many options, and has business integration. Many designers choose it for the number of attractive designs it allows them to choose from, as well as its demos. It is very comfortable for niches.
It is an Html template developed with Bootstrap 4.0, HTML5, and CSS3 frameworks. You can be used it to create personal websites, portfolios, or online restaurants. It offers various visual effects and peculiarities that we invite you to know.
Salimo:
If you are looking for a multipage HTML5 template to have a free online store, Wish is the ideal solution for you. Really, any user with basic knowledge can create e-commerce with this design. It is based on Bootstrap 4 and with few changes, you will be able to create a personalized e-shop for yourself.
Onevo:
Onevo is another of the classic templates that continues to reap downloads. It also has more than 200 demos, allows numerous customization options, and is compatible with the most popular plugins on the market. So it is a 100% safe and good option.
HTML5 and CSS3, with a design, adapted 100% to mobile devices. It is perfect for simple websites. It has reference elements such as headers, lists, icons. There are different styles of buttons, tables, counting forms, styles for different photo sizes. It is highly customizable.
Pageone: Single page Html templates
Pageone is one of the most popular HTML5 and Bootstrap 4 multipage templates around. It is best and is very suitable for freelancers, small companies, or startups that want to launch their business. In a few minutes, you will have your website ready.
Spectrum:
This is the other one-page HTML5 template and will allow you to have a web page perfectly adapted to desktop and mobile devices. It is very focused on use for creative agencies, marketing, etc. It is quite complete and includes a portfolio section, social networks, etc.
Best One Page WordPress Theme
One Page Pro: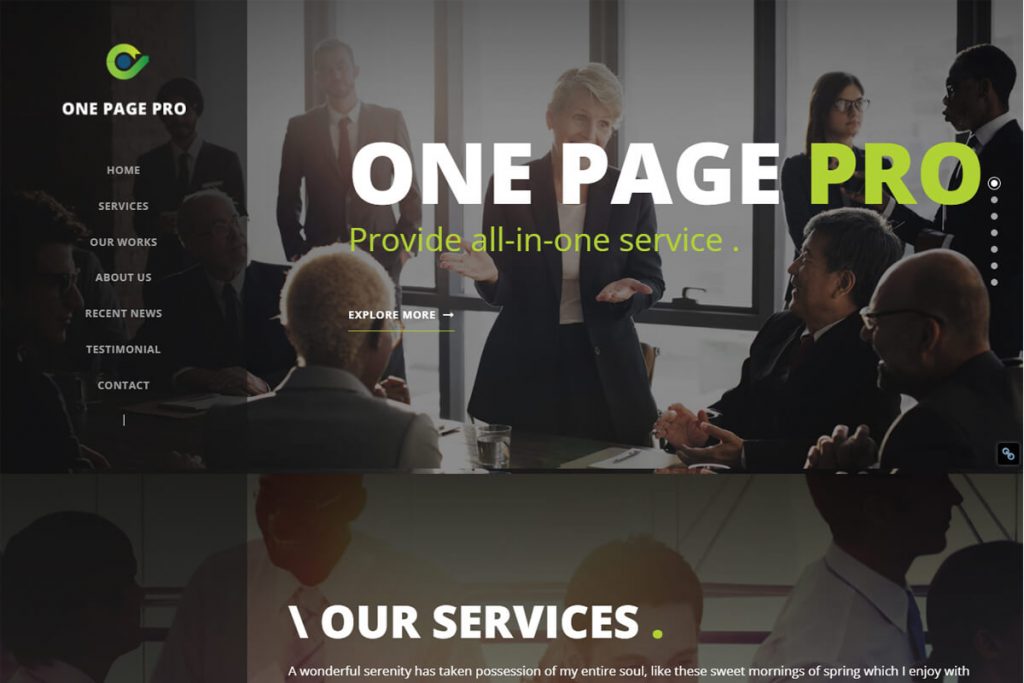 Without a doubt, it is one of the best multipurpose one page WordPress themes. It comes with the Visual Composer plugin, it is very flexible, versatile and there is a good support team behind it. So it could be said that it is a very reliable and safe option. Right now it is one of the number 1 themes.
One Page Pro is a WordPress template that offers a professional and fully mobile-friendly design. It is aimed at companies that offer consulting services. With it, you can promote your company, all the services it offers, and who is part of your team. You can share your links to social networks and make your location known through a Google Maps map.
North:
North is one of the most popular one page WordPress templates of the moment. It allows you to choose between many different templates. And you can even download the demos with or without content, to have your blog ready in just 5 minutes. It is very complete for blogs.
It is important to mention that all these WordPress templates are paid, but the payment is unique and they are worth the value for money. If you want to design your own website template, access the master's degree in graphic and web design Ux.
Miex: Best one page website templates
The Miex templates is a clean and professional design. This theme makes it easy to add citations just above the fold so visitors can get a quote or find a company or agent.
The rest of the home page has plenty of room to include introductory texts and share information about the agents. It is also responsive and allows you to customize fonts, colors, and all other aspects of your site.
Reframe – One Page Portfolio HTML Template
Reframe One Page Website Template with One-Click Demon Import with Three Different Header Styles is a professional solution for a personal portfolio.
This is just one of the great ranges. Insurance Website Theme Available on Themeforest.
Kerge – Portfolio Template
Kerge One Page Portfolio Template stands out thanks to the beautiful area that encourages action and is perfect for full-width photos. The themes have several ready-to-use home pages that you can easily import with a single click.
There's also a pre-made internal page, multiple color variations, and a powerful Template options panel to customize every aspect of your site. Great Portfolio Template for a website.
GreenDay – Organic Farm Landing Page Template
The GreenDay Landing Page Template is a modern and bold Template with plenty of space on the home page to highlight packages, ask visitors for quotes, and share testimonials from past clients. The html template is fully responsive and highly customizable.
Digimint – Best one page website templates
The insurance agency theme can be used as a one-page theme or as a multi-page theme. It offers a large number of out-of-the-box internal pages and many customization options.
Plus, it comes with a drag-and-drop page builder, so you can easily create your own page layouts.
TaxPro
This clean and professional html template has everything you need to create a modern website for insurance agents.
Easily add citations to encourage visitors to get quotes, share introductory texts and information about packages, featured agents, and more. The theme of this insurance website is responsive and easy to customize.
2 Best single page html templates
MegaOne – One Page Parallax
A bold theme for multipurpose design. It can be used not only by insurance agencies but also by financial agencies. The themes are easy to customize and come with some out-of-the-box demos that you can import with just one click. Templates are also optimized for fast search engine loading and higher rankings.
Socialated – single page html templates
Health Insurance As the name implies, it is the perfect Html template. e. The clean design makes it easy to request a quote right away.
Choose from three different home page options and use Page Builder to quickly create custom page layouts.
In the case of frameworks, it is best to buy them on their official website. For example, you can buy Onevo through this link.
On the internet, you will find many other pages from which to download premium themes at zero cost (pirates, come on). But be careful because some of them could be infected with malware or accompanied by malicious code to steal information or to redirect the traffic that reaches your websites.
The Best HTML5 and CSS3 templates
The truth is that not everything is WordPress (although it is highly recommended). But if you are looking for templates based on HTML5, CSS3, Bootstrap 3, JavaScript, and JQuery technologies, you may be interested in discovering the following:
Electro: this free HTML5 and CSS3 template will also allow you to create a beautiful and personalized online store. It has multiple features and functionalities, so you just have to start using it.
Nitro: in case you are looking for an online portfolio type template. This HTML5 template is completely free and is very good. The design is modern, clean, minimalist… it is perfect for both freelance users.
Course: This list of the best website templates couldn't be without Course. By its name you can already imagine that it is designed to create education sites, schools, academies, universities. It also makes use of modern technologies such as HTML5, CSS3, JavaScript and JQuery.
Despite the fact that there are many more free and recommended options, at least we name you 3 varied ones with which you can have websites of all kinds and even online stores.
The problem with free html templates
It is clear that the main advantage of free HTML templates is that it costs nothing. However, as we have already said many times when talking about other free alternatives, cheap can be very expensive. Because there are always things that do not tell you and that is not seen with the naked eye.
So we believe that it is only fair that you know the main disadvantages of free HTML templates.
In the first place, precisely because they are free templates, their use is very widespread. So it will be much more difficult for you to create a unique web page that differentiates you from your competition.
In addition, its customization possibilities are usually quite limited. To the point that there may be elements that you cannot customize. Sometimes some are as basic as typography or colors. Little things (more important than they seem) that will not be able to be adjusted if you do not enter the code.
These limitations will mean that, in many cases, you will need other plugins to get the functionalities that the template does not have, and you will have to waste time looking for extra accessories to get to the design you are looking for. And since most have little (or no) support, you will hardly find help.
Another point to keep in mind regarding free html templates is that many are not SEO optimized. In fact, some contain poorly crafted or out of nowhere HTML tags, duplicate menus, etc. And this can bring you serious problems with Google.
Finally, another issue to be careful with is that many free templates end up being abandoned by their creators. And, if this happens, in the future you will not be able to update them.
Note: So you should buy a premium template for your websites.
Conclusion
Now you do know the 15+ best one page website templates. It only remains that you search for them on Google and download them for free from official sites or trusted repositories. Remember that we gave you free and paid options, based on different technologies depending on what you use.