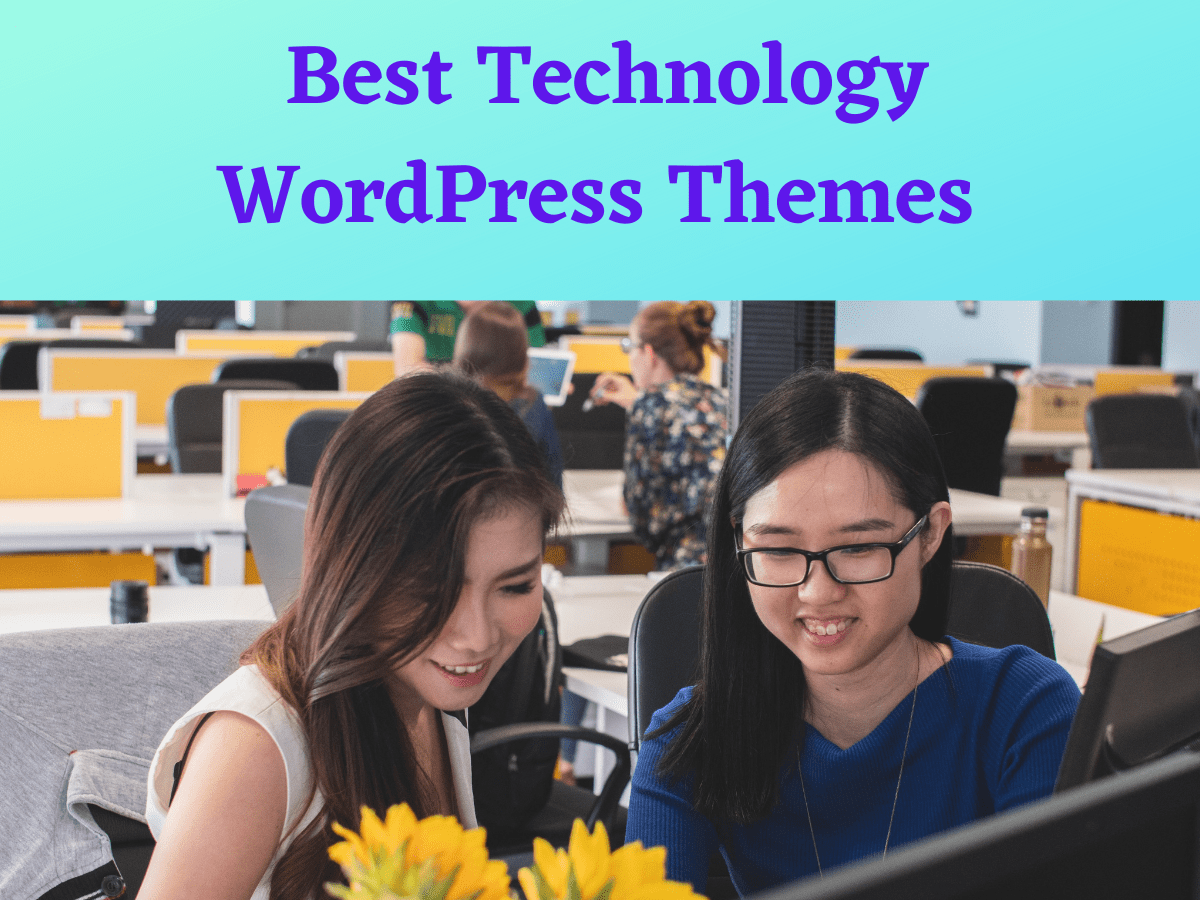 10+ Best WordPress Themes for Technology 2022
Appilo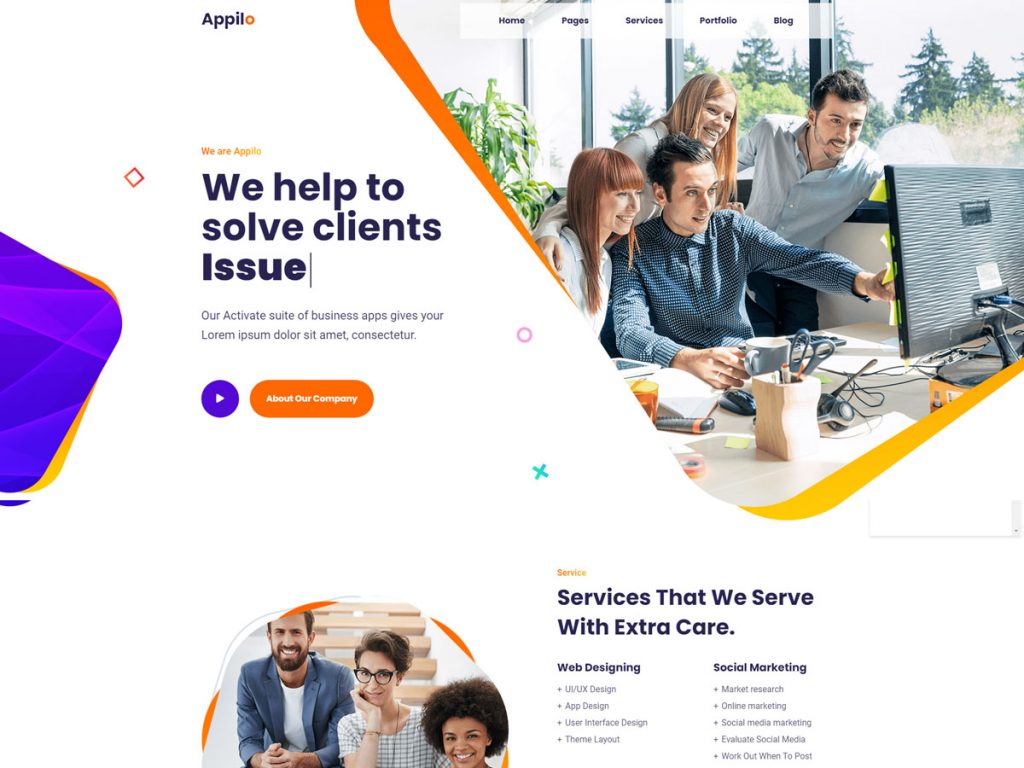 What a weird name, right? But even when the name is weird you shouldn't look down on one of the best WordPress themes for technology on the market right now. Yes, you heard it correctly. Appilo is a specially built theme geared towards most technology niches. As long as you have an online business website for a technology niche, you can consider app landing page themes for your site.
But you may ask, why? Why you should pick this theme over others. Well, mainly because it suits your needs if you have a technology-related business. On the other hand, it has features every tech business owner would love to have for their online website.
Murtes
Murtes is a clean and contemporary PSD template for an IT solution and service company that can be used for any agency, marketing, consulting, or start-up firm. The files and code are well-organized and well-commented, making adjustments easy. This template was created using the most popular CSS framework in the world, Bootstrap v4.1.3. In addition, SASS, a sophisticated CSS preprocessor, was used to create this. As a result, it has worked flawlessly in all recent browsers. At the end, you should be aware that this template's user interface is quite responsive and will display on a variety of layouts.
Feature
The perfect responsive layout
compatible with all browsers
coded according to W3C standards
easily customizable
Documented well
Code that is clean and modern
Dedicated support 24×7
Based on Bootstrap v4.1.3
ItFirm 
This WordPress theme for an IT solutions, IT business, and service provider is visually attractive and functionally adaptable. The company relies on extensive research into IT solutions and services to provide the necessary layouts and blocks. Moreover, the business and consulting aspects of IT and the use of SaaS and software.
The first time you set up your website, you shouldn't panic. Since this theme comes with demo material and video instructions, setting up a website to showcase your business solutions, services, and technologies is a breeze. Then, share your abilities with the world by signing up with Itfirm.
Feature

Page Builder for Elementor
Itfirm's fifty-up custom widgets
The Revolution Slider is included 
Display of products in multiple layouts
Multiple layouts for the shop page
Support for a variety of product types
Builder for headers and footers
These CSS3 animations are cool
Element of a carousel
When scrolling down, the menu sticks
A very unique look.
Effects and functionality that are unique.
Import demo content with one click
SkyMax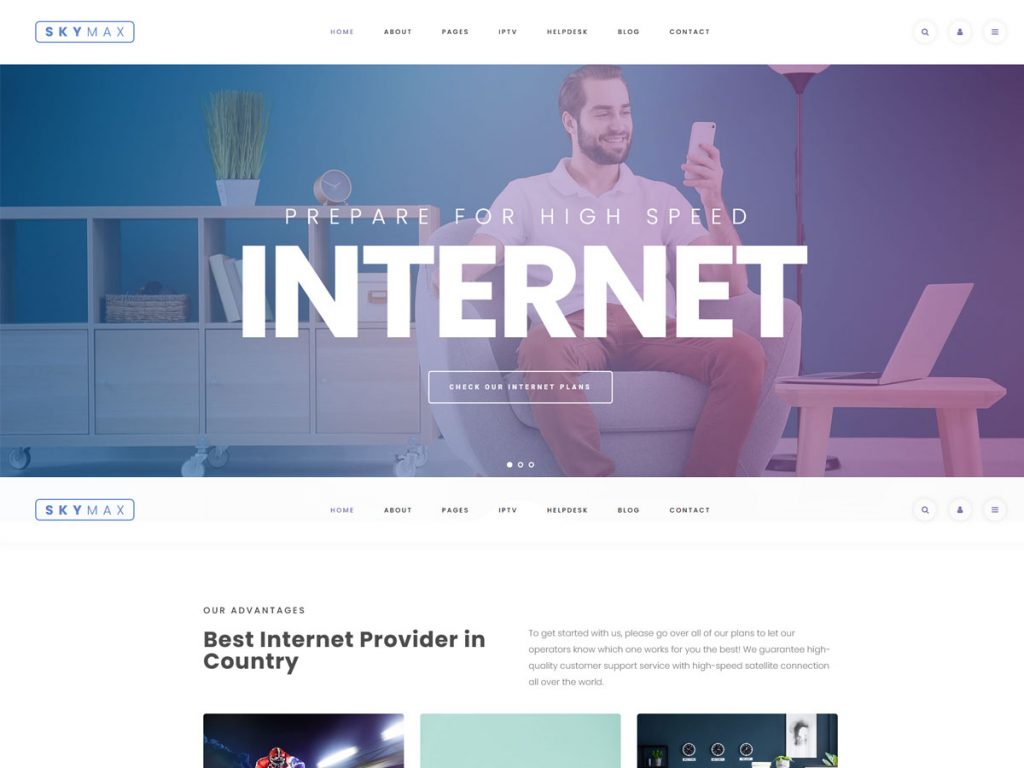 SkyMax is a new theme compared to the other themes in this list. However, being new has nothing to do with abilities. SkyMax is a clean and unique theme that's geared towards internet technologies and telecom companies. While it's a theme that's been specialized, it comes at a reasonable price. If you are looking for a theme while having a budget, you can consider SkyMax.
However, you cannot take anything away from SkyMax just because of its price. People tend to get suspicious when something is too good to be true. It's the same with this. SkyMax has high-end features only to be at a low price. It's natural to be dubious. However, you can check the ratings and what people say about SkyMax if you search the web. Truly one of its kind, SkyMax, one of the best WordPress themes for technology. Read More about the best HTML Templates.
Nimmo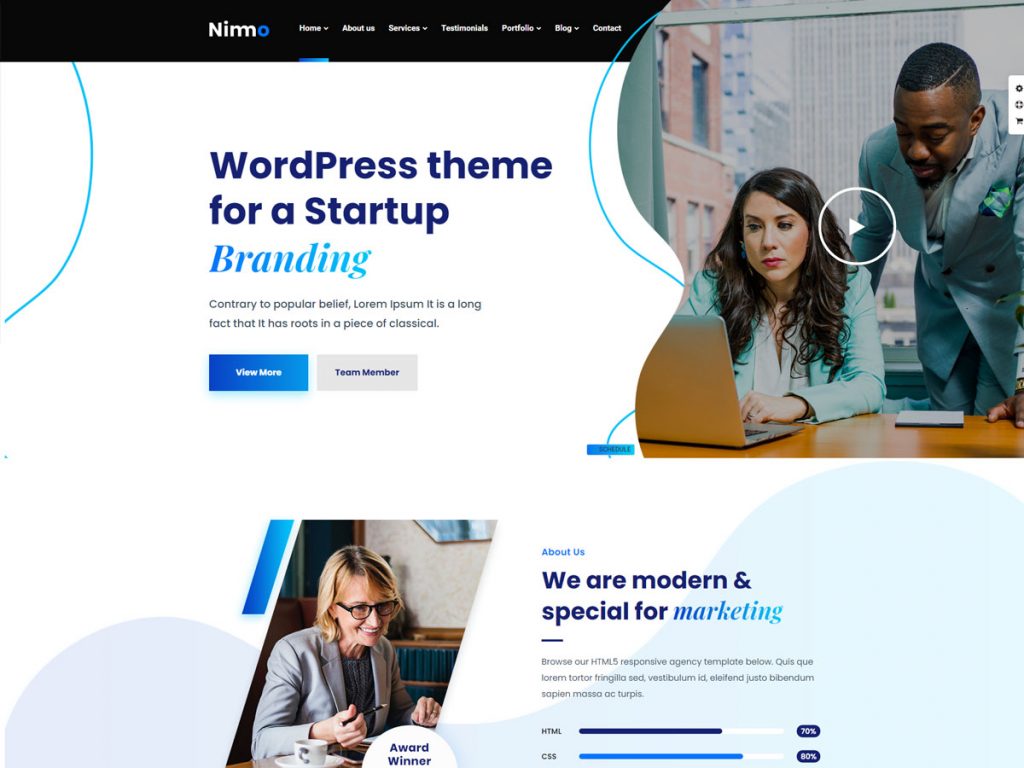 With the increased popularity of technology and digital platforms, businesses are converting to digital as well. Meaning, it's becoming essential for an online business to have a website to showcase their products. And the best way to do that is to use a theme that showcases your business to the full. Nimmo is a high-quality and unique theme for technology blogs and websites.
It has all the features you may want from a specialized theme. But you know what's best about all this? The price is low and when the price is low you may expect to lose the features you want. However, that's wrong. Nimmo offers you quality features like demo content, drag & drop builder, one-click installation, responsive and retina ready, powerful framework, and more.
Applauz
Do you have a software business and want to promote your business online by creating a unique website? Or are you in need of a theme that showcases your digital marketing business? No need to search for the Applauzology website templates, Applauz is here for you. No matter what kind of site you need for your online business, Applauz got you covered. It's a theme that's already proven to be effective, thus popular amongst online business owners who own technology-related blogs or websites.
Applauz is a revolutionary theme that's considered one of the best WordPress themes for technology currently. There are proper reasons for that. First, the appearance of the theme fits the technology niche perfectly. It's fully responsive and retina-ready so your visitor can keep visiting your site. There are also 6 landing page designs, easy layout customization, bold builder, and more top-quality features to look forward to.
Multio
Just as the name implies, Multio is a multi-purpose theme. However, contrary to the nature of a multi-purpose theme, Multio works like a specialized theme. The best part about this theme is that it can be used for websites in most niches in the technology industry. In other words, Multio is one of the best WordPress themes for technology.
Multi has been built with the latest technologies to be a unique and creative theme. Thanks to the clean and modern design, online business owners seem to love Multio. However, it takes more than an appearance to be one of the best. Multio comes with high-end features of a specialized theme albeit at a reasonable price, making it a highly sought-able theme in the market.
Smartfix
When you are a novice at an online business or starting one, most of the time you would want to find technology website templates. Why? Because that's what most people do nowadays. However, if you truly want to stand out among your competition, it would be better to use a theme that offers you much more than a template. You can do so and go ahead of your competitors using Smartfix.
What is Smartfix? It's a technology-oriented theme for repair services, but don't let the description fool you. Thanks to its extensive features and customizable layout and sections, you can create your site however you like. You can show off and promote your business online in an easy way using Smartfix.
Utouch
Utouch is one of the best WordPress themes for technology sites. You may ask, it's this a multi-purpose theme? Yes, it's correct but the difference between Utouch and other standalone themes is quite large. Normally, you'll want a specialized theme for your business, but not everyone can afford one with how expensive specialized themes are. Not to mention, when Utouch can provide you with all the features you are looking for, then why bother spending extra.
Nowadays, people tend to prefer technology website templates for online tech businesses. However, a theme can give you much more, even more so when it's a theme like Utouch. So, why should you choose Utouch? First, it's a theme completely geared towards tech despite being a multi-purpose theme. It's also responsive and compatible with most devices. The pre-made page-builder and easy-to-use dashboard allow you to build your site faster, saving your valuable time. There are also other features you'll love when you use Utouch.
Mitech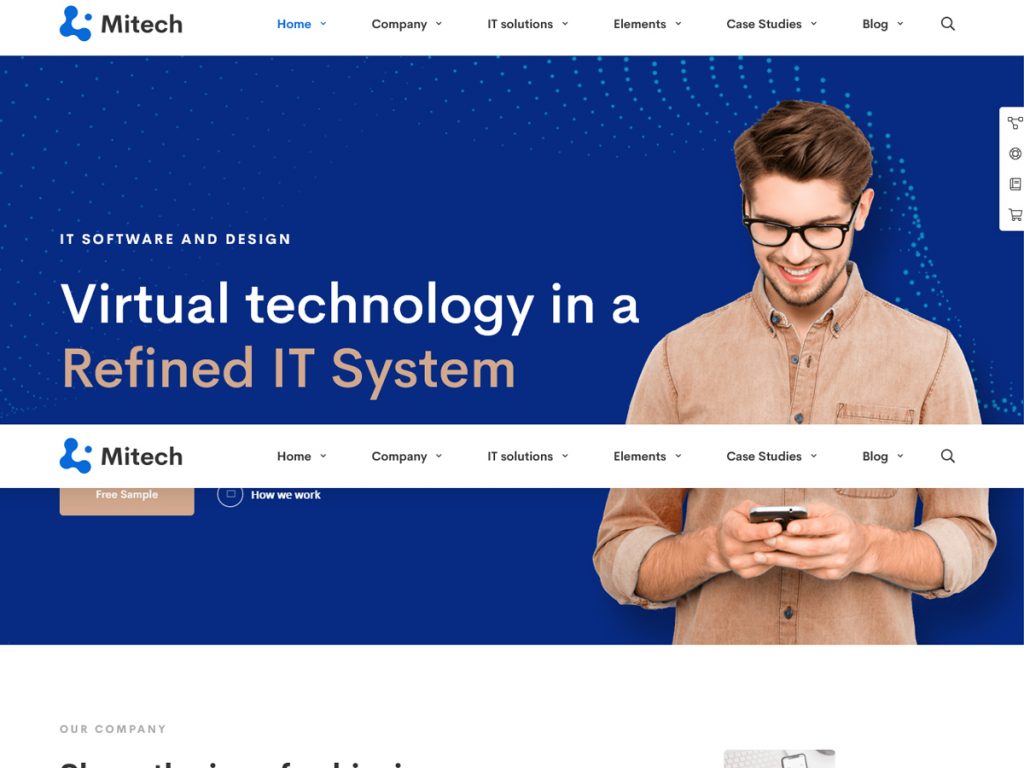 The name explains it all. Mitech is a professional WordPress theme for digital and technology businesses online. It's also the perfect choice for startups and small agencies. Why? It's because small businesses cannot afford to spend a hefty amount of money on specialized themes. They would prefer something affordable and provides features they would want for their business site.
Mitech has a professional and clean design that looks appealing to most. Thanks to its appealing look most visitors would love your site. Not to mention, the quality features that come with Mitech also do not fall short of specialized themes. Professional and responsive design, retina-ready appearance, custom shortcodes, UX enhancing plugins, and many more come with Mitech. That's why Mitech is considered one of the best WordPress themes for technology businesses.
Fintech WP
There are many WordPress technology themes on the web and it can be a hassle to dig up a good theme amongst them. However, if you want to build your online tech business fast and don't have time to dig through thousands of themes, you can try out Finteh WP. It's a one-of-a-kind WordPress IT theme that's been fairly popular in recent years. Paired with high-end features and affordable prices, it's a good choice of a theme for your technology online business.
Fintech WP brings top-quality features to the table that you'll find in no other themes in the same category. It's a lightweight theme with an attractive design making sure your site will always be up whenever visitors visit. Fintech WP is responsive and retina-ready, so you'll be able to hang on to your visitors and convert them to potential customers. You can fully customize your site however you want with its drag and drop features. You'll be eligible for many other exclusive features when you try out Fintech WP.
Gentium
What a cool-sounding name, isn't it. Gentium is more than just a name though. Along with a cool name, Gentium brings a lot of cool features every technology business owner will love. Gentium is a well-crafted, clean, and modern theme that's perfectly suitable for any technology businesses online. Furthermore, you can customize your site however you want thanks to Elementor page builder.
It also brings other eye-catching features you would want for your tech sites like one-click demo import, WordPress customizer, SEO-optimized, lightning-fast speed, and many more. The speed is especially noteworthy. It's because people tend to stay away from websites that are slow and love visiting sites that are fast. And Gentium gives you speed along with so many top features. If you are looking to build a new business online, you can try out Gentium and see how it'll go.