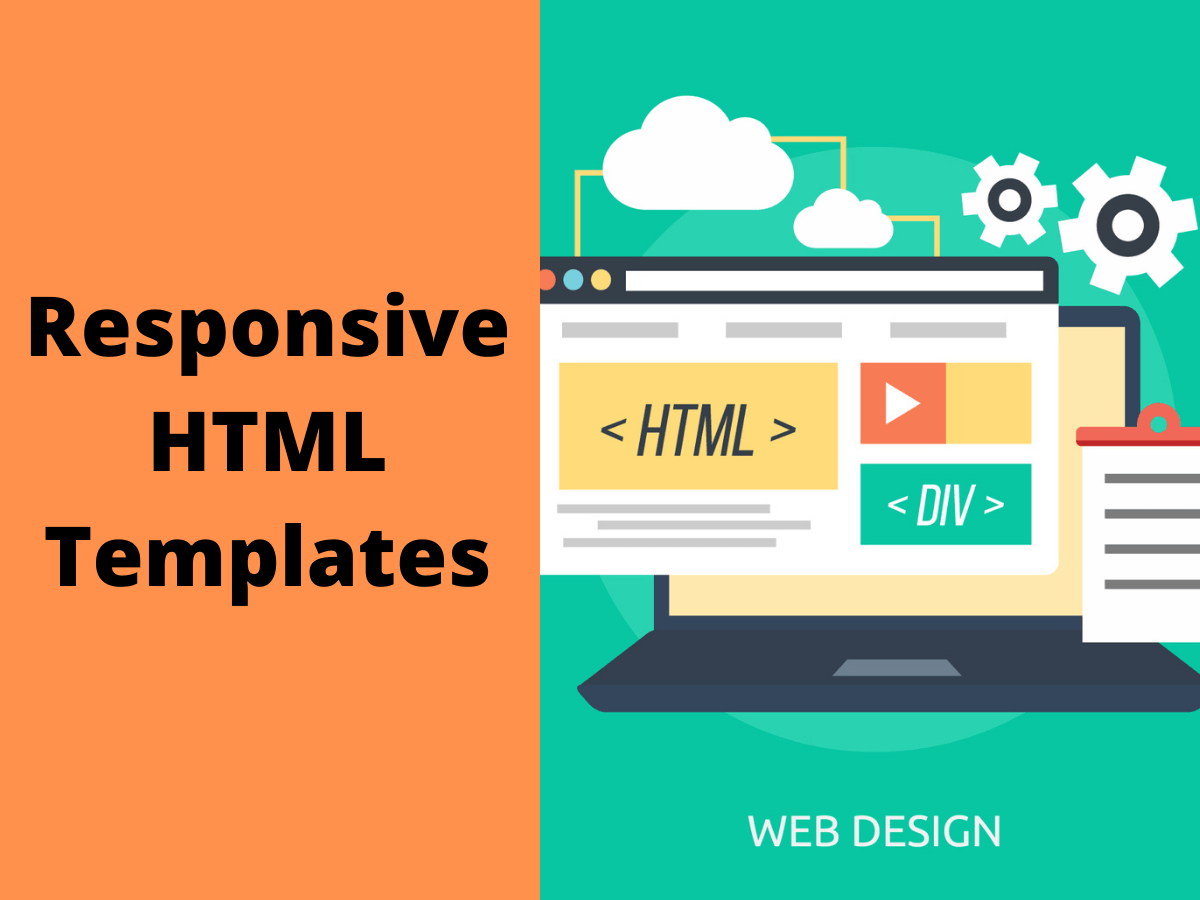 18+ Best Responsive HTML Templates of 2022
There's one similarity between all business owners and it's that they like to maximize efficiency. For business development online it's essential to have a website that has all the features users will love. However, it's difficult to have everything essential and the package that can come remotely close is a multipurpose HTML template. As the name suggests, multipurpose templates can serve any role and market niches. Even if it can't fulfill all the essential features, if you have the best responsive HTML templates it can maximize efficiency.
Just like any other web tool templates have their differences as well. If you can't tell the difference of what template to use you'll be the one to take a loss. Of course, you may not need a multipurpose template to use in the first place. However, that's the biggest gap between you and your competitors. Read More about the best Multipurpose WordPress Themes.
Web users tend to like creative HTML website templates. However, users prefer responsive templates even more. With so many kinds of templates in the market, you may get confused. Especially, if you are not a tech-savvy person you'll love to know the best responsive HTML templates to use. Below are the 18 best responsive HTML templates any business owner will love.
Industrio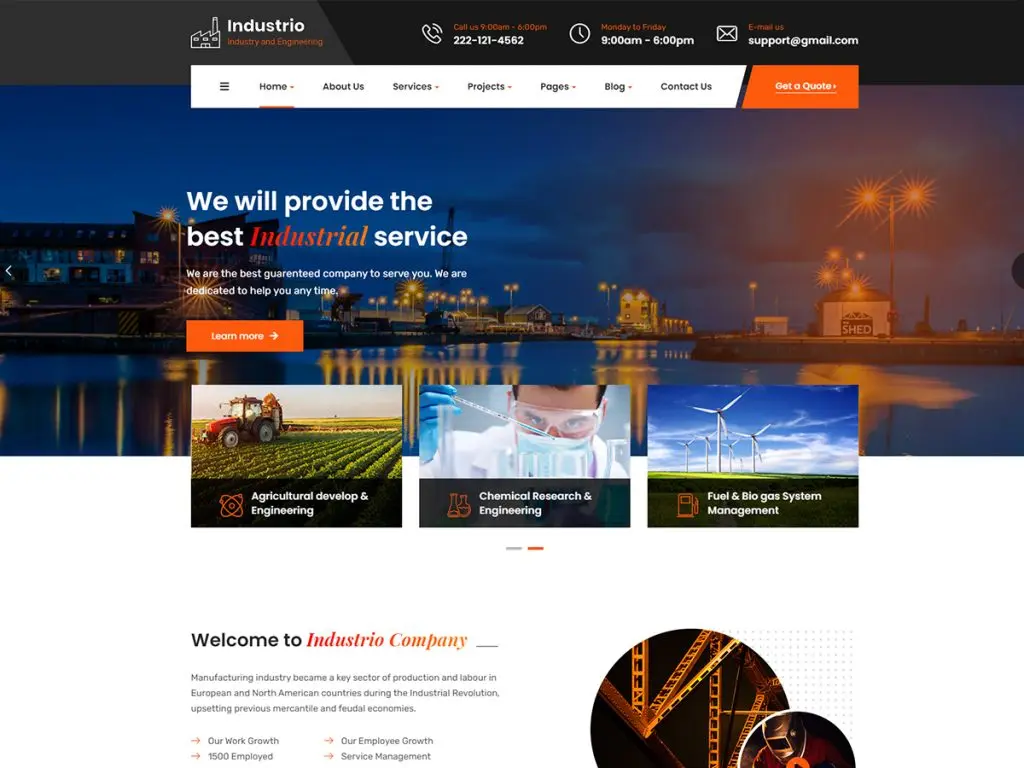 Industrio is a multipurpose template geared towards business websites. Or more specifically all types of industry related to engineering and machine businesses. A template that truly lives up to its name. This is a theme largely popular with website owners who like unique and responsive designs. The unique design of this template provides a professional look that any business owner will prefer.
The premium quality of the Industrio theme will make your jaw drop. It's not an exaggeration. It's a business template preferred by many business owners. Obviously, there are reasons why many business lovers prefer this theme. As mentioned above, business owners tend to like to maximize efficiency. This theme does exactly that. The unique design paired with its versatile function is truly the crystallization of efficiency. Not to mention, it's cross-browser compatible which makes your consumer experience more enjoyable.
One Press
When you are looking for a template for your business site, it's a natural desire to only get the best responsive HTML templates. OnePress is a one-page template that is compatible with most types of business. However, that is not to say, this template is worse than other specialized ones. OnePress is such a template that will blow your mind offering many astonishing features same as high-end ones while coming at a cost-effective price.
The clean and modern design of the theme brings out a professional look from your site. It's built responsive, so no need to worry about compatibility with mobile devices. There are other eye-catching features including but not limited to a unique look, smooth transition effects, cross-browser optimization, Google font, and more.
Saasio
You need to include Saasio if you are making a list of the best responsive HTML templates. If you are a site owner who needs a lot of stuff to do on your website, then Saasio is the multipurpose template to go with. It's one of the best creative HTML website templates even among its counterparts. Startup business owners especially prefer Saasio because of its creative design and flexible functions.
An all-rounder is how you'll put Saasio as. However, that doesn't mean there'll be any drop in performance. You don't need to worry about that kind of thing with this template. You can customize your website fully to your heart content. The creative freedom with Saasio is one of the best in the market.
It's also a great template to showcase your Saas startup or you can use it with your corporate business website too. If you want to run a digital marketing agency, that's fine too. IT solutions site? Saasio has everything you may want from a multipurpose template.
MegaOne
Do you need a multi-purpose template for your business? You can check MegaOne. This is a template that can fill all your needs, whether it's professional or personal. Why? The reason simple's because MegaOne provides top-quality services while retaining the qualities of a high-end template. But guess what? You can afford it quite fine. Rather, it's one of the most affordable multi-purpose templates on the web.
Super performance, easy to customize dashboard, simple yet attractive performance, it's no surprise users love this template. You can try out MegaOne and see if it's an exaggeration or not or if it truly deserves its reputation.
Power Host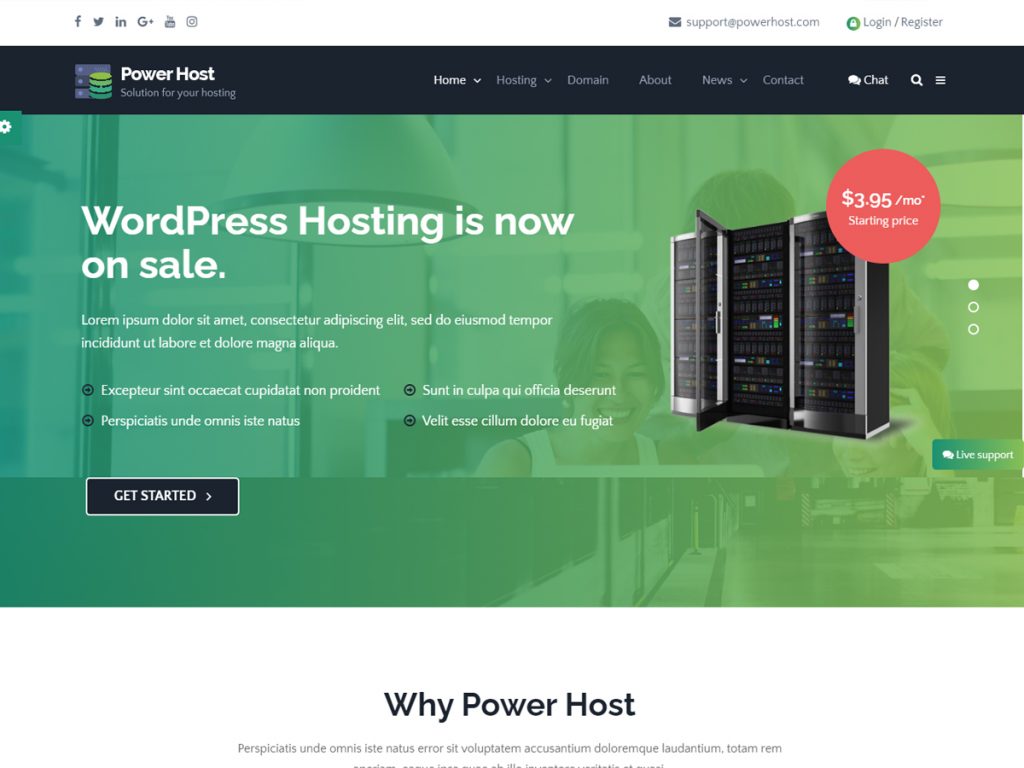 An impactful name, power host, and just as the name suggests it's a powerful template that most types of businesses and agencies can use for their business site. One of the redeeming facts of this template is that it has a simple yet modern design that looks impressive to the eyes. In other words, visitors will feel pleased to see the design. However, other than the appearance, Power Host has other redeeming features.
Those features include a responsive design supporting most devices, cross-browser optimization, unlimited colors, 3 impressive multi-pages, SEO optimized, latest bootstrap, Google map, Google font, among others.
Betheme
Are you a business owner with multiple businesses on the web? No need to buy different templates for your company sites. Betheme got you covered. Surprised? Betheme has 600+ prebuilt websites for you. Meaning, no matter the industry, your business type, it's most likely Betheme will be able to give you the kind of site you want. However, it doesn't end with only that.
Its gorgeous is bound to attract your viewers turning them into potential clients. You can use custom fonts to make your content look appetizing to the eyes. Unlimited colors for you to choose from. There are many other features you would love, so check out Betheme today.
Finance
Are you looking for top-quality creative HTML website templates? You don't need to search further. Why? Finance is a creative HTML template that offers high-end features while charging a reasonable price. It's difficult to find something like Finance that will give you awesome features and low pricing at the same. This is what you call everything in one package.
Finance is just that. The 2 home page style gives a range of options to choose from. Finance offers a smooth transition effect so you visitors have a comfortable time browsing your site. There are other awesome features that any business website will love like easy to customize the dashboard, Google font, unlimited colors, standard custom code, fully responsive, and many more.
Taeled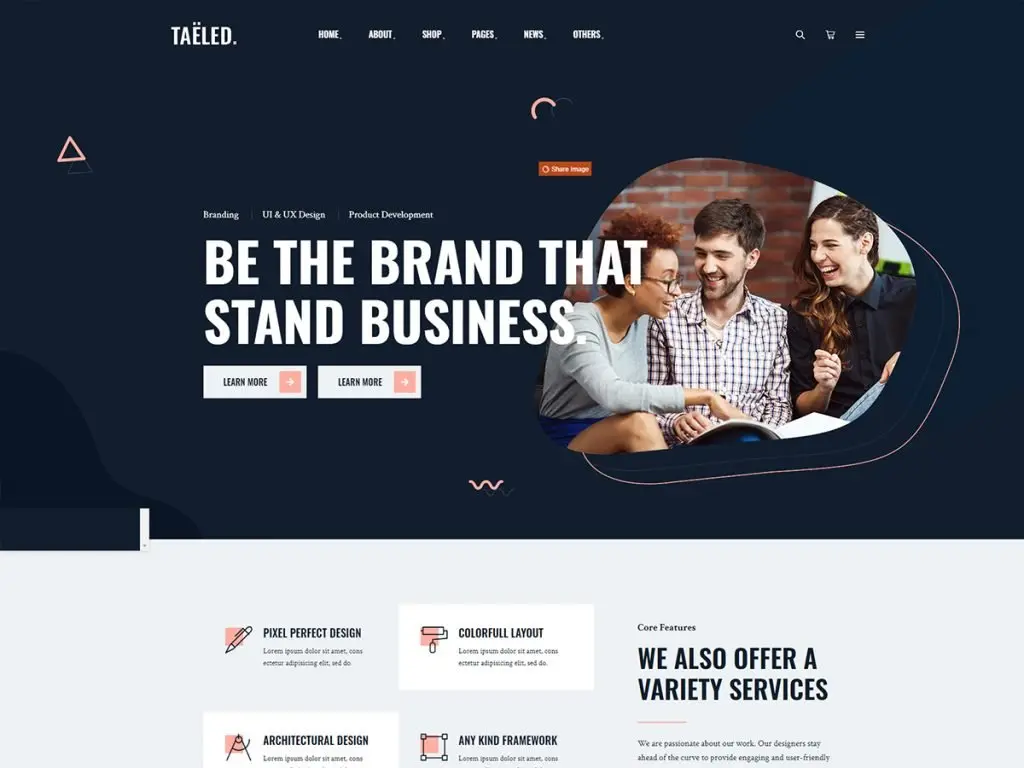 Yet another creative and flexible functioned template perfect for any type of business. More specifically, Taeled was created for startup agencies, digital marketing agencies, web agencies, and many more. You name it. Taeled is undoubtedly one of the best responsive HTML templates.
Taeled is an outstanding and easy to use the template that business owners of any stage will prefer. You can quickly kick off your project with Taeled template. No matter if you are an entrepreneur or a startup agency this template will help make your website look great without losing the professional look. Not to mention, Taeled has been created with the latest technology so you'll not need to worry about update issues. It's also 100% responsive so you'll love it if you are a business owner.
Porto
It's a fact that there are too many good templates around the web for you to choose from. One such is Porto, a top-quality yet affordable creative HTML website template that's counted as one of the best responsive HTML templates too. The plus point of this one lies around in its unique design and ease of use. This is why startups and beginners love Porto.
There are many around the world who uses Porto. It's only natural. Porto is not only affordable it also provides its clients with many good features like top plugins and extensions, automatic update, super performance, and easily customizable among others.
Polo
If you need a multi-purpose template for your new website, but you have a limited budget, you can try out POLO. This multi-featured template has been around for a while and has many users who loved it. Its features like 1000+ UI features, Bootstrap 4+, free Lifetime Updates, and easily customizable make it an attractive package among startup business owners or personal website owners.
The best thing about POLO is that, while it's among one of the low-budget templates, but it provides good service. Most of the users keep using POLO for their new websites because it doesn't take long to set up the new site with POLO. If you are thinking of setting up a new site for your business, you should try out POLO.
ZXP
If you run a construction business or anything of that kind, then you'll love ZXP template. It's one of the best creative HTML responsive templates geared towards the construction business. You can also use it for plumbing, plastering, business firms, carpentry, and many other business websites.
ZXP has a creative and unique design that looks great in the eyes. Remember, users, tend to like a website that looks great even if it's a construction website. However, it's not the only appearance. ZXP is a versatile template that can be used by many types of business websites that are connected to the construction of that kind of business. You can't forget it's also responsive and compatible with many devices. Truly, one of the best responsive HTML templates.
Finano
If you are looking for the best responsive HTML templates for your consulting or business website, you can try out Finano. It's a multipurpose template created for business, finance, and consulting businesses. One of the best parts about Finano is that you can easily customize your website using it. Not only that, it's the ease of use is truly great. Even if you are not tech-savvy you'll be able to use it fine.
Finano is built with all the features you may ask from a business template. A true multipurpose template that can provide you with all the solutions for your website. Its clean and modern design is bound to look great in the user's eyes. However, that doesn't mean your website will look unprofessional. It's the opposite rather, the selling point of Finano is looking great while retaining a professional appearance. Not to mention, it's compatible with most devices.
Industrial
Just as the name suggests, Industrial is a multipurpose template created for the sake of business websites. More specifically, it's created for business, finance, corporate, engineering, machinery, and many other websites. It's 100% compatible with Desktop, Laptop, Mobile, and other devices so it's responsive. Industrial is created with the latest technology so it's always updated so you don't need to worry about security vulnerabilities either. There are many other functions you'll be able to enjoy when using it.
Who doesn't want the best responsive HTML templates for their websites? However, a lack of knowledge can be crucial for a business owner. Hopefully, that problem will be solved after you read this article.
Litho
The practicality of websites is natural with many conventional businesses turning online. Why businesses use sites for their products and other products? It's because they want viewers to come to see them and turn them into potential customers. To make your website it's advisable to use a template like Litho. Litho is one of the best responsive HTML templates on the web.
This template has been created with speed in mind. Its minimal and modern design makes the website super fast. Not only that, its easy-to-customize dashboard along with many other features makes Litho a desirable template to business owners and personal bloggers alike.
Vuexy
Yet another quality template that's among one of the best responsive HTML templates around. Vuexy is designed to be attractive and beautiful while retaining a modern look, so you don't need to worry about your potential clients disliking the new look of your site. Not to mention, you can light, semi-dark & dark versions of the demo before trying out the actual thing.
Vuexy is also known for its ease of use thanks to the customizable dashboard UI. You will not find other creative HTML website templates of the same category that will give you, so many other features like Vuexy. Was there any mention of the price? Don't worry, Vuexy is affordable to even startup businesses.
Metronic
One cannot create a "best responsive HTML templates" list without including Metronic in it. This is one of the best creative website HTML templates around. No matter what kind of website you have, professional or personal, startup or corporate, this template can create a unique and smooth design that looks amazing disregarding niches or industries. In other words, you can use Metronic in any situation.
Now, you may wonder and say "isn't a multi-purpose template bad for my business?" You can use a specialized template if you want; however, why should open your budget more when Metronic can be a better alternative. You can say things like that after you try Metronic with your site.
Cork
The name may sound weird, but Cork is more than that. It offers many offers that will attract people looking to set up a new website. It's a lightweight template that almost never lags, more viewers for you. Do you know what online viewers hate the most? It's an unresponsive website. And you'll need no worry about your site being unresponsive with Cork as your site template.
Need to note down something? You can use a customized note in Cork. It also has a customizable dashboard, a simple yet professional-looking mailbox, and many other attractive features.
Skote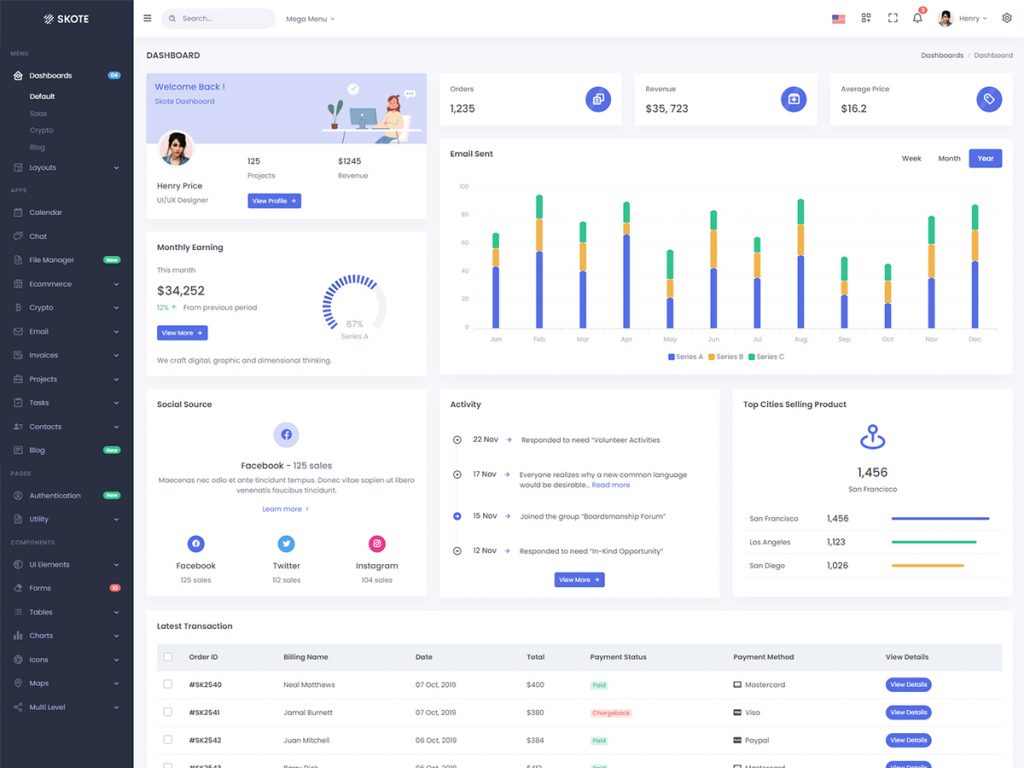 Are you a business owner looking for an advanced template for your business? You can use Skote for that. Skote is a top-quality yet easy to afford to template with countless features you would love. It's Bootstrap 5 with responsive design has high-performance, so viewers would love to visit your site.
Furthermore, Skote supports most browsers so no need to worry about things like browser compatibility either. Not only that, but there are also features like lifetime update, easy customization, well documentation, etc. Another good thing about Skote is its fast customer supports.
If you have a problem, hit their customer supports, and you'll get a reply soon. Finally, no need to worry about the price, it's super affordable to most whether you are a corporate business owner or a startup.