13+ Best Architecture WordPress Themes 2022
It's better to have a specialized theme for a website and everyone wants only the best of it. So, when you are running an architecture business you'll want the architecture WordPress theme for your website. Here are the best architecture WordPress themes on the web.
ArchiPress
What makes ArchiPress different from the standard multipurpose theme is that you can easily customize it to your heart's content. Moreover, this theme is fully responsive and compatible with most devices, so you'll need no worry about your site not supporting mobile devices. This means you will not need to go your way out to customize your website thanks to the theme, as a result, saving a ton of your precious time which you can direct elsewhere.
ArchiPress also has other features that any business that requires the best architecture Website templates will love. It does not require much effort customizing the theme to suit your business needs thanks to the well structured and easy to customize code. You can choose the color of your choice with unlimited colors available in the theme, giving your site a professional and attractive look.
Archio
You need to include Archi when compiling a list of the best architecture WordPress themes. Why? You'll know the reasons as you read on.
First, the clean and modern design looks attractive from any angle, improving the image of your business. However, it's not only the appearance, Archio includes many features suitable for the architecture business. While you can use this theme for many kinds of business this theme is the best when using architecture, building, and constructing websites.
When it comes to architecture websites, the website must be dynamic and easy to customize for the business plan properly. Archio allows you to do that thanks to the easy-to-customize dashboard and added functionality. Not only that, but it's also easy to install, saving you time. Archio is designed to be SEO-friendly, so you do not have to worry about your business website getting pushed out by competitions.
TheBuilt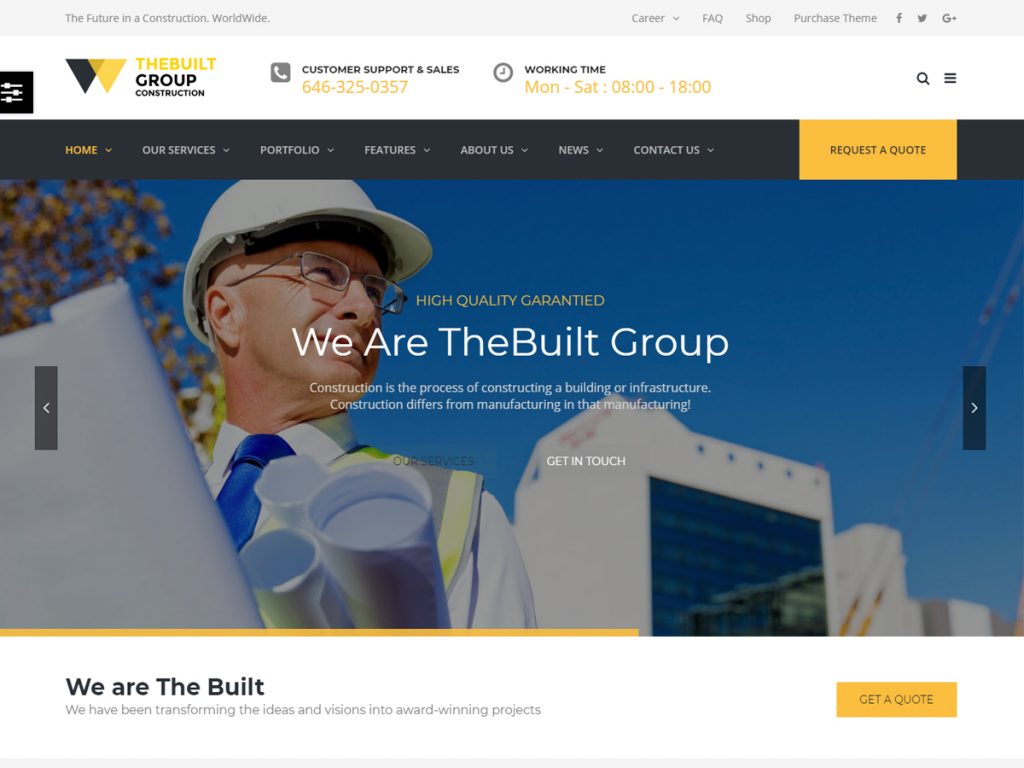 TheBuilt is a one-of-a-kind theme that's geared towards construction and architecture business websites. The best thing about this theme is that it's not that expensive compared to other themes that provide the same features while not keeping the promise of being the best. TheBuilt has an attractive appearance along with added functionality for online businesses to love. Thanks to the responsive design, the website will always look sharp and eye-catching no matter the device. In other words, you will not need to build a different site for mobile devices. This one theme will give you everything you could ask for from an architecture WordPress theme.
Arch Pro
If you are looking for a smooth theme for your website to transition your architect business to the next level? Look no further, Arch Pro got you covered. This simple yet powerful WordPress theme ensures your website looks professional thanks to its modern design. Not a tech-savvy person? No worry. Its easy-to-customize dashboard makes it easy for you to customize your site according to your need. This SEO-optimized theme allows you to save your time when customizing while providing you with an attractive appearance and added features for your architecture business.
Architecture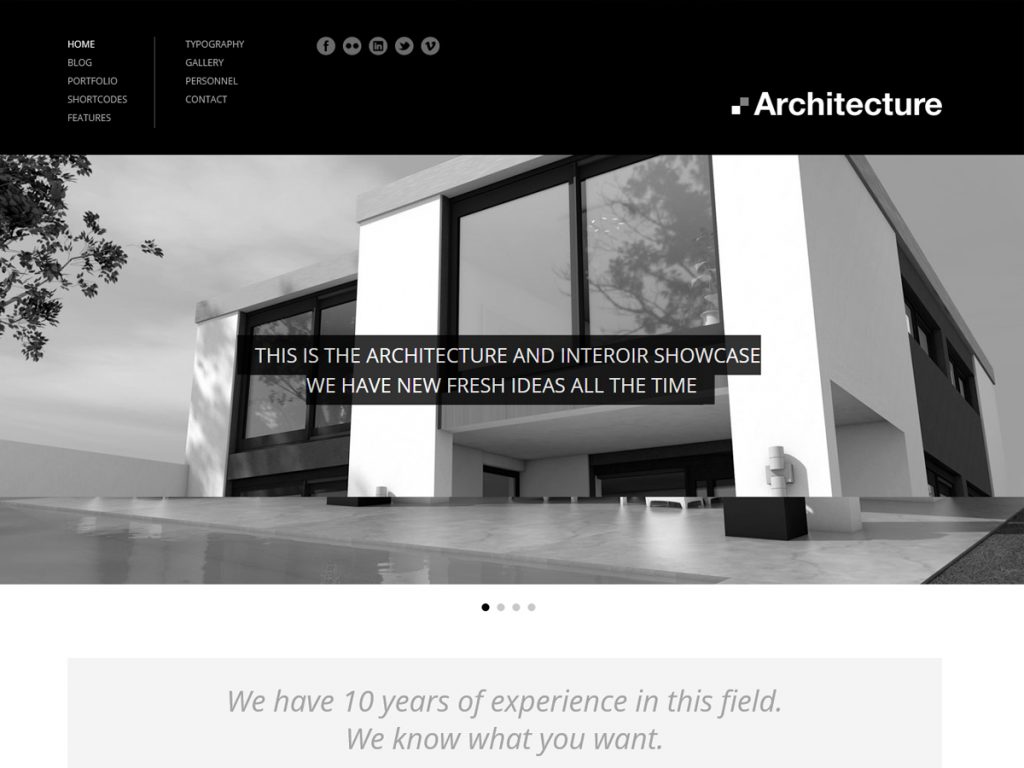 Just as the name suggests, Architecture is a theme meant for the architecture business. While it can be used for multiple businesses, it's best when used for websites related to the construction and architecture industries. Its elegant and modern design looks attractive to look at from any angle. While the appearance is good and all, as a businessman you will want something you can work with and this theme can work well. Advanced admin panel and drag-drop builder allows for a unique business website. Try out Architecture, one of the best architecture website templates.
Vara
When you are looking for architect WordPress themes, it's necessary to check Vara. Vara is a theme that suits the engineering, construction, and architecture industries quite well. It's more than just its appealing look. This theme has been built with the latest trend in the above-mentioned industries in mind. That's why it's easy to pick Vara for your business. The minimalistic design paired with eye-catching features like an easy-to-customize dashboard, and a responsive design makes it an attractive choice for architects and interior designers. There's also an option where you can customize your website to suit your needs easily too.
StructurePress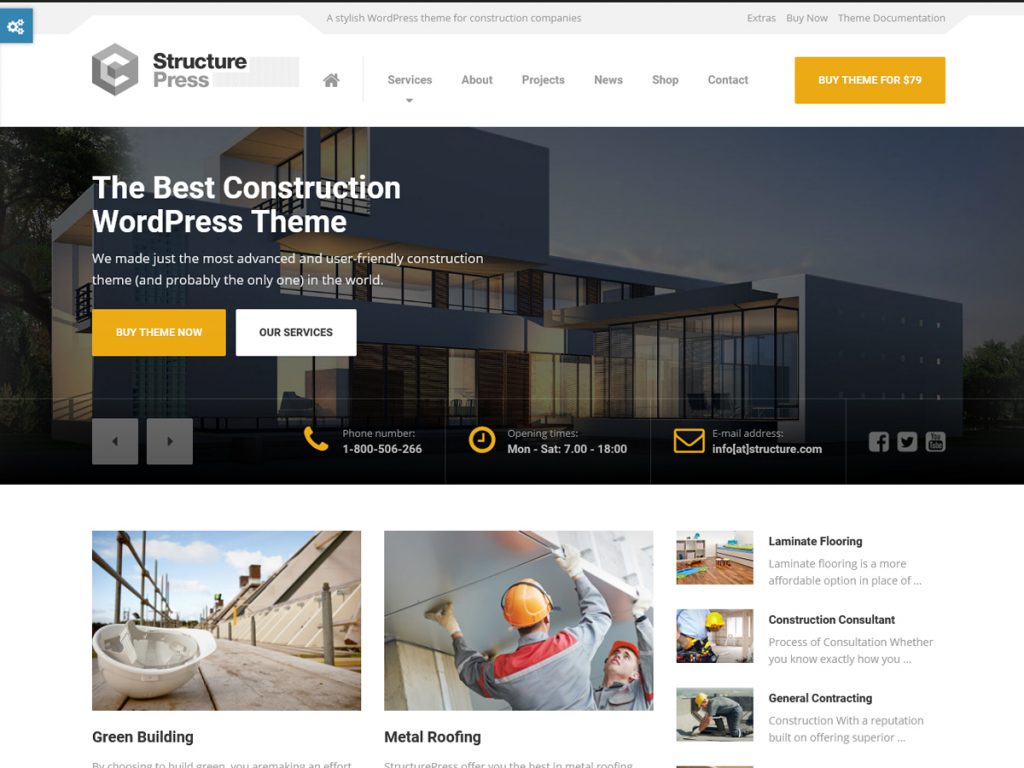 StructurePress, a seemingly simple-looking theme yet popular amongst architecture businesses. It's because this theme is packed with everything you may need for your business website. It's also considered one of the best architecture WordPress themes. Need an advanced admin panel, so you can browse with little effort? Or drag and drop builders to save time? This theme has both. Not to mention, it comes with other eye-catching features including but not limited to: custom widgets, one-click demo, built-in form, responsive design, visual composer, and many more. Why look for expensive and high-end themes when you can get features such as these half the price. Try StructurePress and your business website will look savvy and astonishing.
MIES
MIES is what you call an avant-garde-theme. It has a simple and powerful design for a professional look. Having a professional appearance means a higher chance of converting leads into potential clients. Other than the appearance, other attractive features make this theme so appealing. The parallax scrolling gives a unique and smooth effect on your website. Everyone wants speed and that goes for websites too. MIES is optimized for speed. In other words, your site will run fast, increasing the chance of higher traffic. Unlimited color and 600+ font allow you to customize your site however you want. Visit here for seeing the best cleaning WordPress Themes.
You can choose how your online business will go if you choose the best architecture WordPress themes. You can try these quality themes and increase the distance between you and your competitions.
Ratio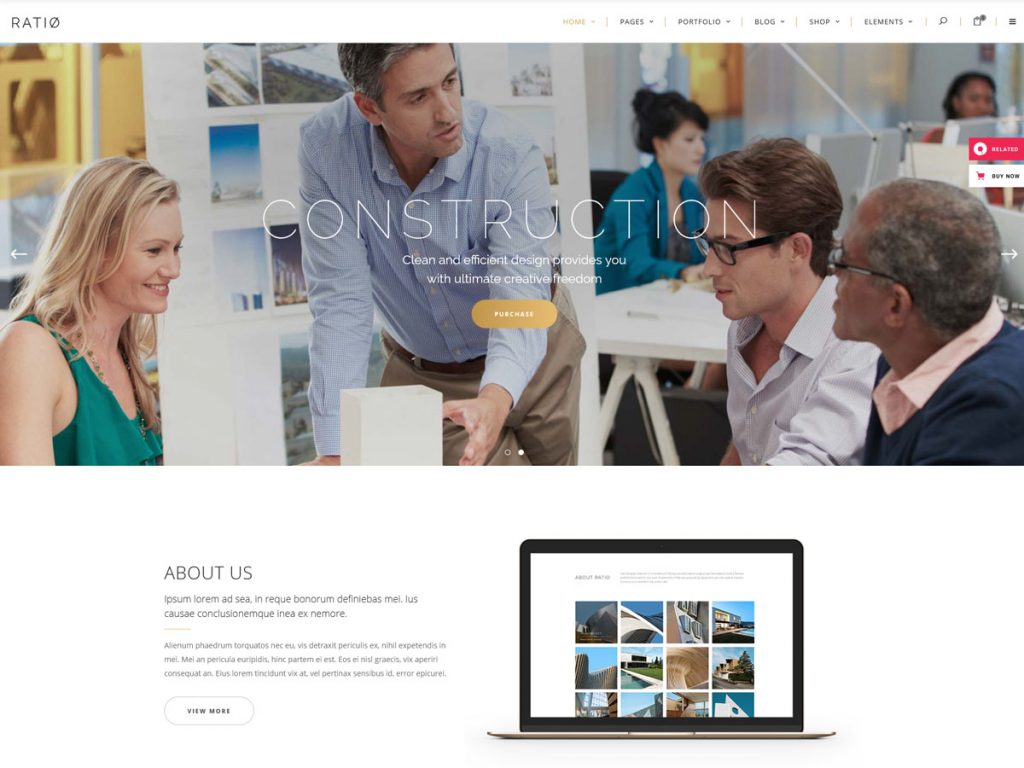 Ratio is known as one of the best architecture WordPress themes for business owners. It's a one-of-a-kind theme that does not lack anything compared to high-end specialized themes. Ratio comes with powerful features that any architecture and interior designer will love to have for their business websites.
The sleek and professional look ensures your website's appearance is loved. No need to build a different site for mobile devices. Ratio got you covered thanks to its responsive layout. Comes with 15 homepages, a lot of portfolio, layouts, and building blocks so you are free to customize your website however you want. The easy-to-use admin panel makes it even smoother for you to browse and customize your business site. Fully compatible with WooCommerce plugins.
Archi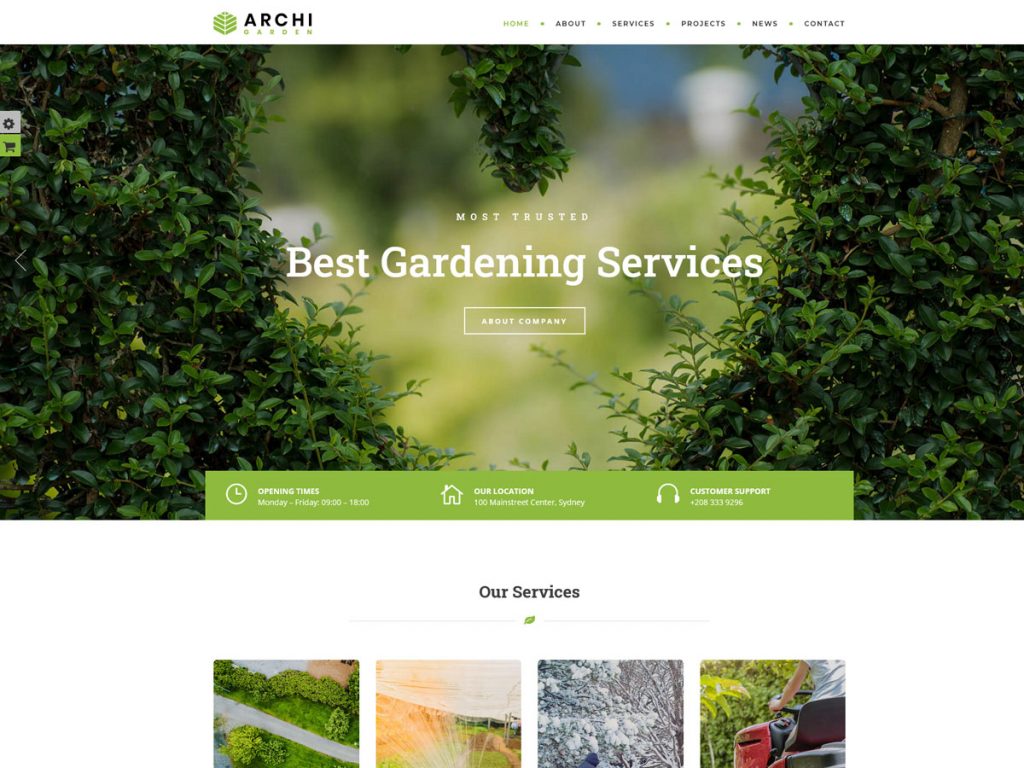 In contrast to the name, Archi is a modern theme that's comparable to the best architecture website templates and themes. It features a simple yet modern appearance that stands out from the crowd. The amazing look of the theme is appealing and most people love a good-looking website in contrast to a bad-looking one. However, Archi is more than just looks.
The responsive design ensures your site is compatible with most devices and lag-free, improving your site traffic. 24+ stunning homepages give you the option of choosing the perfect homepage for your business. The 50+ custom elements allow you to customize your site suitable to your needs. Comes in both light and dark versions. Have a color in mind for your business site? No problem. Archi has unlimited colors for you to choose from. It features fully integrated WooCommerce plugins.
Construction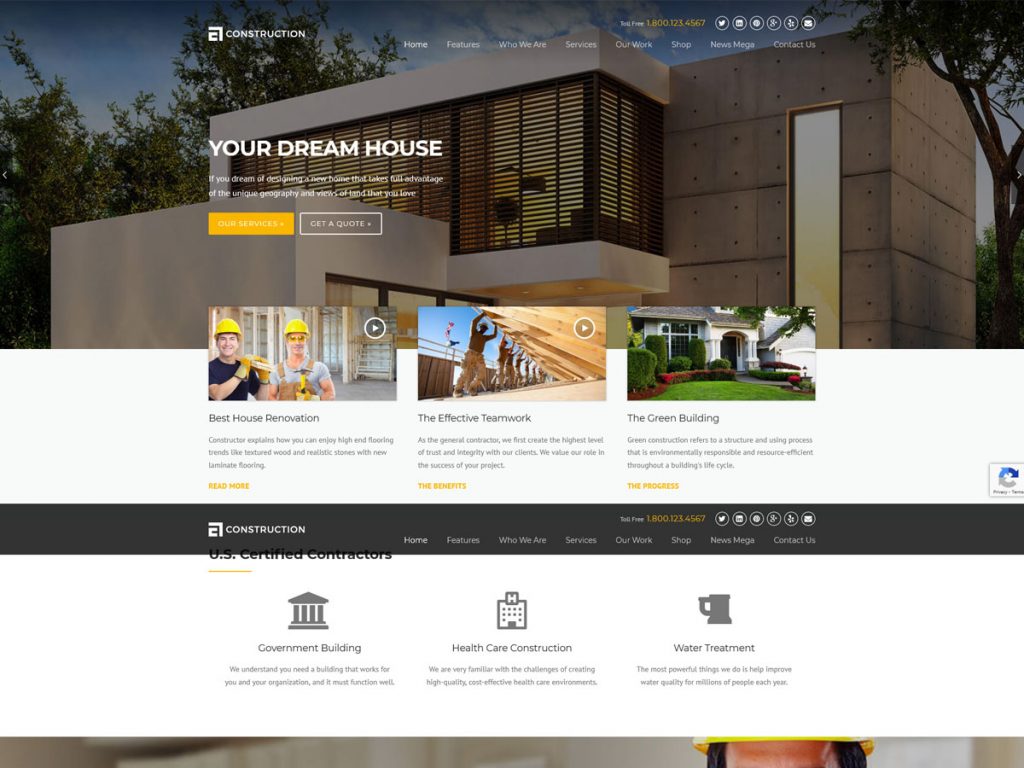 What a simple name, Construction. However, it's more than what it implies. Construction is one of the best architecture WordPress themes in the market right now. It's a theme that is perfect for construction and architecture sites while retaining its features as a multi-purpose theme. But what makes it so great and different from other themes of the same category? Read on.
Construction has a simple yet powerful design that attracts the visitors' eyes. It comes with unlimited colors of your choosing. Integrated with WooCommerce so there's a lot of exclusive plugins to use. A lot of layouts and custom shortcodes so you can customize your business site to your liking. There are not many WordPress themes for architecture like Construction. Has everything you may want while available at a reasonable price. That's the theme called Construction.
Addison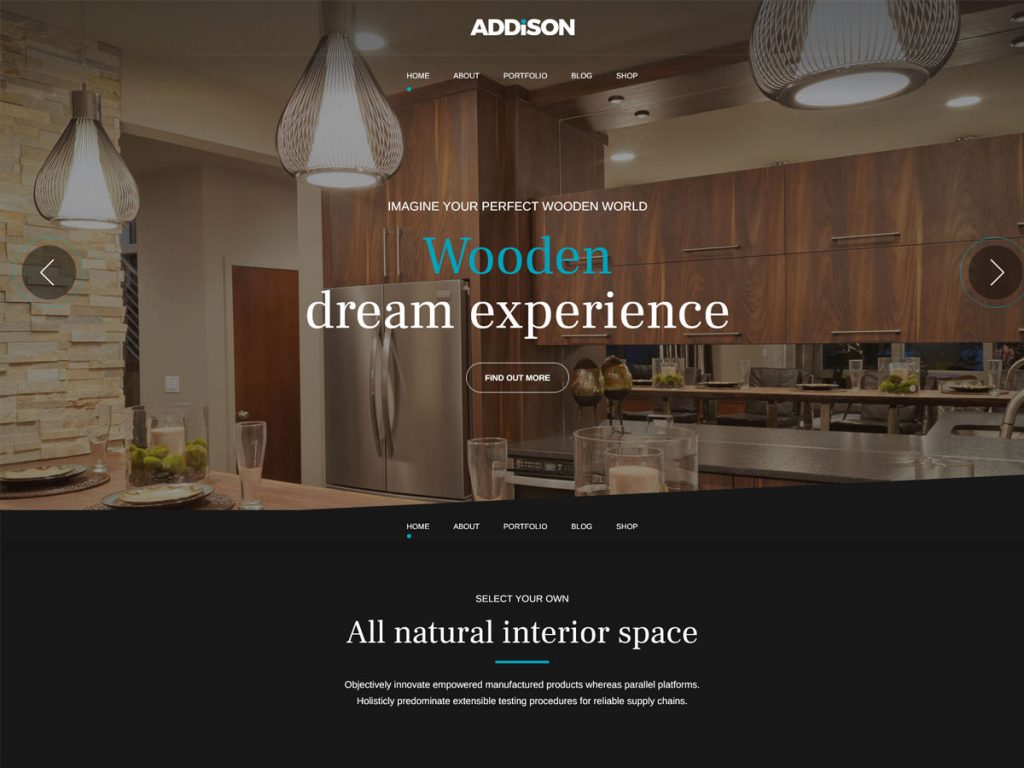 Addison is relatively a recent addition in the architecture theme world compared to other themes in the list. However, while not being in the market for a long time it has gained a lot of users who loved it. If you go to the official website, you'll see it has a lot of positive ratings from the users. Obviously, there are proper reasons behind the ratings.
Everybody loves to browse a website that's easy to use and does not lag much. Addison is a fully responsive website that provides visitors just that. With the addition of a modern appearance that looks appealing to the eyes. Easy to use page builder and admin panel makes it easier for you to build and customize your website. Addison has other top-quality features including but not limited to various portfolio views and examples, WooCommerce compatibility, responsive design, different colors to choose from, and many more.
Constructo
Everyone wants the best theme for their business site and Constructo is a theme that is one of the best architecture WordPress themes. It's geared towards all construction niches including the architecture business. Rather, it's a preferred architecture theme for a lot of business owners who own architecture businesses online. Of course, there are many reasons why many professionals prefer constructo over other specialized themes.
First, constructo is not expensive, rather it's on the cheaper side when it comes to themes. However, in contrast to the price, it has many features you may want from a specialized one. Constructo offers you various header options along with widgets, logo positioning, colors, and more so you can create the perfect website for your business. Not only that it has other excellent features such as WooCommerce plugins compatibility, Google fonts, advanced theme options, visual composer, and more.