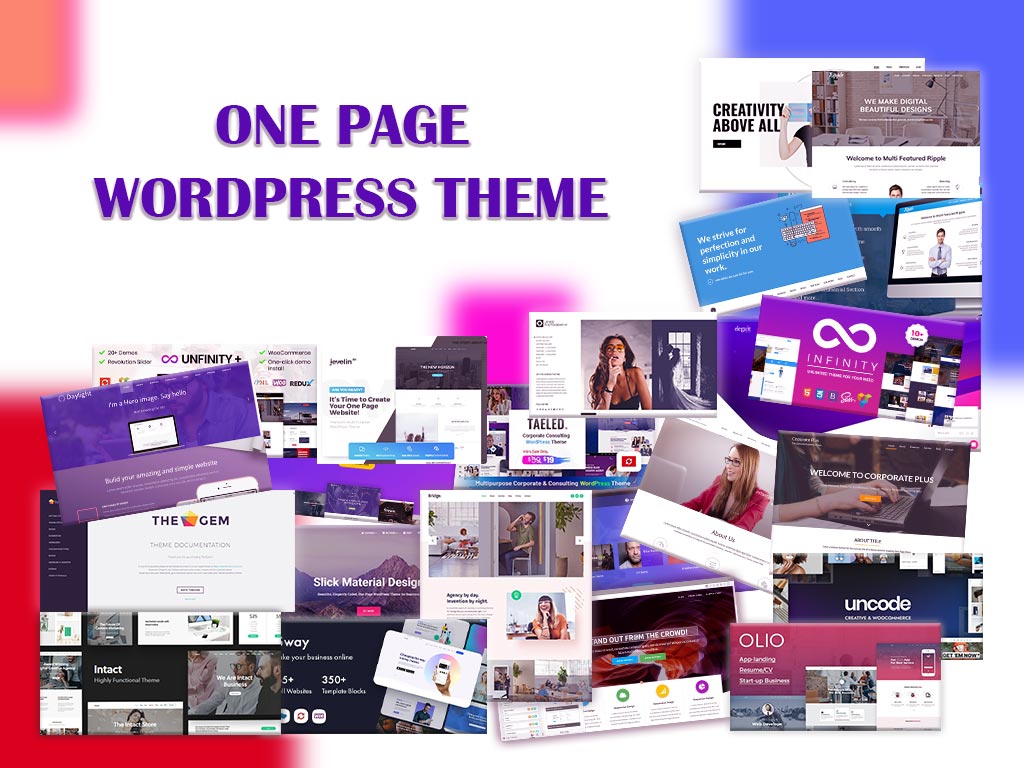 Best one page wordpress theme
There are quite a few WordPress one page themes available that are excellent for setting up a modern business website. However, There are a lot of professional one-page themes available to you, which you can choose from at any time. If you are new to the world of WordPress, it can be pretty challenging to select a theme that is suitable for your site, mainly if you are a beginner.
In this article, we will show you probably the most famous one-page WordPress subjects that you can use for your site
Getting Started with WordPress
First of all, you need a WordPress hosting version in order to make the WordPress website. Additionally, In the case of a web hosting company, your site is stored on their servers which are connected to the internet all the time. Therefore, web hosting is a necessity for any website.
Then, you will need to choose a domain name that is your website's identification on the internet, such as www.mexriver.com or www.google.com. In order to use WordPress, the next stage is to install and configure it once you have purchased web hosting. Additionally, Now prepare to install a WordPress theme on your site.If it is your first time establishing a WordPress theme, do not be worried.
Best one page WordPress theme
1.Prysm
Prysm is a multipurpose WordPress theme with a modern design that is suitable for business consulting and finance websites. In addition to, this theme is ideal for consulting firms, financial firms, consultants, advisers, companies, and all other consulting firms and enterprises. Using the elementor page builder, the WordPress theme was created using the most popular WordPress theme platform. Moreover, There are many features and a robust admin panel that make it possible for users to create a high-quality website using this software.
It is important to keep in mind that these things should never be used on a business website. Additionally, Any material provided on this website is provided solely for the purpose of development. If you wish to get the customer's Prysm consulting business WordPress theme, use the customer's Prysm you purchase.
Feature
Install the demo in one click.

Drag and drop page builder.

Search engine friendly.

Supports Contact Form 7.

Added Revolution Slider.

Compatible with Child Theme.

Enhanced Typography Options.

A total of 27 home pages.

Languages in RTL.

Eleven unique headers.

A clean and modern design.

HTML5 and CSS3 valid.

Bootstrap latest version.

Developed with SASS

Scrolling menu.

Filterable responsive portfolio.

Awesome Unique Look.

Innovative effects and functionality.

Updates for free

And more
2.ITFirm
Itfirm is a WordPress theme designed specifically for IT Solutions, IT Businesses, and Services Companies. However, we have created the necessary layouts and blocks based on our study of IT Solutions, Business, Consulting, Digital Solution, Technology, and Services Companies.
ITfirm is a WordPress theme for IT services, IT business, and IT software. However, the theme has over 80 components that may be used to create any kind of website. There is no need to modify any code and everything is dynamic. Furthermore, we utilized this Theme's most powerful page builder, Elementor.
Our Theme has a plethora of functional and modification capabilities that will ensure the success of your online company. Additionally, this theme includes a number of bespoke features. The result is that individuals can quickly establish their own websites with this theme. Moreover, We continually improve our product and ensure that it is compatible with the latest versions of the software.
Feature
Import demo content with one click

In the Elements Page Builder,

Which includes 55 custom widgets from Itfirm

Including Revolution Slider (save $49)

as well as multiple layouts for displaying products

Shop Page Layouts

Various Product Types Support

Custom headers and footers

Beautiful CSS3 animations

Fully responsive and retina ready

SEO optimized design

Carousel elements

Sticky Menu When Scrolling Down

Very Unique.

Innovative effects and functionality.

And others
3.Taeled
The theme TAELED is a modern, multipurpose WordPress theme for Business Consulting & Finance businesses. Furthermore, Theme can be used for any kind of consulting firm, financial services company, and all other types of consulting firms and enterprises as well.
The theme is built using the Elementor page builder. Additionally, This is very easy to configure and offers a large variety of features, along with a robust admin panel for any client to create a stunning website! Moreover, Features Demo with a single click to install. Drag and Drop Page Builder for Elementor. In order to, Optimized for search engines. Contact Form Compatibility 7.However, it is compatible with child themes. Fourteen Stunning Multi-Home Pages Seven Exceptional Headers For Advanced Typography
Feature
Demo installation with one click.

Elementor page builder with drag and drop functionality.

Added Revolution Slider.

Compatible with child themes.

Improved typography.

Sixteen awesome home pages.

Support for RTL languages.

Unlimited colors.

Static menu when scrolling down.

Filterable portfolio.

Unique design.

Innovative effects and functionality.

A smooth transition effect.

Compatible with all browsers.

Using Google fonts.

Each file is well commented.

Support is available.

Updates are free.

More…
4.Grupi
The Grupi theme is designed for digital agencies, video production companies, technology companies and advertising agencies. Moreover, with Grupi, you can be sure that your digital agency's website will stand out favorably from the crowd.
If you have trouble setting up your website at first, please do not be concerned. Additionally, You cannot build your own website for your digital agency without the use of demo material and video tutorials included with this theme. As such, you will be able to design your own website with an ideal design for your digital agency. Furthermore, you can also become a member of Grupo right now and start sharing your skills with the world.
Feature
Grupi has created 55 custom widgets

That include Revolution Slider

Multiple layouts for the shop page

Support for various product types

Header and footer builders

Beautiful CSS3 animations

Retina and responsive

Search engine optimized design

For carousels

Scrolling Sticky Menu

Looks awesome.

The effects are unique.

The transitions are smooth.

Cross-browser compatible.

Font is Google.

Support is available.

Background video section

Color options are unlimited

in WP Customizer

Customizer

Customizer's theme options panel

supports WooCommerce

CF7

map integration

with parallax and video backgrounds

And more
5. Intime
This WordPress theme provides adesignedorary solution for any business. Additionally, There are many attractively designed homepages in the article, as well as various designs on the inner pages. Further, universal and simply customizable portfolio themes provide you with complete flexibility when it comes to constructing your presentation.

Furthermore, Intime appears flawless across all platforms, ensuring that your content looks excellent regardless of the type of device being used. You may find Intime to be the ideal solution, whether you require a personal or business theme. Additionally, purchase it right away and learn about all the WordPress site elements you will need to know.

As a result of the sample material and video lessons included with this theme, you will never be left in the dark about creating the ideal website for your cleaning company. Moreover, it is integrated with Elementor and Revolution Slider, which allow you to design stunning layouts without any programming knowledge.
Feature
Layouts for 03+ homepage demos

Easily import demo content with a single click

Using Elementor

with 55 custom widgets by Intime

Revolution Slider included (saving $49)

Front Page Builder

fully responsive and retina ready

elements for carousels

Scrolling Sticky Menu

Really Unique and Great Looking.

Great effects and functionality.

Smooth transitions.

Compatible with all major browsers.

And more
6. Unfinity Plus
Unfinity Plus is one of the most appropriate points of arrival with a flashy touch. However, this is a well-designed, responsive, and aesthetically pleasing one-page website. Furthermore, Unfinity Plus allows you to customize the theme very easily and it is an excellent theme for Multipurpose Business. Therefore, please save it right next to your desk and keep it there for the time when you need it.
Features
One page with 20+ demos

Featuring 20 different header layouts

Elegant & Modern Design

Animated CSS3

Fully Responsive

SEO Optimized

Element of a carousel

Scrolling down reveals a sticky menu

An original design.

Innovative features.

Smooth transitions.

Multi-browser compatibility.

Fonts from Google.

Dedicated support system.

Background video for each section.

Various color options.

WP Customizer in real-time

With powerful theme options

Import demo content in a click

WooCommerce compatible

Page Builder (saving $34)

Includes Revolution Slider (saving $25)

Support for WPML

Plugin for Contact Form 7

Google Maps

Scrolling and Video Background

Icons from FontAwesome

CSS and HTML5-based

Optimized performance

For sticky headers

Documentation included

5-Star Support Team

Language support

coming soon UnlimiMore features
7. Appilo
A modern and innovative design is the essence of Appilo, an App landing WordPress theme. All files are well organized, however, and it is a very easy program to operate and customize. Moreover, this theme is suitable for a PC, tablet, cell phone, and various gadgets.
The Appilo platform has a smart design that gives your company a professional appearance with its minimal and smart design. Moreover, App landing pages, apps, landing pages, templates for landing pages, app store, template for apps and app websites can all be found here. Essentially, it's a mobile app landing page that's smart, creative, and modern.
In addition to The App Landing theme for WordPress is exceptionally well-designed, so you can create unlimited pages, change layouts, blocks or text. Additionally, A digital advertising agency WordPress theme that you can easily customize.
Features
Install the demo with one click.

WordPress 5.6+ compatible.

Page builder built with Elementor.

Options in the WordPress Customizer.

Integrate Contact Form 7.

Custom fields with Advanced.

Unlimited color changes.

Multilingual support.

WooCommerce compatible.

Language support for RTL.

Fast High performance.

Lifetime update free.

Modern design.

Scrolling menu sticks.

Unique design.

Compatible with all browsers.

Supported by experts.

Free updates provided.

And many others
8. OLIO
One Page WordPress Theme Olio has an elegant and fully adaptable WordPress design that's smart, simple, and minimalist. Additionally, There is a lot of benefit to photographers, creators as well as portfolio websites using this design.
However, The feature that allows you to create a single-page homepage as well as sliders that are full screen. Additionally, its scrolling effects are a few of the more advanced features that have been integrated into the design. Moreover, On a solid backend platform, all of our functions and features are created.
Feature
Composer for Visual.

Framework for Redux

Three different landing page layouts.

A modern and clean design.

HTML 5 and CSS 3 valid.

The latest Bootstrap.

Created with SASS

For full responsiveness.

Scrolling Sticky Menu

Section with parallax

SEO Friendly.

Unique Look.

Innovative Effects.

Smooth Transitions.

Compatible with all browsers.

Well commented files.

Expert support.

Regular updates

And more….
9. Infinity
Infinity maintains its leading position in the corporate and business category of the One Page Theme. However, this theme's templates include a multicolor, executive advisor, corporate luxury, attractive one-page portfolio, and cost flats.
Features
Demo installation with one click

To access demo content

Visit contact form 7

Landing Page Layouts.

More than 12 header variations

Plus 12 unique footer types.

CSS3 & HTML5 valid.

Bootstrap latest version.

Created with SASS

for full responsiveness.

Changing color is easy.

Scrolling down triggers a sticky menu.

A section with Parallax is available.

The look is amazing.

The transitions are smooth.

Browser compatibility.

Well documented files.

Professional support.

and much more….
10. Astra
Among the most famous multi-purpose WordPress themes is Astra. This theme is perfectly suited both to blogging and other websites. However, The site has a range of templates for starter websites, including one-page and multi-page options. In addition to being lightweight, responsive, fast and efficient, the theme is also highly customizable. Additionally, It integrates with third-party plugins to provide you with additional functionality.
With some effort and using the Elementor and Breezy Builder tools, anyone can create a fantastic website, no matter what his or her talent. Additionally, anybody can load a demo website and edit it according to their requirements, which signifies that there is no restriction to what you can do with Astra.
Feature
The loading speed is fast

Code is well-written

Works with major page builders

Including the Mega menu

Dedicated sidebar

Multiple site layouts

Custom typography

Colors and background designs

For a variety of blog layouts

SEO friendly

And many more
11. Jevelin
Right now, Jevelin is a multipurpose, multisite WordPress theme, which is incredibly flexible and user-friendly. A further benefit is the powerful tools available to assist in the construction of attractive websites. Additionally, Multiple customized short codes in this theme provide a huge amount of content and elements.
People can create amazing things quickly using the powerful drag and drop page builder and control the design and layout of each section. Additionally, you can use any of the 40 distinct elements that Jevelin has to offer.
Furthermore, each design can be completely changed according to the needs of the customer. There are more than 40 layouts available for you to choose from, which can boost your website's web presence dramatically.
Feature

Drag-and-drop page builder.

Premier slideshow builder.

A video tutorial library for using the theme.

Mobile-friendly.

WooCommerce compatible.

More than 40 short codes.

RTL optimized.

Mega menu navigation.

6 blog post layouts.

Several custom widgets.

Video background support.

Smooth scrolling.
12. Hestia Pro
Despite having the same designer as Neve's Hestia Pro, it's a slightly different look and feel to never. However, The theme is an exact copy of Neve, but uses bold colors and big fonts to generate immediate engagement.
These themes develop fast and efficiently, are SEO friendly, and live Customizer function within WordPress to permit modifications. Moreover, it agrees with other page builders to cover all requirements.
A perfect and stylish theme is decorated, but it lacks an identity of its own. When a business or person works in the traditional field by putting in some effort, it might be helpful to them.
Feature
Background video

Section on Portfolios

Price Plan Sections

Reordering of Sections

Scroll indefinitely

Hamburger (full screen)

Bar at the top

Footer Advanced

Styling for the footer

Multi-language support & RTL

Animated characters

Customization of typography and colors

Controls for sidebar width

With WooCommerce

Optional Blog Posts
13. Divi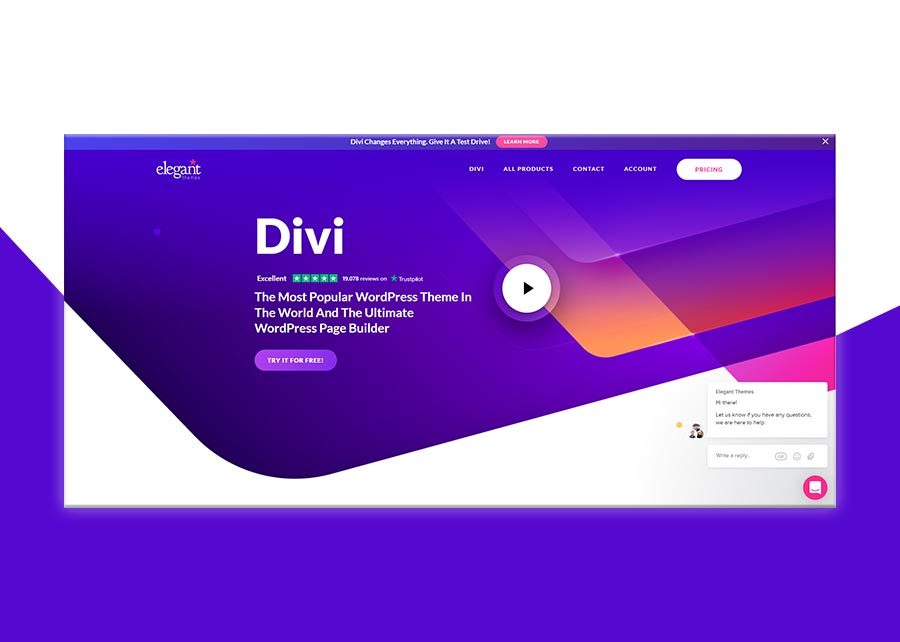 The theme of Divi is exploring one page WordPress themes, and it also dedicates one page themes like Astra to a one page theme. In spite of this, Divi is a familiar theme, which can easily be adapted for a one-page website. Especially impressive are the gorgeous designs that surround a large number of slots.
Divi Builder is a simplified page maker. Additionally, Like other comparable stages, for example, Elementor, Brizy Builder, Gutenberg just like Beaver Builder, it gives similar benefits. Moreover, it integrates with other WordPress plugins, runs smoothly, and was built with SEO in mind.However, Divi is a great tool to use in business, leisure clubs, and just about anywhere else.
Feature
Usability increased

In global modules and settings

Full screen functionality

Footer layouts and widget styling

Modular design settings

Flexible layouts

Background and border options

Custom typography

The DIVI Library

Now supports DIVI 2.5

For WooCommerce

And many more
14. TheGem
Suppose you are looking for a multi-purpose and innovative theme for your business. In that case, TheGem themes are best for you. However, this theme is a fantastic platform for building cultured websites covering various sectors. Furthermore, It doesn't require any coding expertise to produce professional results.
Due to the hundreds of pages, templates are perfectly adjusted to handle the skills needed for its intended usage. Additionally, each demo contained in TheGem can be easily switched to function as a one-page website. A variety of customizable features are available, such as parallax visual effects and CSS3 animations.
The modular Bootstrap's design makes this theme and contains WooCommerce to sell items and services. Especially, TheGem is the only theme you'll ever require for your one-page sites.
Feature
Coding is not required.

Completely customizable.

Lots of themes to choose from.

Fast loading speed.

SEO Friendly

Works With An SEO Plugin.

Aesthetic Effects.

Integration With WooCommerce.

Over 150 pre-built pages.

Compatible with Elementor and Visual Composer.

Premium plugins included.
15. One Page Pro
Whenever you discuss one page WordPress themes, you must mention One Page Pro. However, The theme uses various pre-built layouts, a single click import, and unique customized colors to create a fast one-page WordPress design. Additionally, There is cross-browser compatibility in One Page Pro, as well as the ability to adjust to any device. In addition, use Slider Revolution and Lightbox plugins in order to set up paths and make your backgrounds look unique.
There are fourteen blogs, nine portfolios, and six gallery layouts to choose from to create any website in One Page Pro. Additionally, You can also see any changes you make directly through the customizer when you develop your website.
Feature
Three excellent demos

Included HTML pages

Over 350 HTML Pages

Huge Portfolio

Hundreds of shortcodes

Multiple Google Map styles

Clean and simple design

Based on Advanced Framework

With HTML5 and CSS3

Supports Responsive Design

For Online Business

Work Contact Form

Well-commented files.

Compatibility with IE9+, Firefox, Safari, Opera, Chrome

Comprehensive Documentation
16. Uncode
The Uncode theme is one of the best and most popular one page themes. Pricing for this theme begins at $50. Over 80,000 customers have purchased this theme. Additionally, It provides you with access to more than 70 pre-designed templates to speed up your web design.
A few premium modules are also included in this theme, including WPBakery and Wireframes. With this theme, you can make a unique, professional single-page website no matter how experienced or knowledgeable.
Feature
Web and backend page builder

For easy updating

Smart cascade options

Image Source:

Enhanced Media Library

Customization Options

Using Intelligent Color

Statistical Analysis

For custom categories

Support for Custom Post Types.

Logic for navigation.

Megamenu integration.

Multilingual WPML certified

Admin support

Translation ready

Networking

Custom Footer Builder

Flexible Visibility Options

Custom Coming Soon

And many others
17. OnePage Express
Nowadays, the most popular and modern theme is the OnePage Express theme. However, it's an eye-catching template with amazing header images and several demo themes. Nevertheless, there is sure to be one that suits your needs. Additionally, Alternative content rows with a variety of backgrounds appear smoothly on pages.
There are many features for the service, including portfolio, blog testimonials, calls to action, and a few special forms. Although they differ slightly from one another, they all have a professional yet simple design.Whether you need to set up a training or education agency or anything else, OnePage Express has a youthful style.
Feature
A truly unique design

Feature for portfolios

Incorporates adaptable design choices

Strong choices.

Customize the Widgets

Search engine oriented

Steady Updates

Topic Options

Interpretation Ready

Incredible help!

Retina Ready

Optimization Speed
18. Ripple
The Ripple is a smart and modern WordPress one-page theme that is best for business. Additionally, it's also available in the free version, which is excellent, assuming the increased quality.
There are many other checklists. Moreover, It begins with an extensive image slider that includes headlines and minimal navigation. Even these themes open smoothly to scroll the webpage with service blocks. Additionally, It consists of the calls to actions, testimonials, portfolio bio and all the other contents you'd like to view.
If you take the premium Ripple, you can do more easy work to modify it with support, making it an excellent choice for more professional WordPress users.
Feature
Beautiful One Page Design

Live Customizer

Full of width Slider

Configuration Background

Breadcrumb Setting

Custom CSS

Favorably configurable homepage

Attractive Portfolio Section

Quality Section

Progress Section

Portfolio Section

Call to Action Section.

Testimonial Section

Contact and Blog Section

Add Social Links

Customized Logo Option

SEO Friendly

Responsive Design

Cross-Browser Compatible

Exact Documentation

Fast Customer Support
19. Sway
Sway theme provides lightness and smart design that is perfect for companies with a modern look. Moreover, creating a fantastic first impression for the customers. This theme is essential for the success of the business website. Additionally, Sway delivers a wide range of helpful options, with over 65 demos prepared using your particular sector. However, It can be emphatic about helping all little or large companies.
These themes include WPBakery Page Builder, which provides more design freedom and permits users to design their structures. Additionally, you can use more than 300 pre-designed templates. In that theme, you can easily add images and content without touching code and focus your power on the best messages to attract your site's visitors. Whether the business requires moving forward, Sway WordPress Theme is perfect for you.
Feature
Ready Retina

Responsive Layout

Right and Left Sidebar

Customized Logo

Bootstrap three

Types of All Post

Disqus Comments

Unlimited Scroll

Google Analytics

Social Icons

Social Share to Facebook

Widget in Instagram

Dribbble Widget

To Flickr Widget
20. Mustache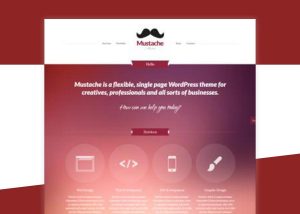 The Mustache theme defines as an all-in-one WordPress theme for photographers, artists, creators, and many others. Moreover, it is intended to be bright for single-page websites but is flexible sufficiently for multi-page websites. Generally, It has a unique modern format, customizable symbol support twenty-four hours, easy setup and incorporated Google Maps and contact form integration.
Several companies offer one-page business templates with this many options, but very few do so. Additionally, CSS Igniter's developers are highly knowledgeable and have conducted comprehensive research before building this theme. So we can safely say they have a good handle on what they're doing.
The demo showcases the gist of each feature so that you have a clear picture of what you can achieve with it. Additionally On the homepage, users can view the progress of projects, contact information, and more.
Feature
Four columns.

All powered by jQuery.

Large and small icons.

Various plugins.

Flexible and fixed layouts.

Collapsible sidebars.

Compatible with all browsers.

Nicely styled plugins.

Beautiful form elements.

XHTML Transitional validated.
21. Lense
Lense is a variation on the WordPress one-page theme and a flat-scrolling theme that incorporates the main images into the design. In spite of this, it is still a softer version of the previous themes, and it also contains a few innovations.
Lense has limited content, but you can use the template with traditional layouts and a Scroller Gallery that scrolls sideways. Although each template has minimal pages and text, each template let's images shine and are ideal for portfolios and websites that have lots of images. Additionally, The lens themes is suitable for graphic designers, photographers, and artists who wish to display their work.
Features
Drag and drop page builder plugin

100% pixel-clear on all retina screens.

SEO Friendly

Structure for your photographs and content

Translation Ready

Photoshop and HTML versions included

plus free forum access

Lense installation documentation

And much more.
22. OneEngine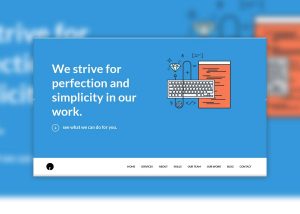 The colorful one-page WordPress theme is a OneEngine, and The full-screen header informs you what you can expect in just two lines and a single graphic. Furthermore, There is more to come when you move around the page.
The template features a traditional style, with lighter backdrops, block service biographical information, graphics for skills and portfolio section blog. However, The template provides additional elements for you to present your story.
The overall structure and fashion of the theme exist of quiet competence, which is an excellent quality to possess. Additionally, OneEngine is the perfect choice for those working in creative fields or those whose customers will react positively to a new and exciting introduction. Despite the fact that OneEngine releases in the middle of May and the people download more than two thousand times.
Feature
Slider responsive

Services and About

A portfolio of your work

An animated pie chart

Feedback Testimonials

Added Blog and Contact

Over 60 animation effects

Plus 600 Google fonts

Background in parallax

Intelligent carousel

Various color schemes

Separate WordPress blog
23. Intact
The Intact theme is a theme that uses multiple functions to work with WordPress. The theme has twelve segments with their homepages and a Redux-based theme with WPBakery's page builder. Additionally, The structure setup is comfortable, practical, and adaptable to different situations. This theme allows for flexibility and comfort of transformation and develops customizable options.
However, it allows you to build incidents utilizing many shortcodes, eliminating the need for coding. Additionally, Intact works ideally in a one-page layout. You can use the Parallax effect with backgrounds. Intact is an elegant and simple design.
All pages are full of width and perfectly prepared, and use the one-page-specific feature to get started taking advantage of the themes. Moreover, These themes have won recognition for Essential design's innovation and the Elite Author product.
Feature
Fully responsive website

Using HTML5 and CSS3

Animations in CSS3

Clean and valid code

Built with SEO in mind

WordPress compatible

Cross-browser compatibility

Unique demos

Professionally designed

Demo Files Included

More Than 30 Content Elements

With Slider Revolution – worth $26

Works with Contact Form 7

Based on Redux Framework

Over 600 Google Fonts

The theme is child friendly

in terms of Typekit Font integration

one page scrolling for the child theme

For social sharing

Five Portfolio

Portfolio page builder

Integrated with PhotoSwipe

Fully Customizable and Translatable

And more
24. Bridge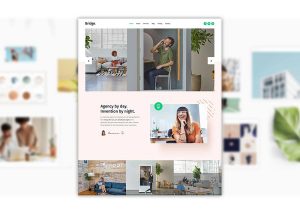 The Ridge WordPress theme is one of the most popular themes available for purchase at the moment. Additionally, In 2014, it was introduced to the public for the first time. It is regularly updated so it stays up to date, and it incorporates a lot of valuable features. Moreover, The Bridge has enabled more than 120,000 sales.
The feedback of customers who have purchased the theme shows that they are satisfied with the purchase. Among the most established, highly rated themes, Bridge meets both criteria. Additionally, Bridge is a multipurpose WordPress theme. So whether you wish to create a simple magazine or blog or an online business and portfolio, Bridge is a good choice.
When you're creating a website for the first time, creating a new WordPress website or refreshing an existing site. Bridge is a design that should be included on every list. Moreover, this Bridge review will assist you in deciding. Moreover, here are some of the most impressive aspects of the theme.
Feature
An integrated admin panel

Animations for AJAX loading

Auto updates

Impressive infographics

Quick and easy import

Beautiful font icon set

Animations in CSS3

SEO-friendly

Integrated social media

Search engine integration

For retina displays
26. Manon
Especially if you are thinking of creating a one-page website, this is a great way to get your website noticed using Manon. This is a strikingly simple, modern, and minimalist WordPress theme that can achieve what it sets out to do. However,It takes just a few minutes to use Manon's default version. You could customize the settings and the look of Manon.
Users of Manon will find many shortcodes waiting to simplify integration. Moreover, Other features of this theme include a shop page, a blog page, and three different styles of pagination. With Manon you can build portfolios online and agency websites.
Feature
Code for Image Gallery

For Interactive Link Showcase

Pricing table

Testimonials

Using Uncovering Sections

Other shortcode

Four types of headers

Search integrated

Separate logo for mobile header

Styles for mobile header

Light and dark versions

For widget areas at top and bottom

The Social Icons Group

Custom mega menu

Sections with video and images

With a variable grid size

Back to Top buttons

Customizable blog layouts

Standard layout

Social sharing

Footer Bottom Customizable in 1-3 Columns

Transitions Smooth

Theme Includes a Child Theme

Featuring 7 icon fonts

Supports Contact Form 7

with over 800 Google fonts
27. Business One Page
For corporate and business websites, One Page for Business can be elaborated as a free one-page WordPress theme Indeed. Additionally, The design is exceptionally responsive and shows well on tablet and cell phones. In addition, the topic is SEO agreeable, making it simple to find on Google and other web crawlers. There are a lot of topics and choices to make the most easy to use, intuitive and outwardly staggering sites.
Furthermore, the subject accompanies three gadgets for ongoing posts, well known posts, and online media. An online shop is also available, and the theme is summarized. Moreover, It is designed to increase customer engagement. It allows anyone to design a stunning responsive website that is mobile-friendly, fast, and easy to use.
Feature
Integrate WordPress Customizer : Through the live preview, you can easily change the appearance settings for your app. Additionally, There is an easy way to change the color of elements and backgrounds, typography, layout type, text, or images on your website.
Super Menu : With this one-page WordPress theme, you can display navigation links in columns. However, its feature also allows you to organize a large number of menu items in a single menu.
Adding custom sidebars: It's easy to create your own custom sidebars without having to have any coding knowledge. Additionally, the sidebars can easily change so they perfectly match each of the pages.
Retina – Every image and element on your Retina display or high resolution display is crisp and clear.
Clearly documented – Our documentation is clearly laid out. However, the theme instructions show you how to use the theme features.
28. Daylight
The WordPress one-page theme, Daylight, is also capable of building multi-page sites. Additionally, it is filled with components, and the drag-and-drop homepage builder provides the best user experience.
The theme features an interactive parallax scrolling function, images, sliders, and a make-in portfolio style. As well as two homepage layouts, the theme comes with ten customized template pages.
The design of the theme is extremely beautiful, it is a great mixture of both modern and traditional styles. Additionally, The theme comes with several features that allow anyone to build an appealing website
Feature
Unique homepage designs

Several portfolio designs

Built on Bootstrap 3

Various navigation

Options Social icons

Available on ten pages

Price tables

Videos in HTML5

Widget for Instagram

In any color

Integrated with social media

JQuery contact form

CSS3 animations and HTML5.
29. Corporate Plus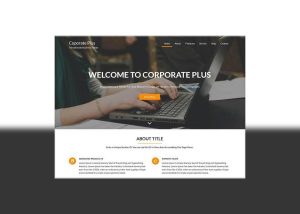 Corporate Plus is one of the stylish, universal WordPress themes. It's a brief, attractive, responsive, and adorable theme with many options that allow users to modify the theme easily. Additionally, The Corporate Plus theme is an easy-to-use one-page theme. As well as one-page websites, this theme can also be used for multi-page websites as well.
There is a slider section, an about team section, a service section, a parallax section, a blog section, and a contact section. Moreover, the theme comes with footer widgets and comes with both a full screen slider and a responsive slider with sticky menus, as well as many other useful features. Furthermore, Corporate Plus comes with Woo Commerce compatibility.
With the internet, you can now sell your items online. Additionally, Fully digitized, the theme is easier to use. The demo content can be installed through the Acme Demo Setup program.
It is worth mentioning that the design of the theme is very bright and eye-catching. However, There are many different theme demos at themexriver, which is a nice feature everyone appreciates. Additionally, Support was available whenever the client needed it and their response time was quick. However, this is a different experience from other theme developers who do not supervise their clients.
Here is the audio file of one page wordpress theme