19+ Best Technology WordPress Themes of 2022
In this age of internet supremacy, it's essential that your business have a website to keep up with the competition. More so, when you have a business related to technology. Therefore, it's necessary for a business owner to find the best technology WordPress themes in order for the online business to succeed.
The thing is the hardest part of an online business is finding a suitable theme for the website. There are countless themes as stars on the web. Exaggeration? No, it's a fact. This article will help you with that. Down below are the best WordPress technology themes at the moment.
ITfirm
You can probably guess by its name but ITfirm is a WordPress theme for IT services. While this is a theme that's most suitable for IT services websites, it has every feature you may want from a technology theme thanks to its multi-purpose nature. Don't let the word "multi-purpose" scare you. ITfirm is a theme that is largely different from your generic themes.
It's a stunning and professionally designed theme that's bound to attract traffic. ITfirm comes with multiple demo pages so you can start your services rather fast. It is also pre-built with Elementor so you can modify the content easily.
There are also other features like one-click demo install, the latest contact form, SEO-friendly, and more. If you IT solutions WordPress themes for your site, you can try out ITfirm. It's one of a kind and you can rest assured of it.
Ximsa
Ximsa is a SaaS WordPress & Startup Agency Theme. This theme is a modern, beautiful, elegant Startup Agency & SaaS Theme. This theme can be used for agencies, startup agencies, digital agencies, creative agencies, creative multipurpose, freelance, SaaS, Business, Consulting, App.
It has a unique design with amazing features who want to build their website. It looks great on mobile devices and desktops. It is clean and simple. It is a One Click Demo Install, WooCommerce Ready, Seo Friendly, Seo Friendly, Child Theme Compatible, Clean & Modern Design, Unlimited Color Change Option, etc.


Appilo
Appilo e is one of the best WordPress technology themes for a startup business. By nature, startups have a limited budget. But how do you get ahead of your competitors when you can't invest in premium themes or hire a high-end developer to build your website. The solution is, you have to be smarter about it.
While it's a fact that multi-purpose themes can cause a lot of problems; as a result, losing you valuable customers. But it's a completely different thing if you don't have such problems, to begin with. That's where the app landing page comes in.
It comes with premium features but at a price, everyone can afford. App landing page comes with the world-leading page builder Elementor so you can customize your site easily. Not to mention, the gorgeous design along with amazing demos and many other features app landing page is the cream of the crop among IT solutions.
Techno
What a simple-sounding name, right? If every theme had such simple themes your search for the best technology WordPress themes would've been easier. However, it's not that easy, unfortunately. When it comes to features, there are many things to talk about. Let's begin with the appearance.
It's a fact that a website that has a good design will attract larger traffic than one that has an uglier design. In this case, Techno has an eye-catching and modern design with the customers in mind. You may think if it has a good design it may lag or be unsuitable for mobile devices.
Wrong! Techno is built responsive and retina-ready for most devices including mobiles. Some of the other major features of this theme include multiple demos, contact form 7, WordPress's latest version, and more.
OSaaS
If you are looking for the best web templates for WordPress websites, look no more. OSaaS will satisfy you no matter what kind of website you are looking to build. This is a template best for startups. Especially, technology-related startups that don't have a high budget. The best thing about OSaaS is that it's highly suitable for almost every tech WordPress website.
OSaaS has a modern and professional design that's eye-catching. If the appearance of a website is not good it's high-likely for that business to fail. However, that's not everything to OSaaS. It's designed to be responsive and lightweight so visitors have fun when browsing. There are different variations to the home pages, so you have the choice to pick from different options.
NextBit
NextBit is a relatively new template that's been gaining popularity among startup business owners lately. It's not surprising given the features of this template. Despite being a multi-purpose template, NextBit can compete with high-end templates thanks to its top-tier features. Now, let's see what makes NextBit such a good choice for online businesses.
First of all, the design. If your site looks bad that's basically saying your business is bad as well. NextBit has a professional and clean design that looks attractive to the eyes. Not only that, it's coded lightweight so browsing speed is lightning fast. Some of the other features include retina-ready, mobile devices responsive, fast-loading, and more. What are you waiting for? Try out NextBit now.
Limpon
There are many themes on the web with the tag of best technology WordPress themes. However, the actual problem is picking one that will be suitable for your website. Limpon is a unique theme with a clear distinction towards the technology space. This means, if you need a theme related to a technology website, Limpon is one of the best choices out there.
Whether you have a small budget or are picky about the features, you can rest assured with Limpon. It has premium features like demo home pages, one-click installation, awesome colors, a modern design, and much more. All of it at an affordable price. Sound like a sham? Try it out and see for yourself if Limpon is worth its title as one of the best IT solutions WordPress themes.
Romada
Have you ever thought about what do you actually need rather than what you want with your theme? If you are still hesitating, then try out Romada. It's a theme that has been around for a while and garnered a solid reputation amongst tech business owners.
Romada is also known as one of the best WordPress technology themes. It's a theme that does not lose out to other top-tier themes in the market. Some of its redeeming qualities include a unique and clean design, responsive and retina-ready pages, fast loading speed among others. Best of all, the price is low. As such, its popularity amongst startups is immense.
IT-Soft
IT-Soft is well-known among tech business owners and gained a reputation for its fast speed and well-designed features. It's also one of the best technology WordPress themes for online business sites. It-Soft is also one of the best IT themes around the web.
It's a multi-purpose theme that is suitable for any IT and technology-related website. Despite being a flexible theme, IT-Soft has the features of a premium theme, albeit at a lower price. Fast website loading speed is a must for an online business. Otherwise, the customers will leave. IT-Soft boasts of being one of the fastest themes.
If you are a picky person, you have the choice to pick from multiple demos. No experience in web design/development? No worry. The pre-built page-builder allows you to modify the content of your website half the time others. All of this comes at an affordable price. Hard to believe? Try out IT-Soft and see it for yourself.
Zircona
If you are looking for the best WordPress technology themes, look no further because Zircona is here to save the day. Zircona is a multi-purpose WordPress theme that can be used for almost all kinds of IT solutions and technology websites.
For a new business owner, it's difficult to pay a hefty sum of money to buy a high-end theme just to fail because you have no more budget left. Zircona is a highly-sought theme because of that. It has a low price and it has every feature you may want for your online website.
It has a good design, multiple demos, easy modify drag and drop builder, responsive to most devices, latest WordPress, WooCommerce ready, and much more eye-catching features. What more can you ask for. You can give Zircona a try if you are hesitating over your site's theme.
Mitech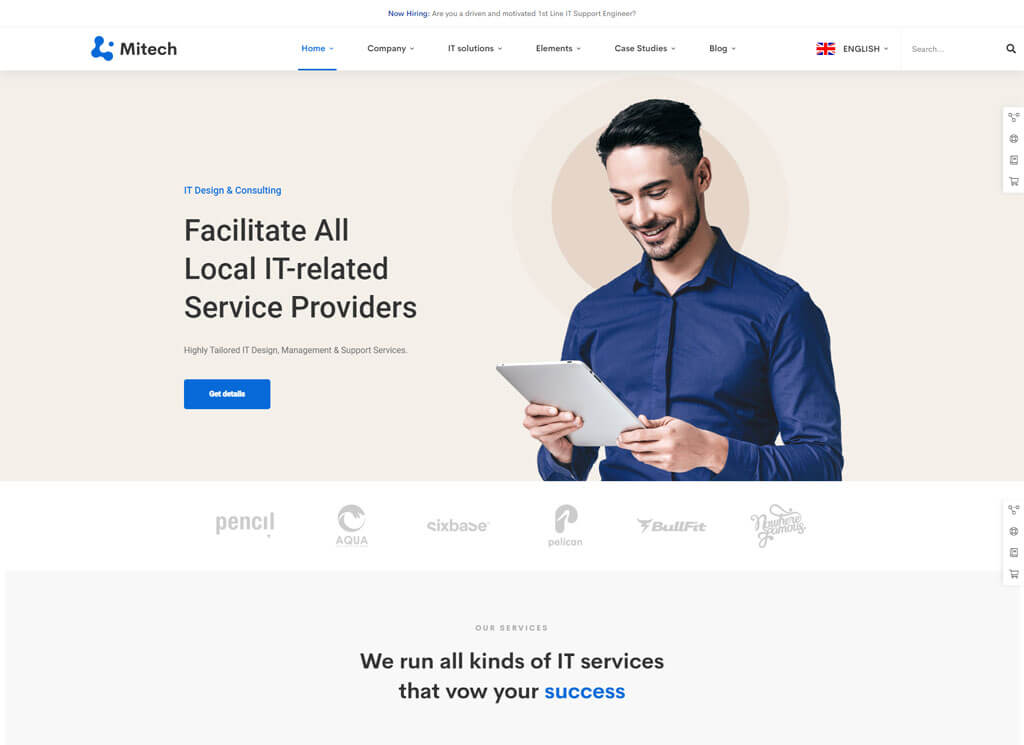 A business owner must choose the best technology WordPress themes for their business site. It's understandable. Because an online business is bound to fail if the website is not attractive enough. And by attractive, it means both the appearance and functionality of the site. As such, you need a theme that is suitable for your tech website.
Mitech has both features and a well-rounded design. In addition, it comes at a reasonable price, so it's a favorite among startups. Especially, who need a technology website. Fast-loading speed, easy-to-customize admin panel, Elementor page builder, are just a few features of this highly-sought theme.
Themex
When you are running a website but it's slow and unresponsive, it can ruin a business. It's neither a bold claim nor an exaggeration but a fact. People don't like to wait around while the pages load. Therefore, it's important that you have a theme that complements your site while ensuring its functionality of the website.
Themex can be a good choice if you are in need of a theme that is responsive and affordable. However, if you are thinking Themex is just speed, then you are wrong. It has other top-tier features, such as cool design, SEO-optimized, awesome demos, Elementor page builder, and more.
Webion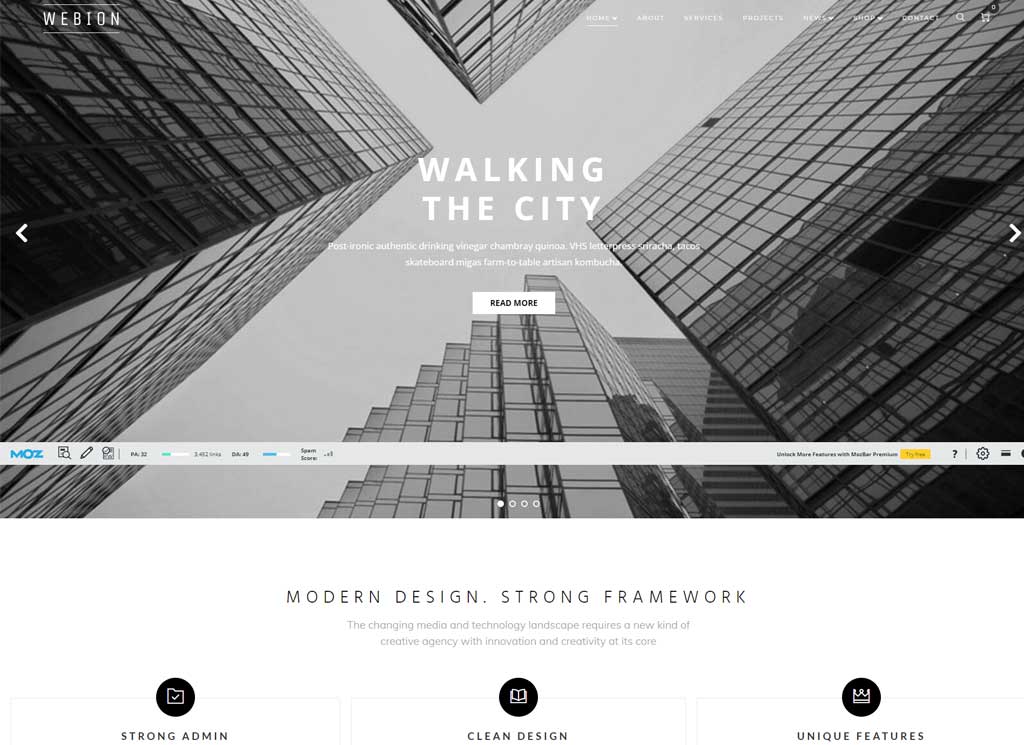 Who doesn't want the best technology WordPress themes for their business site? However, when you start, despair is what befalls you. Why are there so many themes? And all the good themes are so expensive. In the end, you purchase a theme that makes your site slow and laggy? No need to worry with Webion.
Webion has all the features you may want for your tech website. The biggest takeaway is; it's affordable for business owners of all levels. Not to mention, it's a theme that can be used for any website as long as it's related to technology.
Poket
It's well-known that sometimes it's necessary to give up something in order to get something. The key point here is that when you are hunting for the best technology WordPress themes, most of the time you will need to give up something else.
It could be that the theme you want doesn't have an essential feature or the price may be too high. You don't need to worry about such things with Poket. It's a theme that is packed with everything you want.
Despite having such a simple name, Poket is one of the best technology WordPress themes with high-end features. It has an eye-catching design that's essential to attract customers. Poket is retina-ready and responsive to most devices, allowing for an enhanced browsing experience.
ITSolve
Just as the name suggests, ITSolve is your go-to IT solutions WordPress theme. If you need a theme for your IT website, then you can try out ITSolve.
ITSolve has been specifically designed for IT sites. However, thanks to its multi-purpose nature, you can use this theme for other tech-related websites too. The biggest flaw of multi-purpose themes is that they fall short compared to specialized themes when it comes to performance.
However, that doesn't have anything to do with ITSolve. While ITSolve is a multi-purpose theme, it's been designed to perform like a specialized theme. Moreover, it has eye-catching features like awesome demos, cool colors, unique design, and much more.
Xprosik
Nowadays, Xprosik has come to be known as one of the best technology WordPress themes on a budget. When you are looking for a theme, you need to consider many things including what features you want from it and if you can afford it. With Xprosik, such worries will be inconsequential.
Mainly because Xprosik comes at a reasonable price. In addition, it comes with some of the best features you may want for your tech site. Xprosik's unique design along with features like a user-friendly interface, fast page loading speed, Elementor page builder is bound to help you create a top-tier tech website.
Caycal
Caycal is not well-known but has gained some hardcore fans among tech business owners in recent times. It's not surprising given the fact that it doesn't have the usual flaws of other multi-purpose themes.
When it comes to multi-purpose themes the first thing that comes to mind is whether they will lag or not. The fast speed with almost no lag is a redeeming quality of Caycal. It has some of the best home page options along with an SEO-friendly design. That's not all. If you want to know more why not check out Caycal for yourself.
Logonit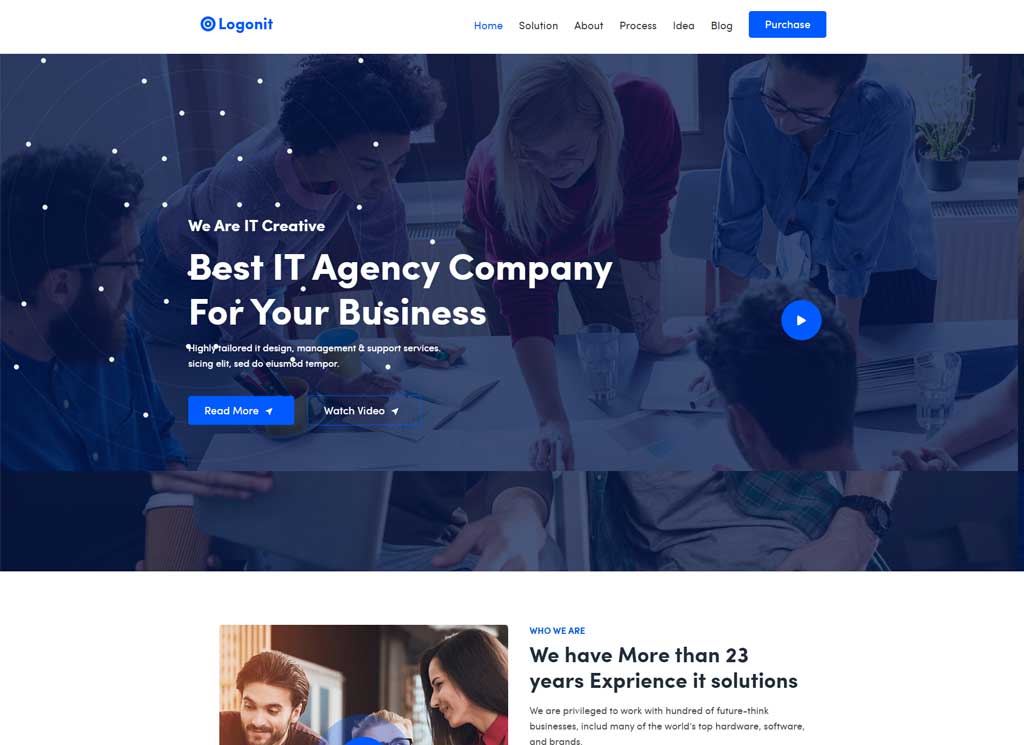 A creative name, isn't it? But it's more than just a creative name. Logonit is a theme that has creative features along with its creative name. Not only that, it has a price lag that is bound to raise a few eyebrows in suspicion. However, no need to worry. It will be explained why Logonit is one of the best WordPress technology themes.
Logonit boasts a speed that can be compared to specialized themes. It's easy to install and customize thanks to the drag and drop page builder. Fast speed, unique design, and premium features make Logonit a theme to look out for.
Conclusion
If you are having a hard time picking the best technology WordPress themes for your online business, you can pick one from this list and you can rest assured that it will work. Of course, you should keep the compatibility of your business and theme in mind while doing so.