32+ Best Education wordpress Themes of 2022
WordPress themes for education have an imperative mission, even though it may not seem so. In a world where most institutions, schools, and other organizations seek innovative and effective methods for educating kids. Additionally, education WordPress themes support them in achieving that goal.
Best Education wordpress themes may include online courses, widgets, schedule pages, and a design tailored to educational purposes.

Education WordPress Themes
1. Avarton 
The Avarton theme is a responsive theme that is included on the list of the best education WordPress themes. This template provides learners with the opportunity to learn about business coaching, life coaching, health coaching, and fitness coaching. Additionally, it offers executive coaching, team coaching, leadership coaching, career coaching, and purpose coaching. Additionally, the Avarton WordPress theme utilizes the Elementor page builder, which is extremely easy to customize. A number of features and a powerful admin panel enable any client to create a high-quality website with ease. 
There is no doubt that Avarton is capable of completing the educational job in a timely manner. Moreover, you will have much better results with something more customized. A website related to education may contain features such as an online learning module, online courses, widgets, and schedule pages. It also has a design that is appropriate for educational purposes.
2. YLE Education 
The most popular Education WordPress Themes YLE Education is a responsive, Modern, and Innovative HTML Template. Furthermore, educational institutions, such as colleges and universities, and online learning platforms benefit from this WordPress theme. Moreover, the design of this template is pure, crisp, as well as able to adapt to the needs of any client. All pictures are for demonstration purposes only and are not included in the download package. 
People prefer this YLE education WordPress theme because of its simple design. Therefore, these themes offer personalization options so that you can make your site more specific to your organization. Moreover,  YLE education represents a decent upgrade to a workhorse theme.
3. Masterstudy
Masterstudy is a beautiful education wordpress theme that has many premium plugins that have been well integrated in order to save you time and money while providing both instructors and students with a superior experience.

The premium WooCommerce plugin helps make courses searchable based on course categories. This theme will help you create three different types, of course, listing layouts, including a grid layout, a listing layout, and a single course listing layout. Moreover, A great feature of these themes is an offering calendar, which provides a sense of urgency to time-sensitive classes.

There are four kinds of blog layouts, and there are types of video and photo galleries. Additionally, the attractive feature is the three-event template and it is easy to customize. Especially this theme suits those who are online educators, big educational organizations, or tutors. Additionally, Masterstudy has excellent design and an intelligent variety of premium integrated plugins that make it excellent for the website.
4. Astra
The online education WordPress theme Astra is one of the most famous WordPress themes globally. One of the most appealing features of this theme is that you can build a professional-looking website in an afternoon without having to learn a single line of code. However, Astra provides a few WordPress education themes that address the majority of scenarios.
Most of the themes are for schools and universities, while another is for online learning. It is also compatible with LearnDash LMS, an integrated learning management system that smoothly integrates with the design. This theme provides attractively designed course sites where students can check out and enroll in courses. However, it also features a teacher tab where students may look at the profiles of the teachers.
Learndash academy is an excellent theme for hosting online classes. Moreover, it's a specific theme with an appealing design that includes all features. However, you will get everything expected from an LMS theme, such as student sites, course outlines, and compatibility.
In Astra, themes are simple to create, use, load fast, have a high Google PageSpeed score, and need little upkeep.
5. DIVI
The most popular theme, Divi, offers several education WordPress themes. These themes suit preschool, school, college, and online learning. However, a promotional and LMS design blend covers most needs like the Astra WordPress theme.
DIVI is designed for simple setup, operation, and integration with page builders. It is possible to change a sample template or create your own. The theme's ability to create a complete Learning Management System is utilized. The colorful design of these themes is very attractive to the target audience.
6. Academica Pro
Every organization involves itself in a variety of activities, events, and courses at any one moment. At that moment, they need a website with a customized style to assist you in interacting with students. However, Academica Pro is an upgraded theme to provide the features that it needs.

There is some information here to assist someone in making a fascinating website. Furthermore, you can use the built-in Dynamic Homepage Builder to build a unique layout using developer-supplied custom widgets.
Most people do not like the default design. For that reason, these themes offer personalization choices that will allow you to make site-specific to the organization. Academica Pro is a decent upgrade to a workhorse theme that deserves to be examined more closely.
7. WPLMS 
WPLMS is the most sophisticated WordPress education theme and it is a fully working Learning Management System that manages markets and generates examinations for online courses.

In this theme, you can track the student's progress, accept fees, and develop new online learning materials. Moreover, this theme is not the best match for traditional school and university websites.
8. Courselog
Courselog is a stylish, dynamic, and professional-looking LMS and online education theme. However, these themes develop for offline educational institutes and online learning providers. It has over ten homepage templates to help you get this vital part of your site looking right.
There are also more than 14 internal page templates to build your website.
However, You can design for university and individual instructor websites in this theme. When you share educational content from formal institutions or on your own, Courselog should work well for your project. Moreover, Courselog is one kind of template for constructing a website. Whether you start with the single course website template, the incredible thing is that you can quickly move on if you need more course templates.
If you use the plugin to publish courses on your website, Courselog recommends the LearnPress option. Almost all LMS plugins are compatible with this theme, and the LearnPress plugin has been appropriately optimized. It is recommended that you utilize this plugin in order to achieve the best results.
9. Coursemaker Pro
With its modern approach and popularity among online learning themes, Coursemaker Pro is a popular tool. In contrast, the design has a soft vibe and a cute banner picture. A tranquil appeal uses gray components and faded coloration as well as a layout that flows smoothly across the page content. The Sample Course page shows how you may expand the site with your courses while maintaining the site's current design.
In conclusion, Coursemaker Pro is a cutting-edge design that can work for a variety of businesses. Furthermore, you have a variety of options because the Genesis Framework was designed to work with LifterLMS.
10. Jevelin
Jevelin is one of the most acceptable and popular WordPress themes for online courses and education. Additionally, Jevelin not only has a new demo explicitly designed for educational websites, but it also has a lot of great features and content.
You can easily make one with this theme if you want to make a page for the school, institution, or online courses. Jevelin handles all technical details while you enjoy arranging, designing, and fine-tuning the site design. However, you do not need to have any knowledge of coding because of its design and customization.
11. Vultur
Vultur is a theme for creating and allocating online courses of various kinds. However, You will have access to over nine website demos when you pick Vultur, so you will never run out of ideas for your education site.
Vultur is a theme designed to let you manage your online courses, while most other education themes are only suitable for websites such as schools and colleges.
Among Vultur's many homepage themes are fitness, language, and business instructional material, to name a few. Other styles work well for personal tutors who want to advertise their services and provide their courses through their WordPress website.
12. Edumodo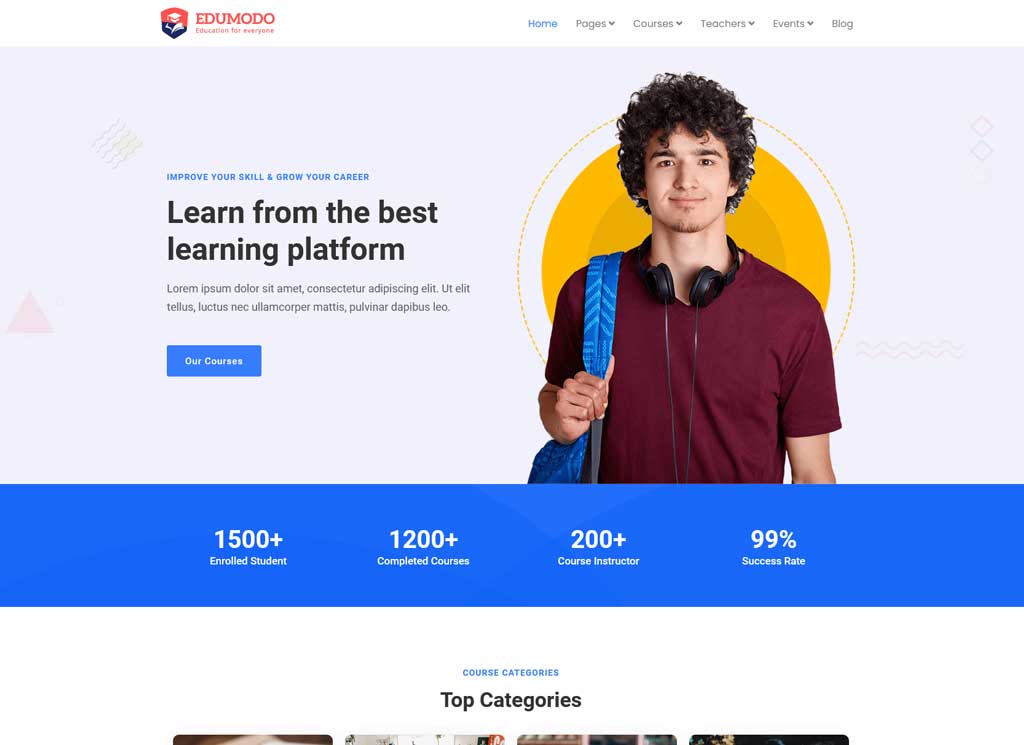 Educators may find it challenging to achieve the perfect combination between helpful material and design when operating a website. However, it's critical to convey your services clearly and straightforwardly. Edumodo includes all of the components you need to develop a stunning website that places your most important materials at the forefront.
Building a website for any school, university, or educational institution is part of this theme. Additionally, it is flexible, adaptable, and incorporates a library of pre-designed layouts that are compatible with the WordPress Block Editor. For those who wish to create a website using a page builder, Edumodo comes with the Elementor plugin.
The actual strength of Edumodo lies in its comprehensive support for several of the most popular Learning Management System plugins, such as LearnDash, LearnPress, Sensei, etc. However, These plugins may be able to help you plan and execute your curriculum for students of all ages, regardless of whether you have been in the online education industry for a long time or are just getting started. Furthermore, Edumodo is a great choice for any online education organization or university.
13. Emeritus
Emeritus themes will guide the user through the process of creating an instructional website using WordPress. Moreover, You will access various well-designed templates with Emeritus to help you showcase course material and other information online.
This theme is designed for websites that publish several courses. Nevertheless, this theme would work well even if you want to start to have one course. It also includes templates for sharing your teacher's and course developers' information.

Emeritus is compatible with a popular plugin that allows you to promote online and offline events as well as virtual events on your website. Moreover, if you provide remote learning materials, this tool should assist you in scheduling sessions.
14. Kingster
Most of the school's success depends on a continuous flow of new students enrolling each year. Kingster has a variety of tools that can be used to build the school's website to its fullest potential.
There are two different layouts on the theme's homepage, which is refreshing in a way. Furthermore, its designers recognize the importance of having a variety of designs in order to minimize the emphasis of the theme. In this process, it is possible to create a unique design.
There are over twenty header designs to select in this theme, and you can get pre-built pages to assist you in making the appropriate school website. Furthermore, the page builder plug-in enables you to create a one-page layout in order to optimize the site more efficiently. Using this technique, you can build a landing page for your organization, which allows you to present visitors with the information they need in the most effective manner.
15. eCademy
ECademy is a WordPress education theme that integrates with all of the most fantastic LMS plugins. However, eCademy boasts an outstanding collection of well-designed protests due to its versatile qualities. Additionally, you can import these demos into your WordPress website in only a few clicks.
There are designs for a variety of educational websites, such as online training schools and language centers. If you are an individual such as a coach or instructor, however, ECademy meetups may be more appropriate for you.
Demos and layouts should be compatible with the most popular WordPress LMS plugins. So, you will be able to select the most appropriate technology for publishing online courses. Nevertheless, the makers of this theme recommend LearnPress, Tutor LMS, and LearnDash as possible plugins. The WooCommerce plugin and its LMS or eLearning extensions may also be used.
In order to conduct live courses via Zoom, eCademy allows you to do so. Additionally, you may integrate the Zoom service with the website and courses by using the simultaneous Zoom plugin. Additionally, it provides information and lessons in real-time from a remote location. Despite this, eCademy also integrates with the events manager plugin to facilitate promoting, scheduling, and running events.
You may also use the bbPress plugin to make educational websites more dynamic. As a result, this gives your site a number of social media-related features. These features extend the capability of creating user profiles beyond what WordPress currently offers. Additionally, a private messaging system allows the users to communicate privately on the website as well as the ability to create discussion groups about a variety of topics. With this theme, you have total creative control over how your website looks since all eCademy templates can be edited using the Elementor plugin.
16. Ed School 

Ed School is a WordPress education theme specially designed for children and teenagers. However, It is appropriate for use in elementary, middle, and high schools. This theme is a first-of-its-kind product featuring many user-friendly features. Furthermore, it incorporates the WPBakery page builder, along with a beautiful mega menu. Additionally, video lessons and manuals are available to facilitate the construction process.
It is also a wonderful interactive approach that teaches children a contemporary style and a dynamic layout. This theme allows you to create a calendar for class activities and to customize the color scheme with an unlimited number of colors.
WooCommerce integration allows you to sell various products straight from your website. Moreover, This theme considers the requirements of a user and a potential trainee.
17. Ultra
The theme of Ultra is a multipurpose theme that comes with a few educational example websites. In addition, this WordPress school theme makes good use of color and graphics. Nonetheless, the site begins with a striking header picture that immediately sets the tone. With flashes of color from the buttons and powerful white letters, this is an engaging design.
Although the primary website advertises a school, it also includes a learning management system. Moreover, the Courses page explains how to create your own online college, complete with a dedicated courses area. In addition, these pieces may be moved, added to, or removed as necessary.

18. Kalium
Educational websites have their own set of requirements. With a multipurpose theme like Kalium, you can customize the material to meet the interests and needs of students and faculty.

Kalium provides several templates to help customers get started with the design process. Additionally, it contains a template designed specifically for schools and colleges. Most people can modify the provided templates with the WPBakery Page Builder plugin. You can create picture galleries to promote your school with the Revolution Slider plugin, as well as make use of the extensive font library.

On the other hand, you can use video thumbnails and backgrounds, adaptable graphics, and hover effects to create a visually stunning experience for potential students in this theme. Additionally, anyone can translate the website, which is particularly useful for international students. The Kalium theme is extremely lightweight, allowing for lightning-fast loading times. Moreover, the combined effect provides a robust foundation for any instructional website.
19. Capital
Capital has a clean, professional appearance that will appeal to the majority of educational institutions. Furthermore, capital is responsive and retina-ready, as is the case with the majority of themes these days. However, its greatest strength lies in its versatility and functionality.
As a result of Capital's underlying ZOOM framework, it can be customized to a staggering degree of complexity without requiring any technical expertise. The Dynamic Homepage Builder also lets you drag and drop widgets to make your homepage.
20. Digital
Digital is a common business template specially used for schools, colleges, and universities. Furthermore, it is a simple design with a white title and a static header image. In contrast, the website employs a basic navigation bar at the top and frameless content blocks as it develops.
There is a mix of information blocks, a great deal of white space, interesting small visuals, etc. However, you may also customize the articles and you may add or remove the content as needed. Almost everything about the demo site can be changed while preserving its modernity and attractiveness.
21. Ivy School
In general, children are more likely to respond to a website that is intriguing and interesting than a conventional curriculum, which may go against the beliefs of purists. The Ivy School steps in at this point.
As a default, you have four choices for your home page, each of which can be imported with a single click. You will observe that the layouts themselves are built similarly to sales or landing pages. On the other hand, this is critical as it may assist in converting visitors into full-fledged students. Alternatively, you may modify the examples to suit your needs. Moreover, you can also use the WPBakery page builder plugin to create your own style.
Ivy School provides supplementary plugins, including LearnPress, one of the most popular Learning Management Systems. Moreover, a slew of premium add-ons are available, so you can build a high-quality site with ease.
We believe that Ivy School does a good job from our perspective. The theme looks great and has a number of useful and practical plugins.
22. EduMall
There are eleven demos available on the EduMall website for building WordPress education portals. Nevertheless, each demo has its own design, giving you a variety of options for how your education site will look. It is easy to change the overall look of your site with bright and dark options.
On the other hand, EduMall offers more than simply attractive templates. It works in conjunction with the Tutor LMS plugin, ensuring access to all online courses. In the demonstrations, you can view EduMall as a student or an instructor so that you can see how it works.
With EduMall's LMS capability and its associated plugins, you may run reports on your courses and student activities. Additionally, you can see information about your websites, such as student access rates, retention rates, and grades.

Easily create engaging and tough quizzes for your classes, completely in control. However, It's also simple to structure your courses appropriately. You can drag and drop course pieces into position and make other changes using EduMall's intuitive interface.
In common with several other education WordPress themes, EduMall was designed to work with the BuddyPress plugin. It is possible to add additional community and interactive features to your school website. Additionally, Private chat, user profiles, activity feeds, and groups can help your website's community grow.
A mobile app for this theme will be released soon, according to EduMall's creators. Once released, your users will be able to view your site more effectively on their smartphones. However, EduMall's instructional video collection will help you to quickly set up your website.
23. Academist
The website of your institution does not have to be overly formal, even though education is one of the oldest sectors. To engage kids, instructors, and parents, you need to create a contemporary atmosphere.
Academist offers a wide range of contemporary designs. The presentations and layouts of the site are current and accessible while remaining professional. In addition, a few different home page layouts allow you to customize the site to suit your school's specific needs.
No matter which style you choose, this theme makes launching your instructional website a breeze. Courses, events, professors, and other important information can be presented on pre-made websites. Additionally, you can use shortcodes to add a course, teacher, and event lists and sliders to any page. If you are seeking the perfect theme for your school, go no further than Academist.
24. Eikra
The Eikra theme is an education WordPress theme that is versatile and mobile-friendly. Moreover, it's designed with an SEO-friendly framework and a strong admin panel. In this theme, you can make fourteen homepage versions for students to publish lessons. However, it may import demos with a single click, and the child theme can also activate.
A Layer Slider, as well as twenty-plus header options, enable Eikra to present information effectively. Additionally, the three courses and three types of personal research are really useful. However, International students can translate the whole site with WPML. Eikra is well documented, and it has ongoing upgrades and support.


25. Webify
Webify will surprise you with how much you can do with one tool. Even in the realm of education, schools, and online courses, you will be able to create exceptional websites. Because Webify is so beginner-friendly, no prior experience is necessary. To put it another way, you do not need any previous experience in web development to succeed.
However, the drag-and-drop page builder with preset layouts and components gets you started regardless of your level of expertise. Additionally, Webify allows you to choose from a selection of headers and footers, elements, modules, and blocks. Thus, you can reach all of your knowledge-hungry students with a customized education website.
26. LeadEngine
LeadEngine is an easy-to-use, contemporary, and responsive education WordPress theme. Although, it provides everything you will need to create compelling end-user experiences for your target market. You may begin from scratch or use one of WPBakery's thirty-five plus demos.
LeadEngine is well suited to educational websites. Furthermore, you will not have to write a single line of code to achieve professional-looking results. The sky is the limit with over 200 content blocks and a bespoke education demo.
A highly customized blog is ideal for keeping visitors up to date on your services. Additionally, LeadEngine allows you to build the educational website of your dreams and grow your business.
27. Course Builder
A comprehensive website that allows learners to find your courses is essential no matter what your educational emphasis is. The Course Builder theme is an excellent choice for creating a website.

While pre-built examples are available to install, most layouts are generated using WPBakery Page Builder, which is integrated with WPBakery. The theme offers a variety of colors, fonts, and other customization options as well. Additionally, the LearnPress plugin included with the theme is the true star of the show. While Course Builder offers a variety of commercial add-ons, it's free to download from WordPress.org.
You can, for instance, use a drag-and-drop builder to create courses and sell them directly via a variety of payment gateway options. Furthermore, the bundled PaidMembership Pro add-on allows you to sell subscriptions to your courses.
Course Builder is a versatile, user-friendly, and practical theme for those wishing to create a web-based instructional program that runs smoothly.
28. Invent
Invent's modular design is responsible for its modern look and user-friendly interface education WordPress theme. Moreover, It is most suitable for colleges and universities, although other schools may also use it. LiveMesh, the creator, came up with Invent after researching what educational institutions want.
Customization is one of the things that Invent excels at. Over 500 Google Fonts are available, as well as endless sidebars, eight different post types, a vast shortcode library, and endless header styles. You can bring the content you are displaying to life by using parallax and video sections.
The featured plugins are Contact Form Seven, WooCommerce, the Revolution Slider etc. It is also possible to integrate LearnDash with Invent. This plugin allows you to create and sell courses as well as handle quizzes, certifications, reports, and subscriptions. Moreover, you can customize LearnDash's styles, sidebars, articles, and page layouts using Invent. The user-friendly and adaptable capabilities of Invent make it an excellent option for showcasing your organization.
29. Superwise
Superwise is an education wordpress theme and Google classroom theme that is both responsive and strong. The program will benefit preschools, primary schools, and high schools alike. Including almost thirty inner pages, Supervise is jam-packed with useful features. All Google products, including Drive, Gmail, Docs, Sheets, and Calendar, are integrated.
Provide students with Google Classroom information in a more efficient manner. Assign homework, quizzes, and lessons to your students, and provide feedback. Superwise provides professional results without the need for coding. Slider Revolution is an attractive tool for marketing courses and materials. Our ten years of experience in developing educational websites can guarantee your satisfaction.
30. Tabula
There are a variety of uses for Tabula, an education WordPress theme that can be used to create pages for a range of purposes. The book includes three complete demonstrations, twelve house examples, and several inner layouts for combining.
It is not necessary to be a talented web developer in order to win the game and maintain a strong online presence by providing education or information to the end-user. Tabula may be inspired by anyone who designs an instructional website. For example, Tabula supports WPML, WooCommerce, Contact Form 7, and Total Cache, just to name a few.
31. Bright
Bright is a responsive and contemporary education WordPress theme for schools and learning management systems. It is an ideal theme for creating practical educational websites.
It is easy to create a website with two homepage designs and dozens of features. One webpage is intended for educational institutions, while the other is intended for learning management systems.
Bright is compatible with Coursera, Udemy, Lynda, and other online learning platforms. Thus, getting started on your courses is a breeze!
Schools, universities, community colleges, and trade schools often choose Bright. With WooCommerce, courses and educational events can be promoted and sold. WPBakery simplifies adjustments and eliminates coding. Bring your educational endeavors into the 21st century.
32. Guru  
Guru is an education WordPress theme that provides a contemporary, attractive design ideal for online teaching and training websites.
In Guru, surface-level customization is done using the WordPress Page Builder plugin and shortcodes. A retina-friendly version of the website is also available. Furthermore, The themes are also compatible with the plugin and the powerful tool for managing to learn. Additionally, it is one of its most vital features. You can create online classes with this plugin, monitor student progress, and allow users to register.
Conclusion
The Education WordPress theme is an excellent choice for both educators and students. Furthermore, it is easy to use and offers a variety of features that make learning and teaching more accessible than ever before. This theme allows you to quickly create a website for your school, class, or individual project. Do not delay any longer download the Education WordPress theme today!